Click Here for More Articles on BWW Pride
BWW Review: Feel the love with Good Night Theatre Collective at PRIDE: THE LOVE CABARET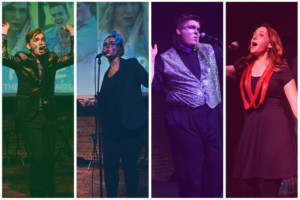 Good Night Theatre Collective kicked off Pride weekend in Sioux Falls with their last cabaret show of season 2, PRIDE: THE LOVE CABARET. Thursday's sold out show featured songs written or performed by LGBTQ artists. Featuring company members Bob Wendland, Devin Basart, Emily Kaye Smith, and Kristy Kayser this show did now disappoint the two-hundred plus audience members who came out for opening night.
With three costume changes, glow sticks, confetti cannons, sequins, drag, and of course lots of love, PRIDE: THE LOVE CABARET is a show not to be missed. The show's set included songs from over twenty artists including Adam Lambert, Queen and David Bowie, Melissa Etheridge, Elton John, Janell Monae and many more. From the very beginning it was clear that this show was put together with love by its featured performers and that the audience was in for a spectacular night.
Throughout the show each performer brought something exciting and different to the various numbers, and while the show was filled with light hearted and energetic songs the more emotional ones stood out to me as scene stealers for these performers. Bob's performance of Greg Holden's "Boys in the Street" was truly moving, prompting a standing ovation from audience members. His duet with Devin on the original song about gay best friends, written by Luke Tatge for this show, was a great addition to the set. Devin brought some hilarious character moments to many of his numbers and worked the audience like a pro, but his performance of "Stay with Me" by Sam Smith showed a deep emotion that touched everyone's heart.
In her first show with Good Night, Emily lead the way in easily one of the highlights of the night - "Copacabana" by Barry Manilow garnered huge laughs from the audience with the added character, staging, and audience participation. Another highlight was her connection and harmonies with Kristy during Elton Johns' "Don't Go Breaking My Heart." During her rendition of Tracy Chapman's "Give Me One Reason," Kristy delivered a soulful performance and gave the audience one more reason to be glad they were at this show.
In a welcomed surprise, halfway through the show the performers welcomed Sioux Falls musician Steve Payne on stage to accompany them on guitar for a few acoustic songs. I hope they continue to feature live music in upcoming performances, as it was a nice touch to the set. The song that had everyone on their feet and singing along was easily my favorite performance of the night; a lively rendition of "This is Me" written by Broadway duo Benj Pasek and Justin Paul. Now, I'm biased because I already love this song, but Good Night went the extra mile for this one and really made it special; bringing thirteen members of the company on stage to sing with the four featured performers. In their performance you could truly see everyone felt that this night was a celebration of love, but also of theater, of community, and of a great end to a successful second season.
As the show came to a close, Bob and Kristy revealed the lineup for Good Nights' upcoming third season. Be prepared for another great collection of shows from this company filled with four cabaret shows and two full length musicals.
The British Invasion Cabaret | September 2018
The Last 5 Years | November 2018

A Happy Holidays Cabaret | December 2018

The Heroes and Villains Cabaret | January 2018

Original Musical: Daytime: A Soap Opera Musical | April 2018

Dudes Sing the Divas Cabaret | June 2018
If you're as excited about the above shows as I am, head on over to Good Nights' website and purchase a season pass for the upcoming season. A season pass includes all six Good Night shows, reserved priority seating, and one free signature drink at the September Cabaret.
You definitely don't want to miss any of these upcoming shows, and you can still get tickets to their final performance of PRIDE: THE LOVE CABARET this Sunday June 17th on their website.
Happy pride!
Photo Credit: Good Night Theatre Collective
Related Articles
Katie is a designer working on projects throughout the Midwest. While architecture is a form of storytelling, creating the spaces that people will live in (read more...)