Review: A HALLOWEEKEND WRAP UP at The Green Room 42
Two Shows, About A Dozen Witches, & Lots Of Music
TGR42 Wraps Up Halloween With A Double Header Of Disney Mayhem!
Heigh-Ho, My Merry Rainbow GHOULS! Bobby Patrick, your RAINBOW Reviewer here. Putting the silent T in cabareT to bring you all the T!
Well my little Demons, this weekend being the Halloweekend in NYC, what else is happening in Cabarets all over Gotham but shows dedicated to witchies, vamps, zombies, and, of course, DISNEY! Saturday and Sunday saw the stage at The Green Room 42 populated by the dark side - well as dark as Disney gets anyway - with back-to-back Halloween treats from Mickey's haunted mansion. GR42 SINGS DISNEY VILLAINS and WINNIE'S ROCK CAULDRON CABARET were the long and the short of it this Halloween, with the former calling upon its very large cast to present a full-on concert of famous (and not-so-famous) music from Walt's villain vault, and the latter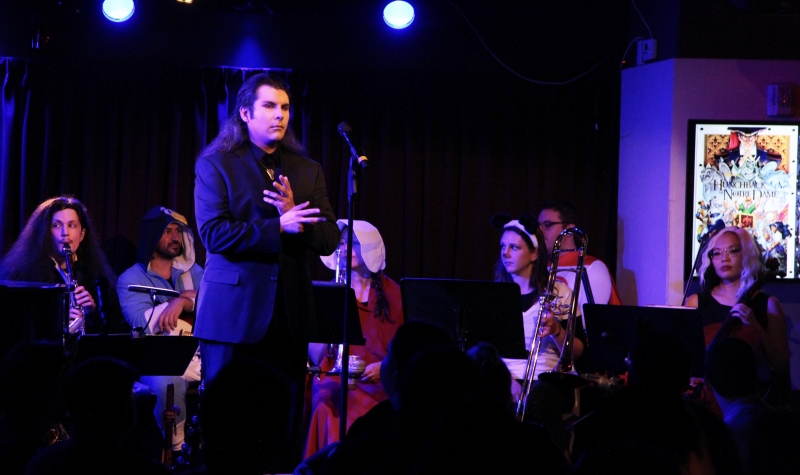 presenting Jennica McCleary's viral sensation impression of Winnie from HOCUS POCUS, a critical and box office flop from the 90's that refuses to die even more than Winifred, Mary, and Sarah Jessica Sanderson. First up - the VILLAINS - conceived, directed, and presented by Quentin Garzon (imagine that little accent mark over the O there) a regional musical theatre maven who makes his home in New York and a lot of his living on the road at places called The Lawrence Welk Theater, The Ernest Borgnine Theater and you could even find him at The Dorie Theater (Disney pun intended). In short, Quentin is one of those talented players who lands back in NYC just long enough to audition his hiney off and get that next job that will take him to points west - this IS being an actor in New York City. In his in-between gig days, he continues to create by stepping onto our cabaret stages with popular shows of his own creation to entertain us little people out there in the dark.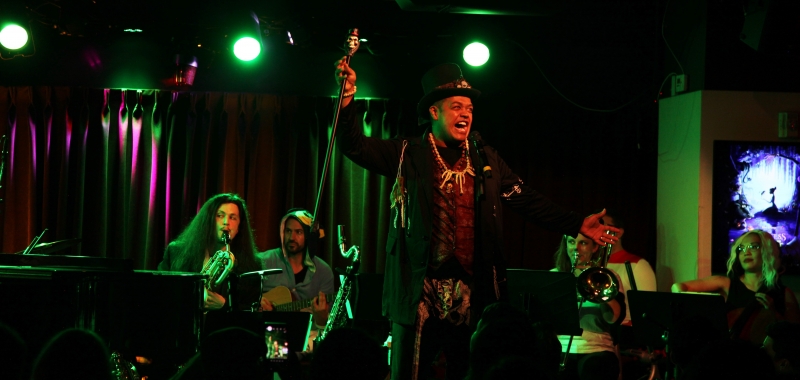 Thus we have Saturday Night's the GR42 SINGS DISNEY VILLAINS concert with what seemed to be a cast of thousands all swapping mics as well as joining in as a chorus for the really BIG numbers. Quentin curated a fine group of talents and a fine setlist of 23 numbers that not only had classics of villainy from the Mouse House but several tantalizing surprises mined from not-so-well-known musical scores of movie sequels as well as some television burnt offerings. All cast members (and a lot of the audience) were in their holiday finery ranging from flappers to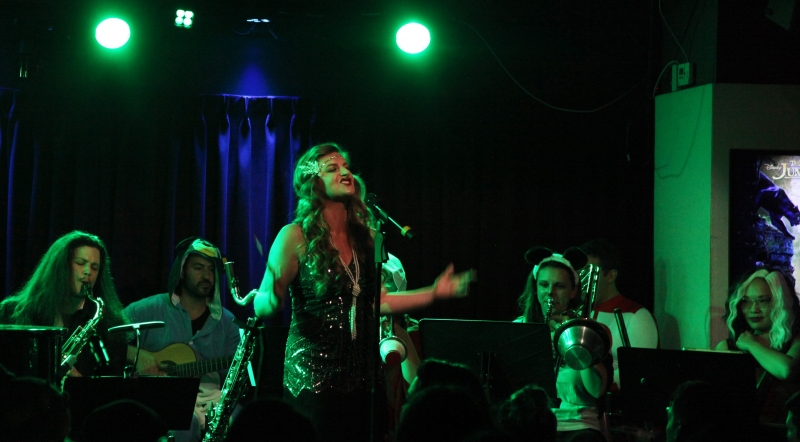 vampers. With no intro or lead-in, the show immediately kicked off with the big-voice, wicked smile, and full-throated laughing talents of Clay Christopher as Mr. Oogie Boogie, setting the audience expectations that they were there for the fun. After that, each and every singer gave their all including doing their homework as actors, showing up prepared with all the layers of music and acting ready to go and not a lyric cheat sheet in sight - LE SIGH! Some of the numbers Bobby loved included: Madeline Fansler's Mother Gothel turn on MOTHER KNOWS BEST, where her legit sounding soprano pipes still brought the character and comedy needed to really put the number over, Garzon's own wife, Brittany Rodin, who rocked out and raised the roof with I PUT A SPELL ON YOU - the 1956 Jay Hawkins number that the Divine Miss M sang in HOCUS POCUS, hence dropping it in Disney Adjacent Land - and Nohely Quiroz, who (in her sparkly red cocktail frock) found really interesting things to do with Ursula's POOR UNFORTUNATE SOULS. Garzon himself took on 3 of the 23 songs with his studied
and theatrical style bringing real character to HELLFIRE from HUNCHBACK and MINE, MINE, MINE from POCAHONTAS. His CRUELLA DE VIL, however, did have his fine voice stretched to the very limit of his upper range in a key and arrangement sung earlier this month by the gorgeous Garrett Clayton, whose upper range has no limit, so we must take a point off there, but only one. On the whole, despite losing some additional points for some issues with microphones coming in and out at levels that were erratic, one or two singers with mic technique issues, and a climate that was just too warm for their completely packed house (totally SRO darlings) GR42 SINGS DISNEY VILLAINS was a most professional and enjoyable Halloween Eve extravaganza and Bobby gives it a respectable...
3 Out Of 5 Rainbows - check this one out for your Halloween next year.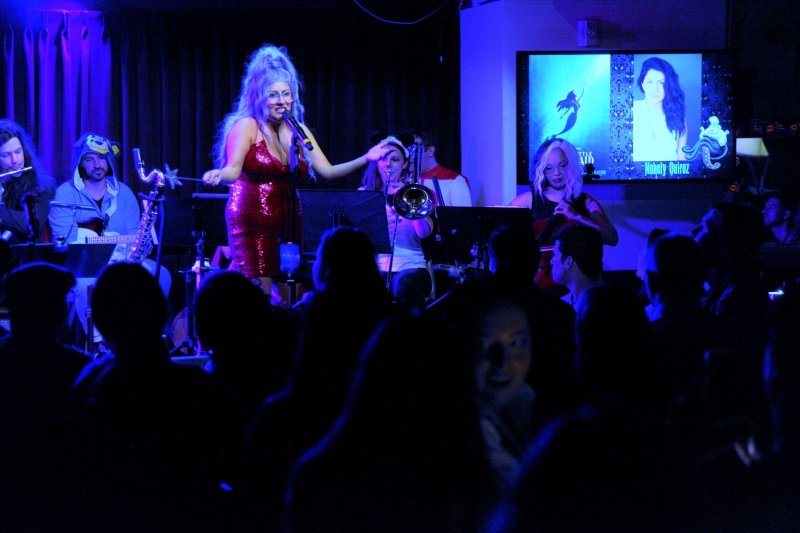 Sunday's WINNIE'S ROCK CAULDRON CABARET, had Jennica McCleary singing, dancing, and clowning live with sisters Desiree Montes and Kristen Sheola - two FAB ladies who were making their CAULDRON debut. At this festering season of the year, The Sanderson sisters are a template for nightclub acts all over the city, and truth be told you can't swing an Omri Katz without taking out half a dozen drag queens gearing up to lip-synch I PUT A SPELL ON YOU. But no mouth-miming dragstravaganza with the same tired dudes-in-dresses jokes from the year One is WINNIE'S CAULDRON, oh no, for McCleary is not only a fab vocalist in her own right but a professional Bette-a-like impersonator and a gifted stand-up comic to boot. Her quick quips, timing, and foul-mouthed ability to make fun of herself, her sisters, and their audience kept the laughs coming, and then... BURLESQUE! Singing a Kick A$$ rendition of Journey's SEPARATE WAYS, McCleary performed an old-fashioned striptease routine, flashing her tops (with pasties) for all the world to admire. A bold expression of free womanhood that was as much treat as it was trick (and T!Ts.) And speaking of the TaTas, the lady also made bold with her boobs by telling the crowd of how her journey with creating ROCK CAULDRON in 2015 included receiving her breast cancer diagnosis. Not to be deterred from doing what she loves, or making the much-needed cash to support herself during treatments, our heroine simply scheduled her doctor appointments around her bookings and the show went on... to this very day thank the witches. So, showing her lovely bozooms became an even more powerful moment in retrospect, and her admonitions (What? Bobby knows words!?!) to, "Think Before You Pink" and be smart about where we spend our donation dollars made the awareness message a double bonus.
The other three big bonuses for those watching came in the voices of these three fantastic singing actresses. Not only did these talented mimics nail the familiar characters in acting, moving, and speaking, but they all also belted numbers to the back row like Broadway "broads". La Jennica's spot on Winnie is, most definitely, the star of this show, and rightfully so, but the star is gracious enough to let her backups step forward and get warm in the spotlight. Desiree Montes, known in RegionalTheatreLand for her portrayal of the legendary Billie
Holiday in LADY DAY... a role she has played in more than one production, truly knocked Whitney's GREATEST LOVE OF ALL out of the park and was probably heard all the way to Kathy Najimy's house. Sweet, innocent-looking Kristen Sheola, perfectly playing the daffy, demonic Sarah, uncorked a voice and a range that brought the rock & roll to SPIDER IN THE ROSES with such dexterity, power, and surprises that the entire house was left wanting oh-so-much more. In the end, although two of the three were taking their first-ever bows into this act, all of the ladies worked the show and the crowd with comic ferocity and real chemistry together that shook up this HoHum Pocum premise that TBH, has Worn Out Its Welcome, and brought the Sanderson Sisters to life in a most enjoyable way... So much so that Bobby gives WINNIE'S ROCK CAULDRON CABARET a solid...
4 Out Of 5 Rainbows - check this one out for your Halloween next year too.
You Can Tweet Jennica McCleary's Twitters: HERE
Ande Followe On Ye Olde FaceBooke: HERE
Desiree Montes Has Her Webby; HERE
And Keep Up With Kristen Sheola: HERE
Please Educate Yourself About Your Breast Cancer Donation Dollars By Reading Up On The THINK BEFORE YOU PINK PROJECT: HERE
Give A Podcast Listen To Karuna Jaggar, Executive Director Of Breast Cancer Action, Talk About Why It's So Important To Think Before You Pink: HERE
Quentin Garzon Has A Webby: HERE
And He Keeps His Twitters: HERE
Find More Fabu shows At The Green Room 42: HERE
All Photos By The FABULOUS, Stephen Mosher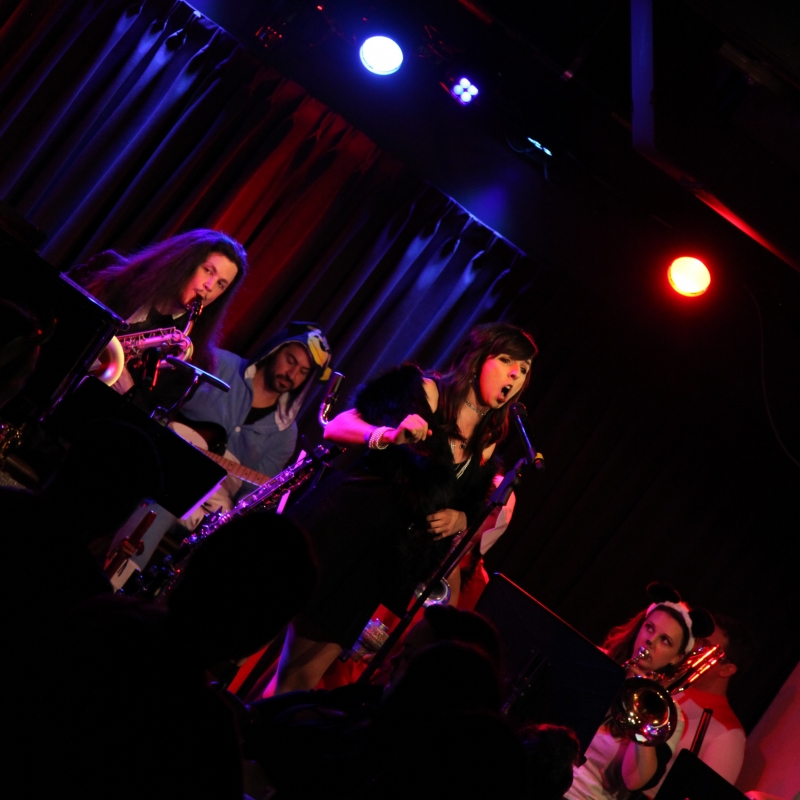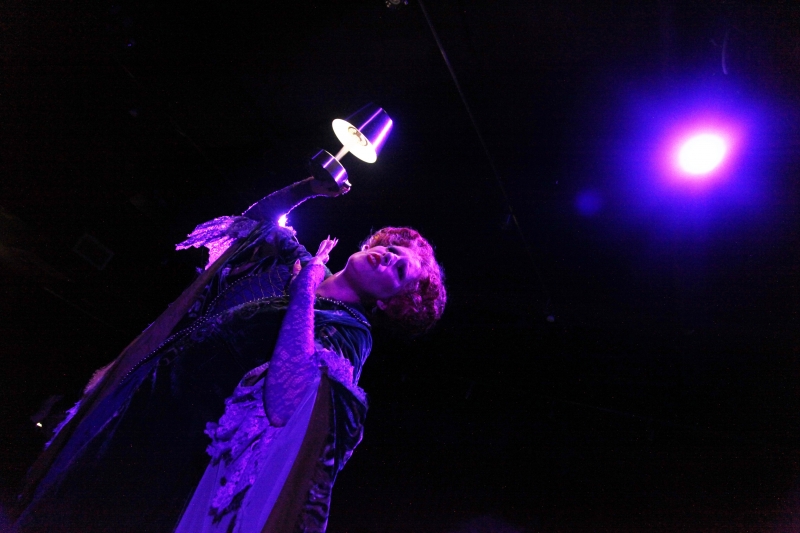 ---
Join Team BroadwayWorld
Are you an avid Cabaret fan in NYC? We're looking for people like you to share your thoughts and insights with our readers. Team BroadwayWorld members get access to shows to review, conduct interviews with artists, and the opportunity to meet and network with fellow theatre lovers and arts workers.
Interested? Learn more here.
---