All-Female Teenage Team Debuts Musical In New York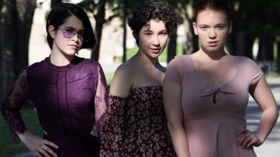 FEINSTEIN'S/54 BELOW, Broadway's Supper Club, presents the songs of Oceanborn, performed in concert by the writers. Oceanborn was created through the collaboration of two teenage women, a composer and playwright, writing of the mythic female heroes of ages past. The youngest duo on the New York Theatre scene, Cameron & Smith's work has been lauded as "revelatory" and "the future of Broadway."
Oceanborn follows two young women as they face the pressures and expectations of future leadership in a climate of violence and uncertainty. Acerbic wit balanced with heartrending poignancy, this musical tackles the cyclic nature of violence and xenophobia head on. Mhairi Cameron, composer and head lyricist, has won national awards in poetry and has worked professionally in television and film.
Morgan Smith
, bookwriter and co-lyricist, is a novelist and playwright whose writings have been published in the US and internationally, and recognized at the Yale and Kenyon Writer's Conferences. In an unforgettable premiere of the new Cameron & Smith musical, experience a debut sung-through concert of the show that has already garnered an avid fanbase!
Morgan Smith and Mhairi and Hannah Cameron in Oceanborn: A New Musical plays Feinstein's/54 Below (254 West 54th Street) on July 6th, 9:30 pm. There is a $25-$35 cover charge and $25 food and beverage minimum. Tickets and information are available at www.54Below.com. Tickets on the day of performance after 4:00 are only available by calling (646) 476-3551.

MORE ABOUT THE ARTISTS
Morgan Smith is a Bryn Mawr College student and novelist, whose first novel is currently out on submission. Her work has been awarded in national contests like the Faulkner Literary Competition. She currently works as an intern for a non-profit pushing for diversity in entertainment, which has reinvigorated her desire to write diverse stories.Smith will attend the Artist As Citizen conference at Juilliard this year. She is nineteen.
Mhairi Cameron began composing on her walks to the 2nd grade bus stop, finishing her first album at sixteen. Oceanborn is her first score, influenced by her work in musical theater and Scottish mother's obsession with folk music. She is an awarded performer, professional actress in television, novelist, and nationally awarded poet. She will attend Oxford University next year. She is seventeen.
Hannah Cameron is an awarded actress and performer. She is a freshman in high school and is making her New York debut with Oceanborn. She is represented by Gabrielle Gardner Talent, as is her sister.
MORE ABOUT FEINSTEIN'S/54 BELOW
Feinstein's/54 Below, Broadway's Supper Club & Private Event Destination, is a performance venue in the grand tradition of New York City nightlife. A few blocks from the heart of Times Square and just below the legendary Studio 54, Feinstein's/54 Below is a classically designed state-of-the art nightclub in the theatre district that hosts audiences with warmth and style. Feinstein's/54 Below presents iconic and rising stars from the worlds of Broadway and popular music and has set a new standard for culinary excellence worthy of the world-class entertainment on the stage.
In their description of the venue, The New York Times writes, "Feinstein's/54 Below has the intimacy of a large living room with unimpeded views and impeccable sound; there is not a bad seat in the house. Its sultry after-hours ambience is enhanced by brocade-patterned wall panels planted with orange-shaded lanterns. And the atmosphere is warmer and sexier than in Manhattan's other major supper clubs."
Located at 254 West 54th Street, Feinstein's/54 Below features up to three shows nightly with cover charges ranging from $5-$105. 54Below.com/Feinsteins