VIDEO: SHOWTIME to Release Documentary on the Making of The Weeknd's Super Bowl Halftime Show
THE SHOW Will Premiere on Friday, September 24.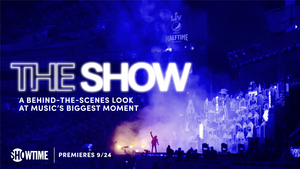 SHOWTIME and Pepsi announced today that the documentary THE SHOW, a unique, first-ever look into the making of The Weeknd's Pepsi Super Bowl Halftime Show, will premiere on Friday, September 24 at 9 p.m. ET/PT.
The 90-minute feature chronicles the massive undertaking behind one of the most iconic musical performances of the year. This year's show starred The Weeknd and was executive produced by Emmy nominees Shawn "JAY-Z" Carter, Desiree Perez, Roc Nation and Jesse Collins and directed by acclaimed multi-award nominated Hamish Hamilton (who has directed the Halftime Show since 2010).
"This documentary is a unique glimpse into the passion, work and cinematic mindset that went into the creation of the show," said The Weeknd. "It extends the narrative for fans and viewers who like to get lost in how the historic show we all grow up watching is built."
Nearly 100 million people around the world tuned in to watch The Weeknd's visual and sonic artistry on the Pepsi Super Bowl Halftime Show stage this year. What the world witnessed was the product of tireless hours, days and months of collaboration among first-time Pepsi Super Bowl Halftime Show executive producer Jesse Collins, brought on by second-time executive producers Roc Nation to pull off one of the biggest musical productions during one of the most challenging, unprecedented times. Despite the logistical challenges that the collective team faced in the lead-up, the result is what the world saw - an imaginative, out-of-the-box performance.
Watch the trailer below.