The Ninth Annual SOHO International Film Festival Announces Premiere Films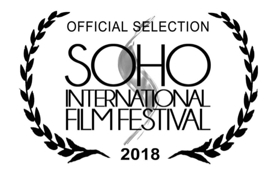 With the Ninth Annual SOHO International Film Festival kicking off in just TWO WEEKS on Thursday, June 14th through Thursday, June 21st screening some of the biggest independent films worldwide along with premieres, cast and crew red carpet appearances, Q&A sessions, and capping off with an awards ceremony - you won't want to miss #SOHO9 at Village East Cinemas (189 2nd Avenue on 12th Street)!
Sibyl Santiago, Executive Director and Head of Programming says of the festival "This year has been quite exciting as we have received record submissions and premieres coming from all over the world! I'm continually inspired by the amount of incredible films premiering and look forward to another amazing year!"
SIFFNYC spotlights world renowned features, documentaries, and short films with the opening night film block ALREADY SOLD OUT (Not to worry, there will be a Closing Night Reprise!). Opening films include "Block Island" (U.S. Premiere) from Director Tony Glazer staring Jeff Kober ("The Walking Dead") and Matty Cardarople ("Stranger Things"), a Dramatic thriller about a group of college kids who miss the ferry to their graduation party on Block Island, then fall prey to a local fishing boat captain and his sadistic first mate; "Washed Out" (World Premiere) from Writer/Director Alice Boucherie, a Short about a lonely little boy whose routine is a living hell - His authoritarian father often locks him in the basement for no reason, and he starts to develop friendship with the washing machine, believing it is magical, and "Sundays" (U.S. Premiere) - a short written and directed by Sean & Ryan McIlraith that follows Seamus and his younger brother Joe, who don't enjoy going to Sunday mass at their local church, especially since the recent passing of their father, starringf Xander Crowell ("American Genius") and Owen Halligan ("Joseph Smith: American Prophet").
Other films include the NY Premiere of "SNAPSHOTS" from director Melanie Mayron, an LGBTQ Drama about a grandmother's secret past colliding with her granddaughter's secret future and her daughter's angry present, starring Piper Laurie ("Carrie") and Brooke Adams ("Monk"); "The Visit" from Writer/Director Romina Schwedler staring Academy Award Nominee June Squibb ("Nebraska") about a man devastated by the loss of his wife and son who responds to his mother's sudden request for a visit, but when she announces the alleged arrival of his departed family, what he strives to sustain as a gentle encounter soon spirals into torment; "Artemis & The Astronaut" from Writer/Director Alice L. Lee staring Lynn Cohen ("The Hunger Games") about Artemis and Henri, who've spent a lifetime together and loved one another deeply and imperfectly, but when he dies so much is left unsaid; Documentary "Poisoning Paradise" from award-winning broadcast journalist turned documentary filmmaker Keely Brosnan ("Entertainment Tonight") & Executive Produced by Pierce Brosnan ("James Bond") follows the seemingly idyllic world of Native Hawaiians, whose communities are surrounded by experimental test sites for genetically engineered seed corn and pesticides sprayed upwind of their homes, schools, hospitals, and shorelines; "Without Grace" from Director Deborah Kampmeier starring Ann Dowd ("A Handmaid's Tale") & John Doman ("Gotham") is based on a true story about Grace, a woman with multiple psychiatric diagnoses, who returns home to live with her aging parents; "Diminuendo" from Director Adrian Stewart starring Richard Hatch ("Battlestar Galactica") about filmmaker Haskell Edwards, who becomes obsessed with the lifelike robot created to mimic his actress girlfriend who committed suicide while directing her biopic; "Sam Did It" Written/Directed by and Starring Dominic Burgess as Sam, who loves his job working in a morgue almost as much as he loves his celebrity idol - Alfred Molina ("Spider-Man"), and when Molina arrives on Sam's cold hard slab (a potential victim of some nefarious seals), Sam's world is thrown into chaos and despair; Clark Middleton ("Sin City") stars in two films - "Laying Low" from Writer/Director Hank H. Kim, and "Mortal Wounds" from Director Frank Dale Arroyo, and the Northeast Premiere of "Limerence" from Writer/Director Tammy Minoff and starring Matthew Del Negro ("The Sopranos") that follows Rosemary, an aspiring painter and free spirit as she moves to Venice and hooks up a local gallery director, and their intense chemistry quickly and unexpectedly evolves into a serious relationship.
The foreign films category also includes actors Tomasz Kot ("Teatr Telewizji") and Lech Mackiewicz ("Na Dobre i Na Z?e") in "BIKINI BLUE", a World Feature and Northeast Premiere from Poland from Writer/Director Jarek Marszewski; "Just A Fling", a World Feature and U.S. Premiere from France starring Fanny Valette ("Spiral") and Amaury de Crayencour ("Le Bureau des Légends") from Writer/Director Gorune Aprikian; "Never Saw It Coming" a World Feature and U.S. Premiere from Canada from Director Gail Harvey starring Katie Boland ("Reign"), Emily Hampshire ("Mother!"), and Eric Roberts ("The Dark Knight"), and "Cabeza Madre (Mothers Head)", a World Feature and Northeast Premiere from France & Cuba Directed by Edouard Salier and starring Clifton Collins Jr. ("Westworld").
Past attendees to to the festival include actors/actresses/writers/directors such as Octavia Spencer, Armand Assante, William Sadler, Dominic Purcell, Danny Aiello, Richard Kind, Frank Vincent, Luis Guzman, Carrie Preston, Beth Grant, Sean Young, Kevin "Dot Com" Brown, Alysia Reiner, James McCaffrey, Joe D'Onofrio, Kevin Jonas, Margaret Colin, Mark Feuerstein, Charlie Bewley, Luke Guldan, Melissa Archer, Constancce Schulman, Yara Martinez, Adam Brody, Josh Lawson, Matthew Daddario, Franky G, Coach Tom Coughlin, Lans Kinsey, Grant Shaud, Spencer Graham, Jessica Hecht, Zach Grenier, Patrick Fischler, Sam Underwood, Neal Bledsoe, David Zayas, Michael Imperiolli, Steve Schirripa, Tony Sirico, and Vinny Pastore, just to name a few.
By enticing filmmakers, journalists and cineastes from The US and across the globe, SOHO Film Fest draws audiences to New York City--known for its artistic community and cultural sophistication--helping boost the profile, the sense of pride, and the economy of the local community and the city itself. Panels, social events, and other networking opportunities for everyone involved will feature leading figures from all disciplines of the film industry including distributors and media, who will also be in attendance.
Related Articles View More TV

Stories