TV One's Edgy Biography Series UNCENSORED to Feature Rick Ross and Trick Daddy with Back-To-Back Episodes 3/4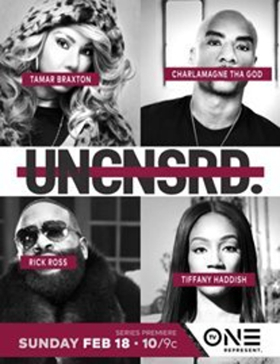 TV One's signature, award winning music BIOGRAPHY series "Unsung" continues a brand new season with hip-hop artist Trick Daddy on Sunday, March 4 at 9/8C. In the late 1990's Trick Daddy (born Maurice Young), brought Miami bass hip-hop into the mainstream with a combination of raw lyrics, thug mentality, and southern flavor all his own.
Born to a single mother of 10, Young's early years on the streets of Liberty City, Florida had him on the fast track to either the penitentiary or the grave. By age 12 he was selling drugs, and by 15 he was a convicted felon. After winning a local rap battle, he got his break as a member of the legendary 2 Live Crew. Soon after, his debut solo album, "Based on a True Story," became an indie classic, instantly marking him as a rising star on the Miami music scene. Success, however, became a double-edged sword for the former hustler with a hair-trigger temper. Hindered by a self-destructive street mentality, humbled by disease, and crippled financially from legal woes, he lost almost everything to the fast life in the span of a decade. Insights are provided from family and friends, including LUTHER Campbell, DJ Khaled, and Trina.
Unsung sheds much-deserved light on some of the most influential, talented, and misunderstood R&B, soul, funk, hip-hop, disco, and gospel artists of the last 30 years. Also featuring Deborah Cox, Avant, Shirley Caesar, Blue Magic, Brand Nubian and Lost Boyz, season 12 of TV One's critically acclaimed and award-winning UNSUNG uncovers the personal triumphs and struggles of these musical legends.
Watch the trailer here:
Part showman and part artist with a Fortune 500 mindset, Rick Ross is the ultimate hustler. The platinum-selling rapper and lord of Maybach Music Group sits down with "Uncensored," an edgy new autobiography series that features the first-person accounts of today's hottest celebrities, to reveal the untold story of his climb to the top of hip-hop on Sunday, March 4 at 10/9C on TV One.
Growing up in the streets of Carol City, Miami, Ross dabbled in low-level thug life before taking residence in a local studio. It wasn't long before people took notice of Ross's rumbling voice, menacing drawl, and blunted, plaintive flow. His first album, "Port of Miami," set off a shockwave in the music industry, pushing Ross' debut to No. 1 on the Billboard 200 chart. "Hustlin'," the infectious single of the platinum-selling album became a club anthem. It's heading up his own record label, Maybach Music Group, that makes Rick Ross undeniably his own boss. With French Montana, Meek Mill, Wale, and other popular tongue-slingers on his roster of artists, Rick Ross now controls much of the hip-hop universe.
In its first season, "Uncensored" dives deep into your favorite personalities as they reveal SECRETS to their success, obstacles they've faced, and how they manage this new world of social media that has helped but sometimes haunted their careers. The 10-episode autobiographical series gives unprecedented access to stars of film, television, music, and pop culture, including LaLa Anthony, Snoop Dogg, Nia Long, NeNe Leakes, Charlemagne Da God, Le'Andria Johnson, and more as they personally reveal their own stories, in their own words, in the places their stories unfolded.
Related Articles View More TV

Stories
More Hot Stories For You