Stacy Sherman- Oscar Nominated and Emmy Award Winning Director On New Film THE CHUTE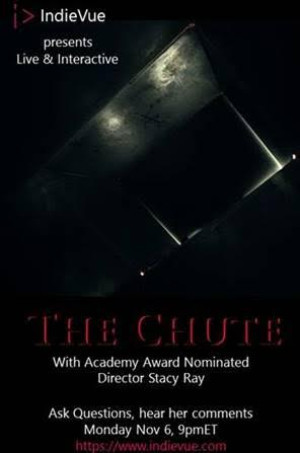 Oscar nominated / Emmy winning director, Stacy Sherman, will introduce her film and talk about being a film maker on IndieVue.com's Live and Interactive Nov. 6, 9pm EST.
The 4 minute short called The Chute, is her second film after her award winning documentary and THE CHUTE is already garnering critical acclaim and awards on the festival circuit.
IndieVue is a new streaming site for indie films, docs and animated films. The model is Netflix meets Spotify, and pays filmmakers more than Youtube but is also more interactive.
"Because of the changing landscape and the hunger to see more cutting-edge content, we wanted to create a market for one that doesn't exist. Taking the time to make a film is time consuming and costly, and to upload to Youtube so you are beside a cat playing a piano is demeaning. We have built a platform for filmmakers and film buffs to connect on," founder Sanjay Burman said of the site.
Former president of Sundance Channel, Evan Shapiro, called IndieVue one of the best streaming business models he has seen in a long time.
The Live and Interactive will allow you to first screen the movie, and then re-run it with the director's face on the bottom of the screen, answering questions from a messenger feed that viewers are writing in real time.
Stacy Sherman, native of Los Angeles, is an award-winning writer/director. Sherman Co-Wrote, Co-Produced and Co-Directed the documentary God Sleeps In Rwanda, which chronicles the story of five survivors, whose lives were irrevocably altered, 10 years after the Rwandan genocide. Sold to HBO, God Sleeps in Rwanda was nominated for an Academy Award and won an Emmy.
As a writer, Sherman has sold screenplays to Twentieth Century Fox, Tri-Star Entertainment & Warner Bros. She co-wrote the screenplay, ONE FOR THE MONEY, based on the best-selling book series by Janet Evanovich. The feature film, which stars Katherine Heigl, released by LakeShore Entertainment & Lionsgate, opens this month.
About IndieVue.com
Indievue is your home for independent films. We have made a space for creative, independent filmmakers to share their work with a specific, passionate audience.
Our goal is to remove distractions and provide the best possible viewing experience, while maintaining the "festival feeling" we all love. We want fans and filmmakers to talk and inspire each other!
You can start watching films right away - no paywall or subscription required. We encourage you to make a free account to post comments and enjoy other benefits, but you can watch our entire library right now. No sign-up, no fees, no catch.
The only advertising we show is a brief pre-roll video. This allows us to pay the filmmakers (and keep the lights on!). But if you'd prefer the cleanest viewing experience, you can upgrade to our premium membership subscription that we will be rolling out shortly and enjoy all our films ad-free!
Related Articles View More TV

Stories
More Hot Stories For You