Showtime Documentary Series THE FOURTH ESTATE To Conclude This Sunday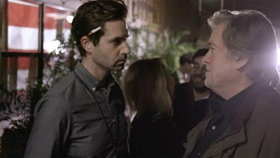 Michael Flynn pleads guilty to lying to the FBI and The New York Times probes deeper into the Russian investigation in "Matters of Fact," the final episode of the Showtime documentary series THE FOURTH ESTATE, which airs this Sunday, June 17 at 8 p.m. ET/PT on SHOWTIME. For a preview of the episode, go here!
As 2017 comes to a close, the reporters learn that the President's former national security adviser, Michael T. Flynn, has pled guilty to lying to the FBI - bringing the Russian investigation closer to Trump's inner circle. In the midst of the paper leading the reporting on workplace sexual harassment, allegations of past misconduct of one reporter in the bureau brings the story home. Investigative reporter Michael Schmidt heads south for the holidays to cover the President at the "Winter White House" in Palm Beach and finds himself face to face with the Commander-in-Chief. Executive editor Dean Baquet assembles the White House correspondents to assess how the paper's coverage of a President as unorthodox as Donald J. Trump should change in the new year. Media columnist Jim Rutenberg looks at Trump's alleged payouts to women, and the paper's Russia investigative team digs deeper on the obstruction of justice case that special counsel Robert Mueller might be building against the President. And for all the attacks on the free press over the course of Trump's first year in office, the paper is rewarded for what it does best: good reporting.
Produced and directed by Emmy®-winning and Oscar®-nominated filmmaker Liz Garbus (What Happened, Miss Simone?), THE FOURTH ESTATE is produced for Showtime by RadicalMedia and Moxie Firecracker Films, in association with Impact Partners, with Jenny Carchman (Long Strange Trip) and Justin Wilkes (What Happened, Miss Simone?) serving as producers. Along with Garbus, Carchman serves as director of episodes 2-4. Jon Kamen, Dave Sirulnick and Dan Cogan are executive producers.
The full four-episode documentary series is also available across Showtime platforms including On Demand and streaming.
SHOWTIME is currently available to subscribers via cable, DBS and telco providers, and as a stand-alone streaming service through Apple®, Roku®, Amazon, Google, Xbox One, Samsung and LG Smart TVs. Consumers can also subscribe to Showtime via Hulu, Youtube TV, Sling TV, DIRECTV Now, Sony PlayStation™ Vue, Amazon Channels and FuboTV.
Image courtesy of Showtime