SMOTHERED Will Drop on Revry
SMOTHERED is the new comedy series starring Jason Stuart (Ralph) and Mitch Hara (Randy).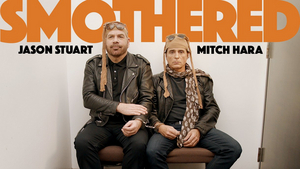 After rave reviews on Amazon, SMOTHERED has created such a buzz it's on everyone's, "The Series To Watch" list, including Daily Xtra, Queertly & iHeartRadio. Now REVRY makes SMOTHERED available on Apple TV, Samsung, Android TV, ROKU, FIRE TV and global platforms!
SMOTHERED
is the new comedy series starring
Jason Stuart
(Ralph) and
Mitch Hara
(Randy) who harness their unique comedic talents and baggage to express their joint creativity and individual couple's experience. They are not waiting for permission to to create theie own work, they just go for it. Hara & Stuart wrote and produced the series - a hysterical and sobering look at a gay, Jewish, middle-aged couple trying to salvage their hideous relationship in therapy hell. As the series unfolds through their riotous, unfiltered and often shocking therapy sessions, viewers discover how the couple of 30-something years outrageously nit-pick and push each other's buttons. Rom-com fans will have a demented field day with show featuring 7, bite sized episodes of couple absurdity, mixed with indiscretion, love, occasional bliss and water retention. You can binge the whole 1st season in 30 minutes and feel better about yourself.
JASON STUART
(actor/comedian/writer) appeared in the career shanging role in
THE BIRTH OF A NATION
starring Nate Parker & Arnie Hammer, the thriller
I
MMORTAL
(
On Demand, Sept.
8th
)
opposite Sam Levine (Freaks & Geeks) & Dylan Baker (Homeland) and the action film
ABDUCTED
now on Showtime. His autobiography
SHUT UP,IM TALKING
recently came out to rave reviews from
CCB PUBLISHING
. This pioneering out comic has done standup all over the country which became his stand up comedy special on Here TV.
MITCH HARA
(actor/director/writer) is touring his multi award winning one man show MUTANT OLIVE garnering rave reviews. He's played everything from a Harley-hit-man to a mental-patient-drag-queen nun. He's received multiple best actor awards for stage and film. He's played opposite John Savage, Sally Kirkland, Karen Black, Angela Landsbury, Paul Bartel, Shelly Winters, Al Pacino, Patrick Swayze, Susan Lucci, Doris Roberts, and John Travolta.
SMOTHERED
guest stars Dalila Ali Rajah (Criminal Minds), Erik Aude' (American Sniper), Clent Bowers (Little Fockers), Erika Ervin (American Horror Story), Helen Hong (Silicon Valley), Scott Krinsky (Chuck), Pancho Moler (Ray Donovan) and Carole Ita White (Laverne & Shirley). SMOTHERED was brought to life by director, Terri Hanauer (Sweet Talk). For more information, watch season one of
SMOTHERED
on
AMAZON
or visit
http://www.smotheredTV.com
.