Click Here for More Articles on TV/Movies - Film Reviews
Review Roundup: Did CAPTAIN MARVEL Send Critics Out of the World?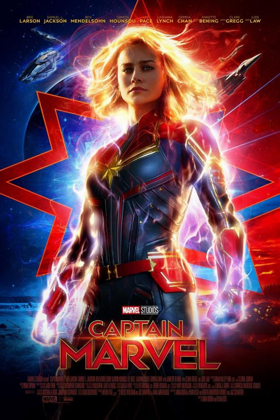 Set in the 1990s, Marvel Studios' "Captain Marvel" is an all-new adventure from a previously unseen period in the history of the Marvel Cinematic Universe that follows THE JOURNEY of Carol Danvers as she becomes one of the universe's most powerful heroes. While a galactic war between two alien races reaches Earth, Danvers finds herself and a small cadre of allies at the center of the maelstrom.
The film stars Brie Larson, Samuel L. Jackson, Ben Mendelsohn, Djimon Hounsou, Lee Pace, Lashana Lynch, Gemma Chan, Rune Temte, Algenis Perez Soto, Mckenna Grace, with Annette Bening, with Clark Gregg, and Jude Law.
Find out what the critics thought about Captain Marvel, ahead of its release in U.S. theaters this Friday, March 8!
---
Owen Gleiberman, Variety
In 'Captain Marvel,' Brie Larson radiates an ability that too many comic-book heroes never get the chance to show: the superpower of expression. She plays a Kree warrior, known as Vers (pronounced veers), who has been trained in the familiar comic-book-movie art of kicking cosmic butt (she specializes in leaping and flying martial-arts moves and the ability to deliver high-energy photon blasts). Yet what you can't help but notice, apart from the slithery bravura of her combat skills, is the feeling she brings to the fight. 'Captain Marvel' is only the second major Hollywood movie to feature a female superhero at its center, but it's a savvier and more high-flying fantasy than 'Wonder Woman,' because it's the origin story as head game. Larson's Vers is like someone trapped in a matrix - she has to shake off the dream of who she is to locate the superwoman she could be. And that makes for a rouser of a journey.
Todd McCarthy, The Hollywood Reporter
[G]ood will toward this new franchise, in particular, will probably grant the film a pass from most fans, but the storytelling is perfunctory at best: The characters are not dramatically introduced with any sense of interest or intrigue, the writing, dialogue and direction are pedestrian, and the visuals are sometimes, albeit not always, muddy."
Pete Hammond, Deadline
Steering the ship is the indie filmmaking team of Anna Boden and Ryan Fleck (Half Nelson), who step out of their comfort zone to command this project as co-directors and handle the requirements well, even if the results are less than what we hoped - especially after seeing DC's Wonder Woman explode on the screen with a magnetic Gal Gadot and sharp direction from Patty Jenkins. That clearly was a tough act to follow, and Captain Marvel is a bit too all over the place to match it. In terms of wit, it is no Guardians of the Galaxy, though it tries. In terms of action, it is no Avengers: Infinity Wars, though it promises to be a key part of Endgame (stay through all of the credits). And in terms of social relevance, you don't just stand up and cheer like the breakthrough genre-bending achievements of Panther and Wonder Woman.
A.O. Scott, New York Times
That protagonist - a tough and charming woman, in this case, determined to fight gender clichés at least to a draw - will be ready for a career of franchise clock-punching, along with the rest of us. You will stay through the very last credits in the hope of collecting every last Easter egg, and you'll shuffle out of the theater feeling both satisfied and empty.
Stephanie Zacharek, Time Magazine
Larson does get a few opportunities in 'Captain Marvel'to be that regular, flawed-but-strong human - there just aren't enough of them, and they're hardly the focus of the movie. Of course, in the broader context of the Marvel Cinematic Universe, this is all just a setup for Captain Marvel's role in the upcoming 'Avengers: Endgame.' But by the time I got to the end of 'Captain Marvel' - after watching Larson bash her way through phalanxes of wrinkled green aliens with her glowing fists, offer bathroom-mirror Post It-note words of encouragement to a little girl who beams at her adoringly, and hover in the air like Stan Lee's version of the Blessed Virgin shimmering in the grotto before the future Saint Bernadette - I wasn't thinking, Wow! Instead, I heard THE VOICE of my own inner superhero, Peggy Lee, whispering in my ear: Is that all there is? The most heinous supervillain of all is Boredom.
Peter Bradshaw, The Guardian
It's an unconventional origin-myth story, which makes it initially uncertain what the nature of those origins is, and maybe even whose origins exactly we're talking about. There's an eccentric splurge of tonal registers from boomingly serious to quirkily droll. The film hinges on a fierce performance from Brie Larson, though I think it could have showcased her in a stronger, clearer starring role and assigned her more of the script's funny lines.
David Sims, The Atlantic
"In recent years, the ever-expanding Marvel Cinematic Universe has seemed to keep finding exciting new territory to explore. As the long-running, multiheaded collection of superhero franchises rolled on, it exhibited inventive comedy in 'Thor: Ragnarok' and 'Ant-Man and the Wasp,' staggering scale in 'Avengers: Infinity War,' and a genuine cultural-paradigm shift with 'Black Panther.' With 'Captain Marvel,' sadly, that streak is over. The 21st entry in Marvel's galactic film empire, and the first focused on a female superhero (played by Brie Larson), is a perfectly fun time at the movies that deftly lays out the STAKES of its new character for many future appearances. But more often than not, it feels a little routine.
Richard Roeper, The Chicago Sun Times
This isn't the greatest Marvel movie ever made, but it's definitely one of the funniest - and one of the sweetest. Larson and Jackson have terrific buddy-movie chemistry, whether they're giving each other grief or covering each other's behinds. Amidst all the scenes with intergalactic warships and fireball-flinging, co-directors Anna Boden and Ryan Fleck wisely find plenty of room to take the foot off the accelerator and cede center stage to Larson, Jackson and the rest of the greatly talented cast.
Peter Travers, Rolling Stone
Set in the mid-1990's and feeling like it was made in a time before Iron Man and the other Avengers ever suited up for the big screen, this superhero film proudly waves a retro flag. But everything in its DNA, from representation (in front of and behind the screen) to its notions of empowerment, radiates our moment right now.
Meg Downey, IGN
The MCU's newest hero, Captain Marvel, has entered the fray literally swinging, with a cosmic-flavored origin story that feels like a much-needed fresh approach to the classic Marvel Phase One formula. With a soundtrack packed full of vintage '90s earworms and a delightfully unselfconscious sense of humor, Captain Marvel pulls off a satisfying introduction to the hero who may be our 'Avengers: Endgame' trump card.
Shana O'Neil, The Verge
Ultimately, 'Captain Marvel' gets its many jobs done, and it looks pretty good doing it. As a first-shot representation movie, it isn't as game-changing as 'Black Panther,' and it isn't as adventurous as 'Thor: Ragnarok.' But it does deliver the girl-power narrative the MCU needed on a level to rival 'Wonder Woman,' and not just by making Captain Marvel a powerful hero. It also makes her an admirable person, one with good friends and goals worth fighting for. And it firmly establishes Carol Danvers as one of Marvel's mightiest superheroes, which is exactly what the Avengers will need in 'Endgame.'
Related Articles