Photo Coverage: American Idol Finale On Stage!
Introducing your season nine "American Idol:" Lee Dewyze. In a battle between two tremendously talented contestants, DeWyze was able win America's votes and be crowned champion. After a tough set of performances last night, DeWyze was able to pull out the victory and what many considered an upset over runner up Crystal Bowersox. DeWyze was consistent throughout the season, giving great performance week after week and really honing his skills. DeWyze grew an incredible amount throughout the season and was able to turn himself into an "American Idol."
BroadwayWorld brings you offical photo coverahe of the season finale below!
Some statistics: each finalist was able to survive 18 different cuts, neither finalist was ever in the bottom two, and, before last night's votes, less than 2% of the votes separated the two contestants. It was likely an extremely close vote, especially considering how last night's performances went for DeWyze, but he was able to pull out the victory and become this season's winner.
A number of performances compounded the emotional night, which not only saw DeWyze crowned "American Idol," but also the farewell to longtime judge and "Idol" staple, Simon Cowell. It was an emotional but entertaining night and a great end to the season.
Each of the two finalists performed tonight, giving America one last look at their abilities before DeWyze was named the winner. Crystal Bowersox performed first, singing Ironic by Alanis Morissette. This is one song that I had hoped Bowersox would perform all season and I was more than satisfied with it tonight. Morissette joined Bowersox onstage for the remainder of the performance, as they sang You Oughta Know. Out of all The Combined performance tonight, this was easily my favorite.
Lee Dewyze took the stage with Chicago, performing a medley of hits. DeWyze's voice fit their soft rock style remarkably well, infusing his gravely vocals into their already classic music. The group is always a hit whenever they perform and it was a nice choice, given DeWyze's personal connection to the band. (He himself is from Chicago.) It was a really nice solo performance from DeWyze before the "Idol" vote was revealed.
Besides learning the winner of "Idol," there were a number of extremely exciting performances throughout tonight's episode:
Reuniting for the last time tonight, the top twelve contestants sang the Alice Cooper hit, School's Out. It was great to see contestants we hadn't seen in a while, including Andrew Garcia, Siobhan Magnus, and Didi Benami. Alice Cooper even joined the group onstage, singing the song with the passion that it couldn't really achieve as a group number. Overall, it was a very energetic and fun performance and a great way to start the "Idol" season finale.
Last season's winner, Kris Allen took the stage, singing his hit The Truth. I much preferred tonight's performance to Allen's performance earlier this season; he was able to perform a song much more suited to his personal style and his voice sounded spot on. I had never heard the song before and, actually, rather enjoyed it. Allen was most impressive when he went up to the higher notes in the bridge and last chorus (despite the crack) and it was clear he was completely immersed in the song. I thought the performance should have had a bit bigger ending, but I enjoyed it, nonetheless.
The show also took a nice look back at Simon Cowell's work throughout all nine seasons of "Idol." It featured several of Simon's best comments, including "That was extraordinary...unfortunately it was extraordinarily bad," "It sounded like a cat being thrown off the Empire State Building," and "If you win this contest, we will have failed." Dane Cook performed a "special song" based off of some of Simon's more favorite quotes, entitlEd Simon Said. I loved his line, "Simon, you have the honesty of Abe Lincoln and the charm of the guy who shot him." Cook was quite cleverly joined by some of the more memorably terrible performers throughout "Idol's" history, though it was unceremoniously interrupted by one of the group, Ian Bernardo, who took Cook's mic in what he called a "Kanye moment." Needless to say, the camera quickly pulled away from the action and went to commercial. Too bad. The song was fairly entertaining.
Siobhan Magnus and Aaron Kelly joined on stage to sing The Bee Gees' hit How Deep Is Your Life. Their voices blended incredibly well and I was impressed at how well Magnus' tone fit the style of the song. They began the song slowly before turning it over to the remaining Bee Gees alum, and then joined them for the final chorus. I am huge fan of this song and thought it gave a nice, simple touch to the show.
Audience favorite Michael "Big Mike" Lynche sang the Doobie Brothers' Takin' It to the Street with Michael McDonald. Each complimented the other quite nicely in the performance. Both are such passionate singers and were able to play well off one another for a successful showing.
The top six women performed the Christina Aguilera hit Beautiful in a number showcasing each of the six. The song then transitioned into Aguilera's Fighter where, to me, Paige Miles completely stole the show. The women then introduced Aguilera herself to sing You Lost Me. Aguilera's voice has always been incredible and tonight was no exception. She has such control and it was extremely apparent tonight. Aguilera seemed very in touch with the song: she seemed to hold back tears toward the end of it. After a bit of a hiatus from music, Aguilera is back in a big way.
The gentlemen then took the stage to sing I Can't Go For That (No Can Do) by Hall & Oates. DeWyze began the song, proving why he has made it this far in the competition. They then transitioned into Maneater before introducing the Hall & Oates themselves to perform You Make My Dreams. They are one of my favorite groups of all time and, as always, they impressed me tonight. Their songs are so catchy and they sounded great live, especially with the top six guys backing them up.
One of the most successful "Idol" winners of all time, Carrie Underwood performed her hit Undo It, giving us the only country offering of the night. Underwood clearly knows how to command a stage. Her voice is so strong and she was able to showcase her range with this song. I'm not typically a country fan, but I really enjoyed Underwood's passionate performance.
Casey James joined Poison onstage to sing Every Rose Has Its Thorn. After suffering a brain hemorrhage in April, Bret Michaels was able to take the stage for the performance and he was as good as ever. After such a serious injury, it's great to see that Michaels is getting back to performing. It wasn't my favorite performance of the night, as it felt a little disjointed, but both Michaels and James sounded good and they gave it their all.
Another great addition came in the form of the incomparable General Larry Platt, singing one of the best songs this season, Pants on the Ground. The background dancers were an incredibly welcome addition, not to mention the fact that Platt was joined by "Idol" superstar William Hung. Hilarious.
One of the most touching moments tonight was when "Idol" alum Paula Abdul took the stage in her tribute to Simon. It was clear that Simon and Paula developed a close friendship throughout her years on "Idol" and Paula was extremely charming in her words. It was fitting that "Idol" treatEd Simon's departure with both humor and sadness. After a number of recorded segments, both hilarious and poignant, seven of the eight "Idol" champions (David Cook was absent) took the stage to commemorate Simon's work on the show. The group was eventually joined by many of the top "Idol" contestants over the years, all honoring the departing judge. Simon then took the stage to thank the entire "Idol" community for their sentiments. My favorite part of his speech: "You know what the truth is, when everyone asks who's going to replace me, who's going to be the next judge...the truth is, you guys are the judge of this show. And you've done an incredible job over the years ... it's been a blast."
Next, Janet Jackson took the performed a very emotional and heartfelt Nothing. Jackson sounded great as always and I was impressed with her control throughout the song. I also thought the performance was very different and interesting and was a nice addition to the night. The song then transitioned into Jackson's Nasty, a very theatrical performance contrasting her much more internal first number. The backup dancers were great and the lasers worked extremely well for the feel of the song. Jackson gave another solid performance on a rather strong season finale.
The two finalists took the stage one last time to sing With a Little Help From My Friends alongside Joe Cocker, for a fittingly final performance. It was a nice sendoff to both Crystal and Lee and a great end to the night's performances.
Overall, it was another entertaining season of "American Idol." This will likely be the last of "Idol" as we know it, with the departure of Simon, and the show went out with a bang. Lee Dewyze was an excellent choice to win the competition and tonight was likely the beginning of the end for a show that has been a staple of American culture for nine years.
Congratulations to Lee Dewyze and thanks for joining me through this season of "Idol."
"American Idol" is a reality competition to find new solo musical talent, created by Simon Fuller. It debuted June 11, 2002 on the Fox network and has since become one of the most popular shows on American television. It is currently the #1 TV show in the Nielsen Ratings and is one of only three that have been #1 for five consecutive seasons. The cast of "Idol" includes judges Simon Cowell, Randy Jackson, Kara DioGuardi, and Ellen Degeneres, and host Ryan Seacrest.
The program aims to discover the best singer in the country through a series of nation-wide auditions, and subsequent viewer voting. Through telephone voting, America has chosen past winners Kelly Clarkson, Ruben Studdard, Fantasia Barrino, Carrie Underwood, Taylor Hicks, Jordin Sparks, David Cook, Kris Allen, and Lee Dewyze.
Several "Idol" contestants have been seen on the Broadway stage, including Barrino (The Color Purple), Hicks (Grease), Clay Aiken (Spamalot), Diana DeGarmo (Hairspray, Hair), Josh Strickland (Tarzan), Tamyra Gray (Rent, Bombay Dreams), Constantine Maroulis (The Wedding Singer, Rock of Ages), and Ace Young (Hair).
Photos Courtesy of Vince Bucci/FOX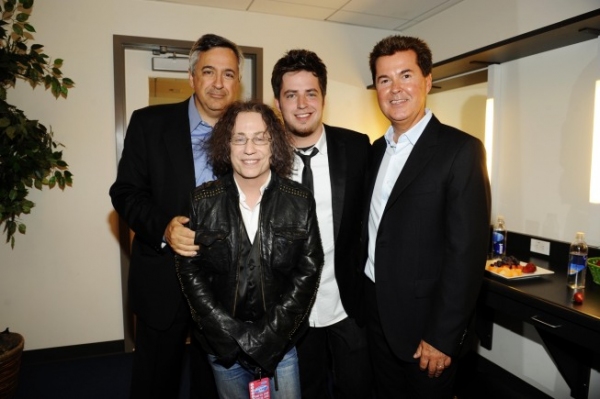 Tony Vinciquerra - Chairman and CEO Fox Networks Group, Mike Darnell - President Altrernative Programming Fox Broadcasting, Lee SeWyze - American Idol season nine winner Lee Dewyze and Simon Fuller - creator and executive producer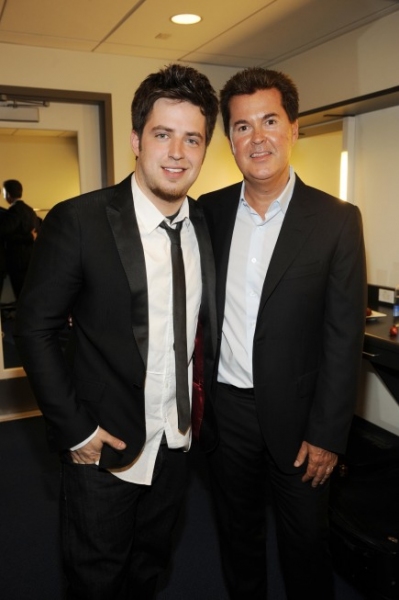 Lee Dewyze and Simon Fuller

Alice Cooper and Idol Finalists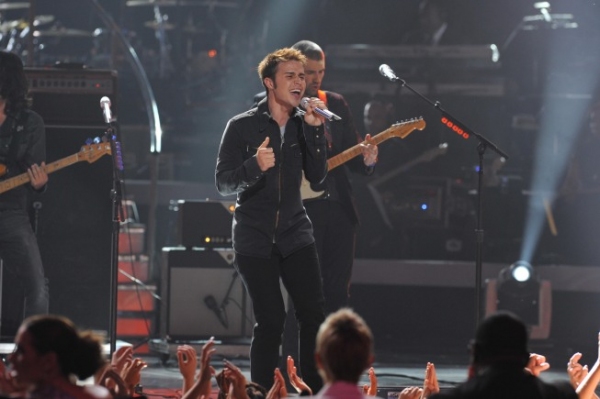 Season eight American Idol Kris Allen

American Idol finalists Siobhan Magnus and Aaron Kelly and The Bee Gees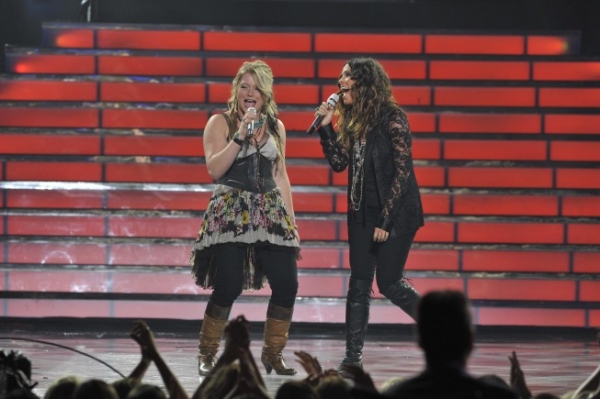 Alanis Morissette and Idol finalist Crystal Bowersox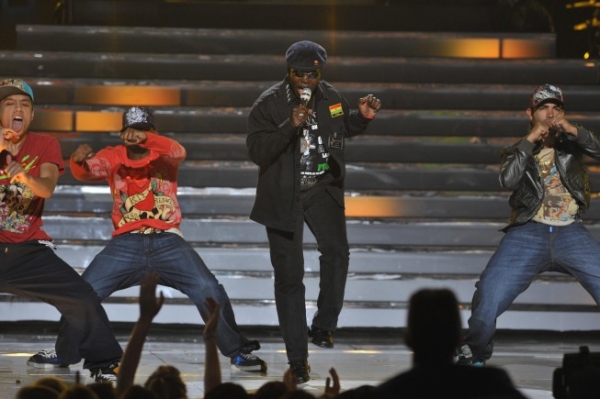 Gen. Larry Platt performs "Pants On The Ground"

Idol contestants William Hung and Gen. Larry Platt perform "Pants On The Ground"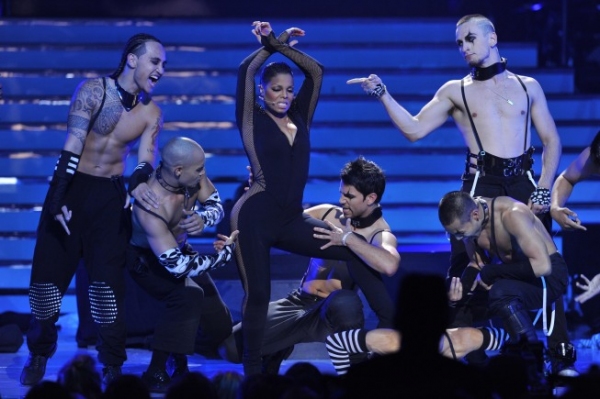 Janet Jackson

Lee Dewyze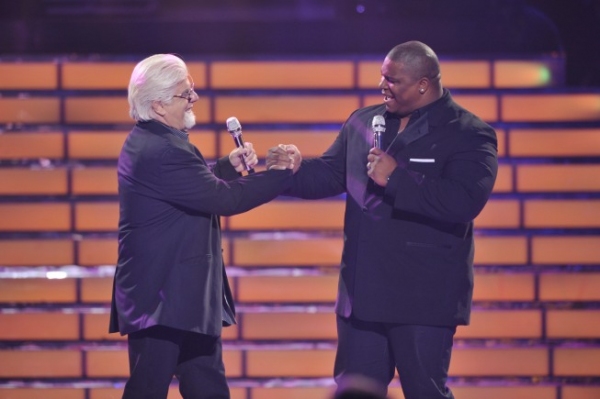 Idol finalist Michael Lynche and Michael McDonald

Dane Cook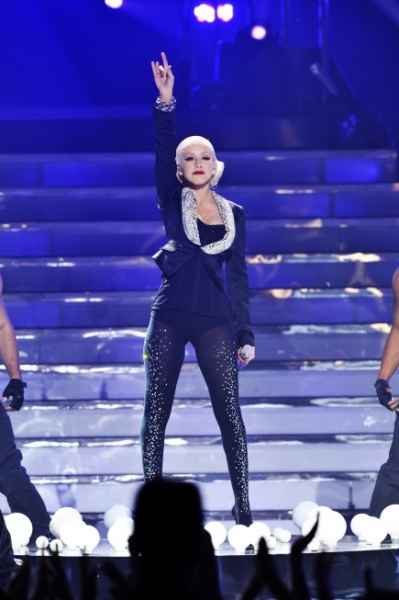 Christina Aguilera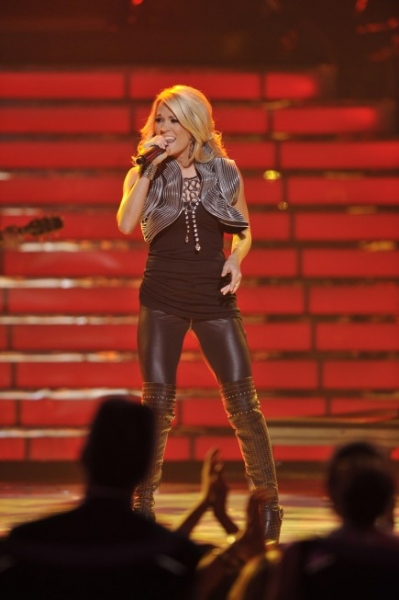 Carrie Underwood

Brett Michaels and Finalist Casey James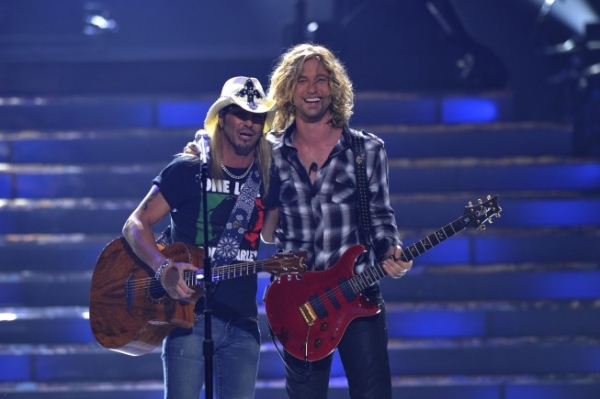 Brett Michaels and Finalist Casey James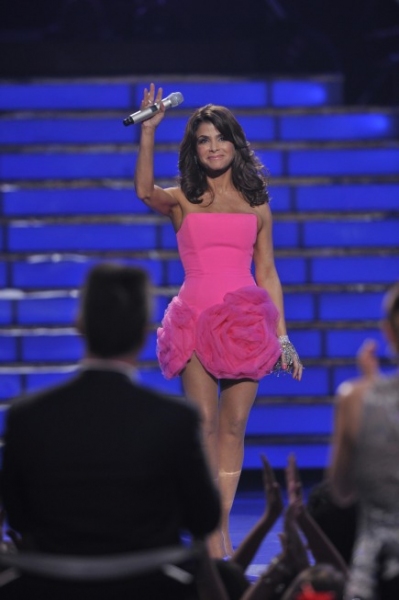 Paula Abdul

Janet Jackson

Idol Finalists Andrew Garcia, Aaron Kelly, Lee Dewyze, Casey James, Michael Lynche and Tim Urban with Daryl Hall and John Oates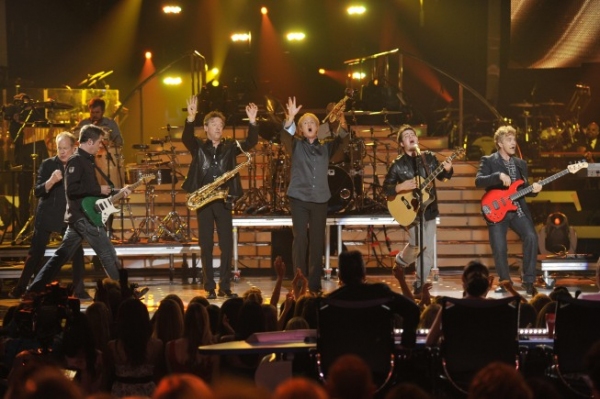 Idol finalist Lee Dewyze

Lee Dewyze Celebrates Win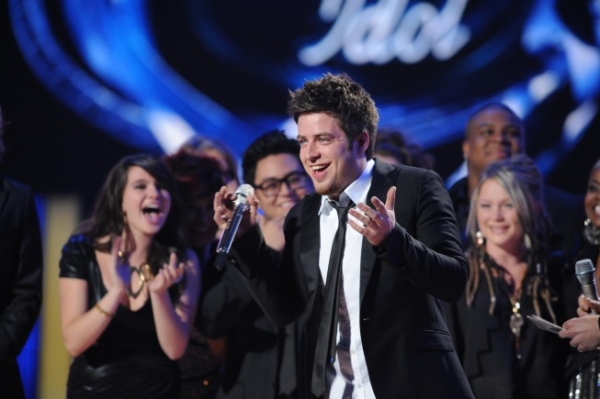 Lee Dewyze Celebrates Win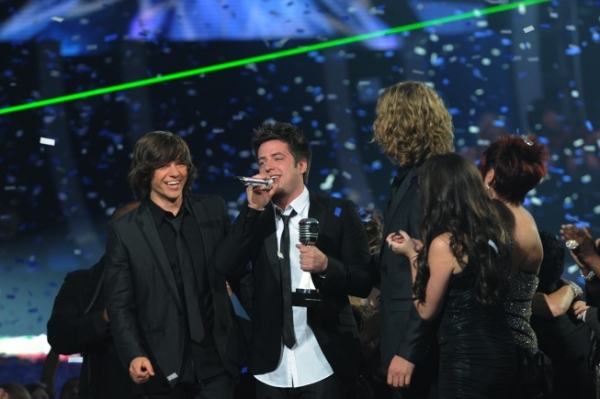 Lee Dewyze Celebrates Win