Matoma Releases Debut Documentary, MATOMA: ONE IN A MILLION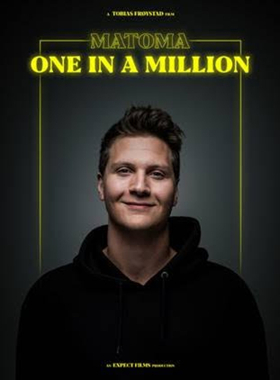 Tom a.k.a. Matoma may not be the biggest superstar DJ in the scene, but this big character from a small Norwegian town is one of the most unique. When he studied music technology it was to become a music teacher, not for aspirations of stardom. His life however was turned upside down when he uploaded remixes online for fun and it generated millions of plays. While this would be a fairytale story for some, Tom didn't care about becoming a superstar - which is his unique gift, and sometimes his curse.
"We may not have the high-highs or low-lows of other artists in this space" says Producer Andrew Jackson, "but we have Tom - and he is truly one in a million. He brings such a unique, humble and frankly inspirational approach to the scene that we needed to share with the world."
'Matoma: One In A Million', follows Tom's inspiring approach to a crazy scene, and ultimately his search for balance, in an industry which is tougher than he ever thought it would be. Director Tobias Frøystad spent two years on the road with Matoma, capturing his ups and downs on tours and in studio sessions around the world.
"The nice thing about Tom is that he is very open by nature and gave me NO LIMITS on what could not be filmed," Director Tobias Frøystad says of working with Tom. "We all have seen music documentaries before where the artist and their story are polished to build the right image for the artist. I wanted full creative freedom and access, as I saw this as a necessity for the movie to be as real as possible, something I am very grateful for. On my journey, I became very fascinated by the very human being Tom and his view of life. I think we all have something to learn from him."
In a fast-moving entertainment scene so much can change in such a short time, and so can a person and their priorities. 'Matoma: One In A Million' is an audio-visual cocktail showing this inside look at the music industry and Tom's professional and personal journey. Matoma's 'One In A Million' is available now at all major online retailers.
'Matoma: One In A Million' closes another intense year for Matoma which saw the release of his debut album of the same name, which has already culminated in over a quarter of a billion streams and features collaborations with the likes of Enrique Iglesias, The Vamps, Noah Cyrus and MAX. More recently, Matoma released the official video for 'Sunday Morning' featuring Josie Dunne, a fan favorite from his album, as well as a string of remixes of the track. The 'Sunday Morning' remix EP is set to drop this Friday, 12/21.
To kick off 2019, Matoma will embark on his international 'Holy Moly!' headline tour, with shows across Europe and North America; playing at venues including Paradiso Amsterdam, Terminal 5 in New York, and The Warfield San Francisco (full itinerary below). For tickets and more information, please visit: https://hakunamatoma.com/
HOLY MOLY! TOUR DATES
31st Jan - Finland - Tavastia Helsinki
1st Feb - CZ - The Roxy Prague
2nd Feb - Netherlands - Paradiso Noord Amsterdam
8th Feb - UK - SWG3 Warehouse Glasgow
9th Feb - France - La Maroquinerie Paris
15th Feb - Denmark - Vega Jr. Copenhagen
16th Feb - Sweden - Liljan Borlange
22nd Feb - New Jersey - Daer Atlantic City
23rd Feb - New York - Terminal 5 New York City
27th Feb - Colorado - BELLY UP Aspen Aspen
28th Feb - Minnesota - The Loft at Skyway Theatre Minneapolis
1st Mar - Massachusetts - House of Blues Boston
2nd Mar - D.C. - Echostage Washington
8th Mar - Washington - Neptune Theatre Seattle
9th Mar - California - The Warfield San Francisco
15th Mar - BC - Commodore Ballroom Vancouver
16th Mar - California - Omnia San Diego
22nd Mar - Colorado - Ogden Theatre Denver
23rd Mar - Oregon - 45 East Portland