Films From Germany & Austria Take The Spotlight At Winter Film Awards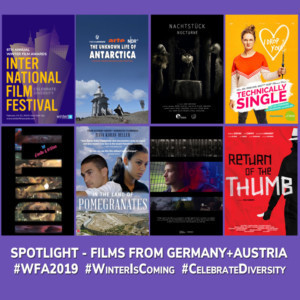 Winter Film Awards Is New York City. Like the city itself, the organization showcases the eclectic diversity and excitement of the independent arts world. The 8th Annual Winter Film Awards International Film Festival runs February 14-23 2019, and includes awesome film screenings, cool discussion panels, career-building professional development workshops and super-fun parties at venues throughout NYC. The event concludes on February 23rd with a glittering awards ceremony and hot red carpet gala at NYC's premier nightclub. The Fest celebrates the outstanding work of emerging filmmakers in all genres from around the world, with an emphasis on highlighting underrepresented and marginalized artists. For our 2019 Festival, we proudly present 89 films from 32 countries, half directed by women and 53% by or about people of color.
For our 2019 program, Winter Film Awards is honored to screen an incredible collection of seven films from Germany and Austria.
All screenings take place at CINEMA VILLAGE, 22 East 12th Street, New York NY 10003
For tickets, visit https://wfa2019.eventcombo.com/
Extreme Number , directed by Irina Arms (Feature / 81 mins / Germany / NYC Premiere). Screening Wednesday Feb 20, Block 16: 7:45pm-11:00pm. Based on a true story, Extreme Number blends real and fiction to tell the story of a young refugee from Chechnya who comes to Germany in 2004 and is immediately thrown into prison in Berlin. He enlists the help of a translator to escape and then joins a terrorist group in Berlin that gives him a very special order. Authentic war documentation is embedded in the film as flashbacks - this is real coverage of war, shot by a Chechen Rebel from 1996-2000 in Chechnya.
IDNTT , directed by Bettina D'mello, Dr Khan (Music Video / 7 mins / Germany). Screening Monday Feb 18, Block 11: 12:00pm - 2:30pm. The music-clip IDNTT pictures the process of identification in times of egomaniacal callousness. Provided with a mobile recording studio, camera equipment and a vision, D'Mello and Dr Khan traveled to Brazil and Argentina for ten weeks. The music and video were inspired by, and arose within the countries, refined in collaboration with local musicians and dancers, kindly supported with contacts by the Goethe Institutes in Rio de Janeiro and Buenos Aires.
In The Land of Pomegranates, directed by Hava Kohav Beller (Documentary / 125 mins / Germany). Screening Sunday Feb 17, Block 9: 6:30pm -9:00pm. A multi-layered documentary centered on a group of young people who were born into a violent and insidious ongoing war -- young Palestinians and Israelis invited to Germany to join a retreat called 'Vacation From War.' In highly charged encounters they confront the entrenched myths and grievances that each side has for the other. Woven into this intense footage are the stories of other embattled lives in the Occupied Territories and Israel: a mother and four children living in the shadow of Gaza's border wall; an imprisoned Palestinian and the subsequent path he's taken; a traumatized Israeli survivor of a suicide bombing; and a daring Palestinian mother whose son's life is saved by an Israeli doctor.
Nocturne - Nachtstück, directed by Anne Breymann (Animated / 5 mins / Germany). Screening Sunday Feb 17, Block 9: 6:30pm -9:00pm. At night the forest creatures gather to gamble, putting their innermost at stake.
Return of the Thumb - Die Rückkehr des Daumens, directed by Florian Convey (Feature / 102 mins / Austria / North American Premiere). Screening Saturday Feb 16, Block 6: 9:15pm -12:00am. Coach Steve is a worn down thumb wrestling coach, who, with the help of his new fighter, wants to take his last chance to win the Austrian thumb wrestling championship. Unfortunately the competition seems overwhelming.
Technically Single, directed by Sebastian Stojetz (Web / 10 mins / Germany / NYC Premiere). Screening Sunday Feb 17, Block 8: 3:45pm - 6:15pm. Juli?s childhood dream becomes reality the day she enrolls at the technical university?s engineering program. The same day, her long-term boyfriend dumps her, arguing that she?s too emancipated for his liking. Deeply hurt, Juli decides to fight for her love and win him back by any means necessary - in order to dump HIM. Because let?s be honest ... nobody wants to be the dumpee, right?
The Unknown Life Of Antarctica - Abenteuer Antarktis - Ein Jahr Im Ewigen Eis, directed by Joanna Michna, Lars Pfeiffer (Documentary / 89 mins / Germany / World Premiere). Screening Monday Feb 18, Block 12: 2:45pm - 5:15pm. King George Island is located on the edge of the coldest continent on earth. The island is the gateway to Antarctica. At its southwestern tip, research stations of different nations that could not be more different are situated in the overwhelming landscape. Conflicting political attitudes and culture clashes battle it out in a sharply reduced space. But in Antarctica, you can only survive together - a very special challenge in one of the most hostile areas of our earth. In the Antarctic summer, international researchers come to the Island and elicit their secrets from the untouched nature and the local animals. In winter, only a few remain in the stations. Largely self-sufficient, they master day-long blizzards and relentless cold in this small community.
Winter Film Awards is an all volunteer, minority and women-owned registered 501(c)3 non-profit organization founded in 2011 in New York City by a group of filmmakers and enthusiasts. This program is funded, in part, by a grant from the NYC & Company Foundation. Winter Film Awards is made possible by the New York State Council on the Arts with the support of Governor Andrew M. Cuomo and the New York State Legislature. Winter Film Awards is proudly one of the Top 100 Best Reviewed Festivals on FilmFreeway.
Festival Founder George Isaacs says "Emerging filmmakers are so often ignored in favor of big budget generic action films, and filmmakers with limited budgets and lack of connections can be easily overlooked. Diverse, exciting low budget films are created all over the world; it is critical for local film festivals to showcase them. WFA's location in the center of the action provides our filmmakers with a dazzling chance to begin their careers in the film industry."
For more information about Winter Film Awards events and sponsors, visit www.WinterFilmAwards.com.
For more information about the Winter Film Awards judging process, visit our FAQ.
For more information about last year's Festival, including Press Information, visit our 2019 Festival page.
Related Articles
View More TV

Stories
More Hot Stories For You