Film Society of Lincoln Center Announces Emotion Pictures: International Melodrama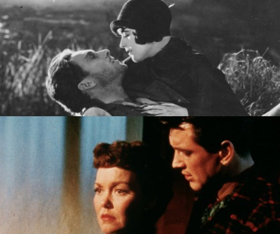 The Film Society of Lincoln Center announces Emotion Pictures: International Melodrama, a historical survey of the genre that boldly endeavors to put emotion on screen in its purest form, December 13, 2017 - January 7, 2018.
When audiences think about movie melodramas, the first names that come to mind are titans of Hollywood's golden age, directors (Douglas Sirk, Nicholas Ray, Vincente Minnelli, George Cukor) and stars (Lillian Gish, Joan Crawford, Bette Davis) alike. But the melodrama is by no means a distinctly American or mid-century genre, having laid its roots during the silent era (in the work of D. W. Griffith, Erich von Stroheim, F. W. Murnau) before flowering in Japan (Kenji Mizoguchi, Mikio Naruse), Italy (Pier Paolo Pasolini, Federico Fellini), England (David Lean), and elsewhere. Indeed, the careers of many key filmmakers of modern cinema have been predicated on radical reinterpretations of the form, as in the work of Rainer Werner Fassbinder, Pedro Almodóvar, Todd Haynes, Leos Carax, Lars von Trier, Wong Kar Wai, and Guy Maddin. Works by all of those mentioned above are featured in this expansive 62-film series.
FSLC will screen works from the genre's earliest stages (five diverse silent films, all with live piano accompaniment by Donald Sosin) through Technicolor weepies and on to its subversive latter-day incarnations, with most of the series screening on 35mm. Emotion Pictures places a significant focus on melodrama's international reach, featuring masterworks from Asia (Kim Ki-young's The Housemaid, Fei Mu's Spring in a Small Town, Stanley Kwan's Rouge, Ritwik Ghatak's The Cloud-Capped Star, Lee Chang-dong's Secret Sunshine),
AFRICA
(Youssef Chahine's Cairo Station), Latin America (Arturo Ripstein's The Castle of Purity, Roberto Gavaldón's The Kneeling Goddess, Hugo del Carril's Beyond Oblivion), and many more. To complement the features in the series, a selection of exquisite short films have been thematically paired with key selections: animator Stacey Steers's handmade collage films Edge of Alchemy and Night Hunter, which feature repurposed footage of Janet Gaynor and Lillian Gish, screen with Murnau's Sunrise and Victor Sjöström's The Wind, respectively; Sirk's Imitation of Life is preceded by artist Ming Wong's subversive re-staging Life of Imitation, and his In Love for the Mood shows prior to Wong Kar Wai's swoon-worthy In the Mood for Love; Mark Rappaport's video essay examination of a favorite Hollywood prop, The Vanity Tables of Douglas Sirk, is presented with Sirk's heartbreaking All That Heaven Allows; shorts by George Kuchar and Guy Maddin precede their feature-length films; and more. Organized by Florence Almozini, Dennis Lim, and Tyler Wilson.
Tickets will go on sale Thursday, November 30. Save with special holiday pricing: tickets just $7 for Film Society members, students, and seniors (62+); and $10 for the general public. Visit filmlinc.org for more information.