Crackle Announces Development of 'The Butcher' With Gary Oldman and 'Office Uprising' Among Others
Deadline reports that Crackle's GM Eric Berger made an announcement that the channel is developing drama The Butcher and comedy Office Uprising, among others.
The Butcher is a serial killer drama, written by Charles Burmeister and produced by Gary Oldman and Douglas Urbanski.
Berger explained that the series is "a contemporary story of one homicide detective's epic investigation to find, hunt, and kill a serial killer who lives among us."
He also announced the new show Office Uprising which Berger explains as being about "an underachiever working at a major weapons manufacturer discovers his co-workers have been weaponized by an energy drink designed for the military."
Among the other announcements was the key art for the new original drama The Oath, starring Ryan Kwanten, Cory Hardrict, Katrina Law, Arlen Escarpeta, J.J. Soria and GAME OF THRONES alum, Sean Bean. The art can be seen below: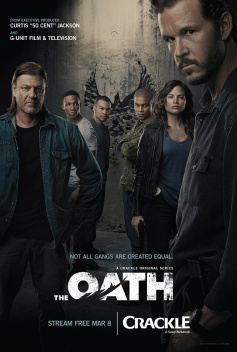 Read more here.