Bike, Laugh, Heal Launch Show With Comedians Mara Marek and Andrew Collin to Raise A Million Dollars to Fight Domestic Violence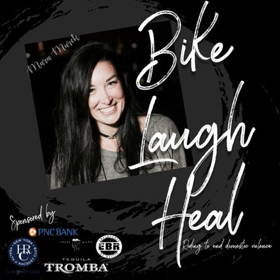 Comedians Mara Marek and Andrew Collin are launching a coast-to-coast bicycle tour to raise $1M dollars to end domestic violence. Launch show in NYC, kicking off a journey that ends in San Francisco in mid-November at Carolines, 1626 Broadway, NYC on Monday, August 13, 2018. The kickoff show is to send Mara and Andrew merrily on their way as they embark on a national bike tour unlike any national bike tour, to raise awareness and raise $1M to end domestic violence.
To donate to the tour, visit here!
Mara Marek, comedian and creator of the popular podcast Happy Never After will set off on a cross-country bike tour, with her co-host Andrew Collin, to do the impossible - fight domestic violence while wearing spandex! Kicking off on Monday, August 13th at Carolines in New York City, the comedians will travel by bicycle across the nation, landing in San Francisco on November 15.
The goal is to raise $1 Million to prevent domestic violence and support survivors on their journey to safety, health, and laughter. From New York to San Francisco, the tour hopes to draw national, regional and local attention. Marek will also be posting daily blogs, weekly webisodes, and keeping the fans and donors updated on social media.
With over 12 million downloads, the Happy Never After podcast enjoys a dedicated worldwide fan base who will listen along with Mara and Andrew as they prove an end to domestic violence is not at all laughable (...but the comedy is!).
Mara Marek is an NYC-based comedian and fitness fanatic. She is the host of the very popular Happy Never After podcast in which the hosts discuss her 3 divorces and 7 broken engagements...yes. 7. An ex-professional cyclist, Marek wouldn't let one little car hitting her take her out, thus she travels the country performing in clubs and theaters and raising money for domestic abuse victims. Originally from Michigan and you may have seen her in a borrowed swimsuit on Jimmy Kimmel Live. She's never gonna be able to get over that - being from Michigan, not the swimsuit.
Bike, Laugh, Heal Tour Dates:
August 13 - NYC - Carolines
August 14- SPRINGFIELD, NJ- Comedy Cove
August 15- PHILADELPHIA, PA- Punch Line
August 22- PITTSBURGH, PA- Pizza Shop
August 26- COLUMBUS, OH- Funny Bone
August 27- DAYTON, OH- Wiley's Comedy Joint
August 29- CINCINNATI, OH- Taft's Brewing Company
August 30- LEXINGTON, KY- Tin Roof
September 1- INDIANAPOLIS, IN- Morty's Comedy Joint
September 4- CHICAGO, IL- Under The Gun Theater
September 26- DENVER, CO- Black Buzzard
October 27- SALT LAKE CITY
November 8- RENO, NV
November 11- SACRAMENTO, CA
November 15- SAN FRANCISCO, CA