Tenor Anthony Kearns Sang the National Anthem at Major NFL Game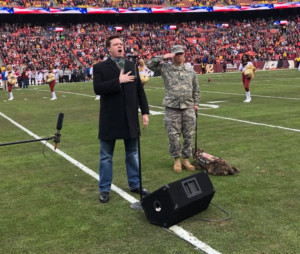 World renowned tenor Anthony Kearns sang The National Anthem as the guest of the Washington Redskins on Sunday, December 17, 2017 at 1 p.m. ET as they hosted the Phoenix Cardinals at FedExField in Landover, MD. The Redskins won, 20-15.
Mr. Kearns was escorted by John Gerula, a former U.S. Marine, and his service dog Oliver, both of whom were helped by American Humane's new "Shelter to Service" program. The recently-launched program saves lives on both ends of the leash by helping our warriors cope with highly trained animals saved from shelters. Kearns and Gerula also appeared together at a benefit tonight to raise awareness for American Humane in the Washington, D.C. area.
Special guests included Debra Alfarone, anchor/reporter for WUSA-Channel 9 (CBS affiliate as Emcee, Irish Ambassador to the United States, Dan Mahall, LTC Don Makay, commander of the 69th Army Reg. New York ("Fighting 69th), former U.S. Congressman Robert Livingston, R-LA., and others.Gerula is a former volunteer firefighter and former U.S. Marine who fought in Operation Phantom Fury. Oliver, whose life was also saved, hails from a shelter in Colorado and is trained to help veterans recover from their war wounds.
Kearns has become well-known in the Washington, D.C. area as a solo artist and is a popular entertainer at national and international sporting events from the NFL to the 2017 World Pegasus Cup. He has had the honor to sing for three U.S. Presidents, the Speaker of the House, Supreme Court Justices, and the Chairman of the Joint Chiefs of Staff, among others.
Anthony Kearns took the American television audience by storm in 1999 as the youngest member of the wildly popular musical group, The Irish Tenors. American critics hailed Kearns as perhaps the most likely of the three (Irish Tenors) to "achieve the level of tenor super stardom now enjoyed by Pavarotti and a handful of other singers." Kearns has 10 CDs and several television specials to his credit with The Irish Tenors. Their CDs have gone Gold, Platinum and Double Platinum. Now living in the U.S., Mr. Kearns frequently performs at charity benefits, concerts, on television, and with the finest symphony orchestras and opera houses in Europe and America.