Photo Flash: First Look at Opera Colorado's THE SCARLET LETTER World Premiere
This month, Opera Colorado presents the world premiere of THE SCARLET LETTER -- a new adaptation of Nathaniel Hawthorne's iconic American novel by composer Lori Laitman and librettist David Mason. The premiere marks yet another major milestone for Opera Colorado, which recently announced a return to a three-production season in 2016-17. Ahead of tomorrow's first performance, BroadwayWorld has a first look at the company in action below!
Directed by Beth Greenberg, who is making her Opera Colorado debut, and conducted by Music Director Ari Pelto, with set design by Erhard Rom and costume design by Terese Wadden, Opera Colorado's premiere of THE SCARLET LETTER will feature soprano Laura Claycomb as Hester Prynne in her Opera Colorado debut. Claycomb takes the place of Elizabeth Futral, who has had to withdraw from the production due to personal health reasons. Additional cast members include: baritone Malcolm MacKenzie as Roger Chillingworth; tenor Dominic Armstrong as Arthur Dimmesdale; mezzo-soprano Margaret Gawrysiak as Mistress Hibbons; baritone Daniel Belcher as Governor Bellingham; and tenor Kyle Erdos Knapp as John Wilson.
Opera Colorado's production of THE SCARLET LETTER will be the first professional staging of the opera, which was commissioned by The University of Central Arkansas in 2007 and performed by students and faculty in 2008. Since that performance, Laitman has updated the opera's score-re-orchestrating the entire work, expanding the choral writing, and tightening up the dramaturgy.
Photo Credit: Matthew Staver

Dominic Armstrong (Arthur Dimmesdale) and Margaret Gawrysiak (Mistress Hibbons)

Laura Claycomb (Hester Prynne) and Malcolm MacKenzie (Roger Chillingworth)

Kyle Erdos Knapp (John Wilson) and Laura Claycomb (Hester Prynne) and Opera Colorado Chorus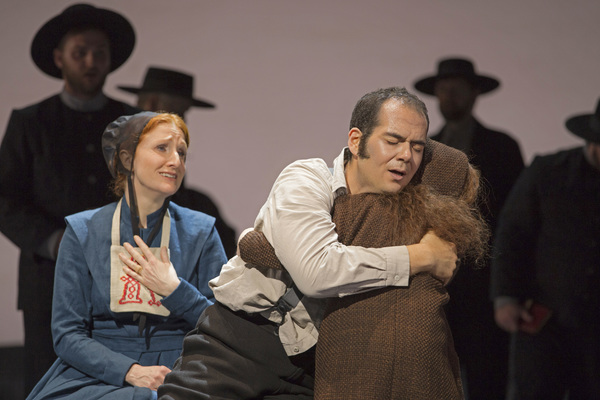 Laura Claycomb (Hester Prynne) and Dominic Armstrong (Arthur Dimmesdale)

Dominic Armstrong (Arthur Dimmesdale) and Opera Colorado Chorus

Maiah Elyse Howie (Pearl) and Laura Claycomb (Hester Prynne)

Laura Claycomb (Hester Prynne)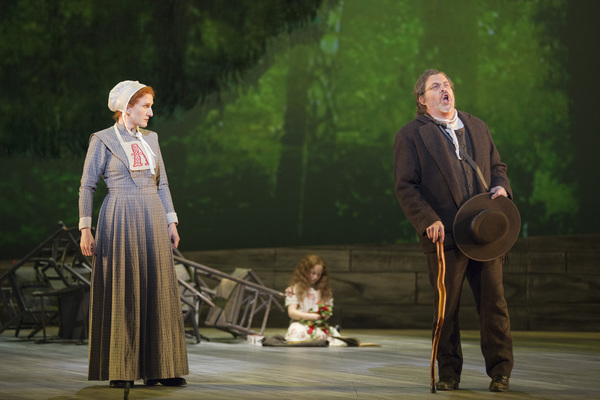 Laura Claycomb (Hester Prynne), Maiah Elyse Howie (Pearl) and Malcolm MacKenzie (Roger Chillingworth)

Malcolm MacKenzie (Roger Chillingworth) and Dominic Armstrong (Arthur Dimmesdale )

Opera Colorado Chorus