Photo Flash: First Look at Company XIV's JUDGE ME PARIS
Company XIV, in association with Morningside Opera and SIREN Baroque, presents the World Premiere of JUDGE ME PARIS, a Baroque Burlesque Opera, directed and choreographed by Austin McCormick. Judge Me Paris includes excerpts from John Eccles and
John Weldon
's Baroque opera The Judgment of Paris, sung by Morningside Opera, with a libretto by
William Congreve
, Baroque music performed by SIREN Baroque, and additional text by
Jeff Takacs
.
Check out the production photos below!
Judge Me Paris runs from May 17 – 27, 2012 in a limited engagement at the 303 Bond Street Theatre, located at 303 Bond Street, between Union & Sackett in Carroll Gardens, Brooklyn. The show officially opens on May 17. Performances are Thursdays – Sundays at 8pm. Tickets are $40 and can be purchased online at http://www.BrownPaperTickets.com or by calling 1-800-838-3006. The running time is 75 minutes. No one under 16 will be admitted. For more information visit http://www.CompanyXIV.com.
Judge Me Paris is a Baroque Burlesque Opera fusing live music, theatre, dance and projection to titillate and entertain. Watch as Pallas, Juno and Venus vie for the title of fairest in the first ever beauty contest…Who will win the Golden Prize?
The cast includes opera singer Brett Umlauf as Pallas, opera singer Amber Youell as Juno, opera singer Brittany Palmer as Venus, Sean Gannon as Paris, Jeff Takacs as Zeus, Marisol Cabrera, Laura Careless, Katrina Cunningham, Ashley Handel and Cailan Orn.
SIREN Baroque features Antonia Nelson on violin, Kelly Savage on harpsichord, Anneke Schaul-Yoder on cello and Claire Smith on violin.
The design team includes Zane Pihlstrom (Set Design), Gina Scherr (Lighting Design), Olivera Gajic (Costume Design) and Corey Tatarczuk (Projection Design).
Company XIV's work is a unique mash up of classical texts, Baroque choreography, eclectic music, pop culture, opera, burlesque, ballet, gender bending, high fashion, theatrical staging and sumptuous design that has wowed both audiences and critics. Company XIV shows are cutting-edge, yet extravagantly classical. Taking his cue from theatre/dance/opera under the reign of Louis XIV, Director/Choreographer Austin McCormick creates a compelling 360-degree experience for audiences. The Players of Company XIV are theatrical libertines, who tempt, delight and fully immerse their audiences in the experience of their performances, inviting them to be seduced and liberated.
Morningside Opera's mission is to challenge the boundaries and the conventions of the genre, and to spark dialogue about opera between new and traditional audiences. They are committed to inventive, experimental and multimedia performances. Their programming focuses on original productions of standard repertoire, new operas and revitalized, little-known works. For more information visit http://www.MorningsideOpera.com.
New York City based SIREN Baroque stages vibrant, thought-provoking programs of early chamber and vocal music. Bringing passionate and historically informed performances to concert halls, art galleries, and cafes throughout New York and overseas, the nine women of SIREN are committed to infusing passionate historical accuracy with a twinge of modern dynamism by commissioning new works for historical instruments. For more information visit http://SirenBaroque.com.
Austin McCormick holds a BFA from the Juilliard School and is a graduate of The Conservatory of Baroque Dance. He is an alumnus of the Harid Conservatory and North Carolina School of the Arts. In 2006, he founded Company XIV, a dance/theatre troupe based in Brooklyn, hailed by Black Book Magazine as an 'Icon Of The Future.' The company works in the mediums of live dance/theater and film. The work is contemporary, yet Baroque inspired. In 2009, McCormick won a New York Innovative Theater Award for Best Choreography for The Judgment of Paris. Company XIV was nominated for five 2010 New York Innovative Theater Awards for their productions of Le Serpent Rouge and Snow White.
In addition to performing in his own choreographed works, Austin McCormick has worked professionally with the Metropolitan Opera Ballet of New York and has taught and lectured on Baroque dance as a guest of the Korean Government in Seoul. He is currently pursuing a Masters degree in directing and dance history at NYU. McCormick's work has been performed at the Kennedy Center, Lincoln Center's Peter Jay Sharp Theater, Alice Tully Hall, Clark Studio Theater, Symphony Space, The Flea, Alvin Ailey Theater, Walter Reade Theater, Mark Morris Dance Center, and internationally at the Biblioteca Palafoxiana in Puebla, Mexico, the Roxy Art House in Edinburgh, Scotland, and Usine C in Montreal. His work has been seen at the TED Conference, on Logo's New Now Next Awards and TLC's The Cake Boss.
Photo Credit:  Steven Schreiber


The Company XIV ensemble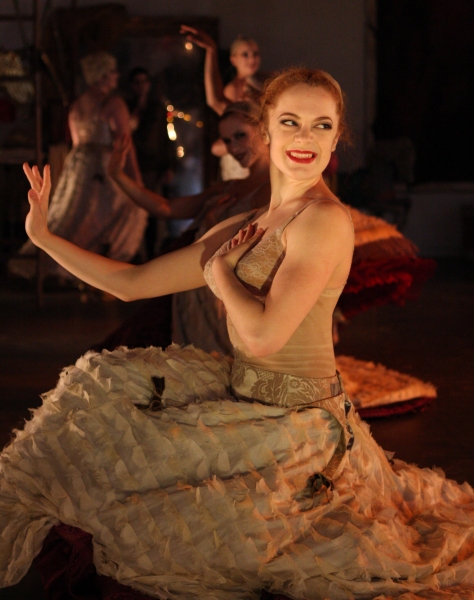 Laura Careless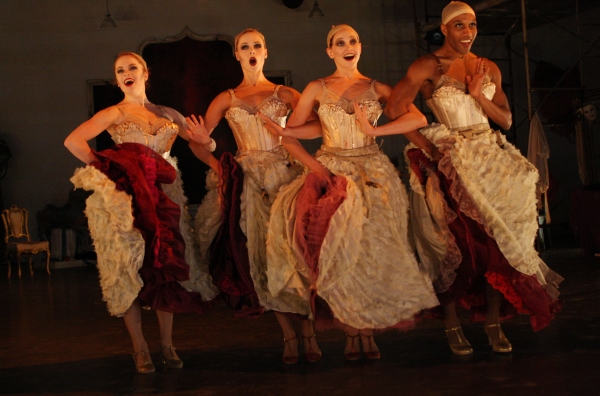 The Company XIV ensemble