Jason Tramm Concludes Tour Of Puccini's MADAMA BUTTERFLY At Queensborough Performing Arts Center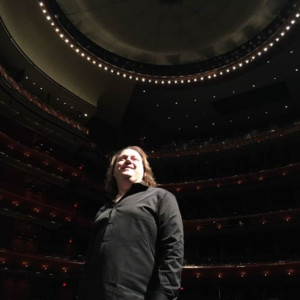 With the downbeat that begins February 25th's fully staged production of "Madama Butterfly" at the Queensborough Performing Arts Center, noted American conductor Jason C. Tramm concludes an ambitious series of conducting engagements over the last year that has taken him to opera houses and performing arts centers throughout the Eastern Seaboard, leaving his indelible signature on Puccini's enigmatic and provocative work.

Tramm's 'flight of Butterflies' began with last winter's performance with Palmetto Opera's "Madama Butterfly" where Tramm led members of South Carolina Philharmonic and a cast that featured acclaimed singers, Puerto Rican lyric soprano Melliangee Perez as Cio-Cio-San and the Australian tenor Benjamin Sloman as B. F. Pinkerton. Both Perez and Sloman headline Sunday's performance at the Queensborough Performing Arts Center with a cast that includes baritone Nathan Matticks as Sharpless and Met tenor Brian Frutiger as Goro and features the Seton Hall University Chorus.

Maestro Tramm's affinity for Puccini's enduringly beloved opera is apparent in his enthusiasm for Puccini's masterful vocal, choral and symphonic retelling of the Butterfly tale which began with John Luther Long's 1898 short story "Madame Butterfly" shortly thereafter transformed into a Broadway hit play by David Balasco in 1900. "When Puccini first saw Belasco's one act production of "Madame Butterfly: A Tragedy of Japan" in London he didn't speak English, and could not understand a word of thescript, yet the drama he experienced through Belasco's amazing technical innovations in visual staging immediately fueled Puccini's imagination" Tramm said. "For example, Belasco used electric lighting over 14 minutes to create Butterfly's painful vigil from light to dark to dawn. Puccini was absolutely moved by this experience. Puccini translated the impact of Belasco's staging into three equally extraordinary minutes of music known as the famous 'Humming Chorus.'

Tramm has explored "Madama Butterfly" from the vantage point of two concert productions, one at the National Opera Center in NYC and most recently at SOPAC in December 2017, which marked the fifth operatic collaboration between Tramm, the MidAtlantic Opera and presenters - Seton Hall University Arts Council, the Charles and Joan Alberto Italian Studies Institute and SHU's Classical Concert Series.

"Puccini's repeated revisions to the score suggest the composer's intent to craft a uniquely dramatic and musical synthesis, and the this success of this opera is always driven by the performer singing Butterfly -one of the most demanding roles in the soprano repertory" Tramm said. "Not only is Butterfly constantly present onstage - she must express an astounding array of emotions to realize the singular character development achieved in the drama. The vocal abilities needed to convey this complex character are like no other in opera" said Tramm. "From her ethereal entrance, her passionate Act I love duet, to the person we see in her Act II dealings with Goro, her consummate aria "Un bel dì" to the emotional resignation she portrays in the last scene - she's got to have ability to express it all" said Tramm.
Jason C. Tramm's work in the operatic, symphonic and choral repertoire has received critical acclaim throughout the Unites States and abroad. A frequent guest conductor, he has performed with orchestras in Romania, Albania, Hungary and most recently with the 2017 Narina Festival in Italy.
Tramm serves as conductor and Artistic Advisor of the Adelphi Orchestra, Music Director for the Morris Choral Society and Artistic Director and Principal Conductor of the MidAtlantic Opera with whom he made his Carnegie Hall (Stern Auditorium) in 2015 and his 2017 NJPAC debut with the critically acclaimed "Prayer for Peace" concert. Currently in his 11th season as Director of Music, in Residence, of the Ocean Grove Camp Meeting Association (OGCMA), Tramm leads the summer residency in choral, orchestral, and oratorio performances in the 6,500-seat historic Great Auditorium - home to the 64th Annual Ocean Grove Choir Festival, the largest sacred music festival on the East Coast. Noted OGCMA productions include the Sacred Masterworks concerts with whom he has collaborated with the Adelphi Orchestra, two National Public Radio broadcasts with organ virtuoso Gordon Turk and a large orchestra and the 2009 HDTV broadcast with PBS affiliate NJN of "Verdi Requiem: Live from Ocean Grove," which garnered a regional Emmy Award nomination. with whom he conducted the New Jersey premiere of Karl Jenkin's "The Peacemakers" in 2017.
An accomplished educator, Tramm serves on the faculty at Seton Hall University as Director of Choral Activities, where he leads the University Choir, Chamber Choir, Orchestra, and teaches voice and conducting. As Music Director/Principal Conductor of Teatro Lirico d'Europa, a professional opera touring company, with whom he conducted the February 2018 productions of Madama Butterfly (Puccini), Il Barbiere di Siviglia (Rossini), Rigoletto (Verdi) and Aida (Verdi) in theaters throughout Florida, New Hampshire, Pennsylvania and South Carolina.

Ranked as number one in Opera America's list of the 20 most-performed operas in North America, Puccini's exquisite retelling of the tale of love and betrayal will be performed for one performance only at Queensborough Performing Arts Center February 25th at 3PM.