Ars Lyrica Houston Opens 'Out of the Box' Season with RE-GIFTING WITH ROYALTY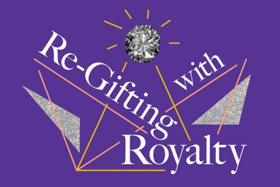 Leading from the harpsichord, Artistic Director Matthew Dirst joins returning soloists Lauren Snouffer (soprano), Colin St-Martin (Baroque flute), and Elizabeth Blumenstock(Baroque violin) and the Ars Lyrica ensemble for "Re-gifting with Royalty" on Friday, September 21, 2018 at 7:30 pm in Zilkha Hall at the Hobby Center for the Performing Arts. Program highlights include the Fifth and Sixth "Brandenburg" Concertos by J. S. Bach, vocal and instrumental chamber works by François Couperin, and Bach's Italian-language cantata Non sa che sia dolore (BWV 209).
Acclaimed soprano
Lauren Snouffer
, a
Houston Grand Opera
Studio alum, has been praised by Opera News for her "clear, lovely soprano [who] reached the heights with pinpoint accuracy of attack." Famed Baroque violin virtuoso Elizabeth Blumenstock and Baroque flutist Colin St-Martin also bring a wealth of experience and talent to this program: Blumenstock is longtime concertmaster of San Francisco's Philharmonia Baroque, and St-Martin serves as principal flute with the Washington Bach Consort and Opera Lafayette, in addition to Ars Lyrica. Artistic Director
Matthew Dirst
reveals that he is "thrilled to offer-at long last-all of Bach's Brandenburg Concertos on a single season. Each of these concertos is a marvel, and our season-long excursion with them should be quite a revelation." For more information or to purchase tickets, visit
www.arslyricahouston.org/re-gifting-with-royalty
or call the Hobby Center for the Performing Arts Box Office at 713.315.2525. (Press 4 for Ars Lyrica Houston)
Lauren Snouffer is celebrated as one of the most versatile and respected sopranos on the international stage. Highlights of the 2017-18 season include Mozart's Requiemwith The Cleveland Orchestra, Barber's Knoxville: Summer of 1915 and Mahler's Fourth Symphony with the Malaysian Philharmonic Orchestra, and Don Giovanni in concert with the Moscow Chamber Orchestra. She joins the Lyric Opera of Chicago for a new production of Orphée et Eurydice and her reputation as a leading exponent of contemporary music is fortified with performances of Berg's Lulu at the Teatro Municipal de Santiago, George Benjamin's Written on Skin for Opera Philadelphia, and the world premieres of operas by Ricky Ian Gordon at Houston Grand Opera and by Andrew Norman for the Los Angeles Philharmonic. Collaborations of past seasons include performances with Marin Alsop and the Orquestra Sinfônica do Estado de São Paulo, Alan Gilbert and the New York Philharmonic, Markus Stenz and the Baltimore Symphony Orchestra, and Franz Welser-Möst and The Cleveland Orchestra. An impactful discography includes Hasse's Siroe and Handel's Ottone for Decca, Gottschalk's Requiem for the Living on Novona Records, Grantham's La cancíon desesperada on Harmonia Mundi, and Feldman's The Rothko Chapel for ECM.
Ars Lyrica Founder & Artistic Director Matthew Dirst is the first American musician to win major international prizes in both organ and harpsichord, including the American Guild of Organists National Young Artist Competition (1990) and the Warsaw International Harpsichord Competition (1993). Widely admired for his stylish playing and conducting, the ?Dallas Morning News ?recently praised his "clear and evocative conducting" of Handel's? Alexander's Feast, which "yielded a performance as irresistibly lively as it was stylish." Dirst's recordings with Ars Lyrica have earned a Grammy nomination and widespread critical acclaim. His degrees include a PhD in musicology from Stanford University and the ?prix de virtuosité ?in both organ and harpsichord from the Conservatoire National de Reuil-Malmaison, France, where he spent two years as a Fulbright scholar. Equally active as a scholar and as an organist, Dirst is Professor of Music at the Moores School of Music, University of Houston, and Organist at St Philip Presbyterian Church in Houston. His book ?Engaging Bach: The Keyboard Legacy from Marpurg to Mendelssohn? was published by Cambridge University Press in 2012. He is also the editor of ?Bach and the Organ, which appears in the Bach Perspectives series from the University of Illinois Press in early 2016.
Widely admired as a Baroque violinist of expressive eloquence and technical sparkle, Elizabeth Blumenstock is a long-time concertmaster with the Bay Area's Philharmonia Baroque Orchestra and American Bach Soloists, concertmaster of the International Handel Festival Orchestra in Goettingen, Germany, and Artistic Director of the Corona del Mar Baroque Music Festival in Orange County, California. ?Her love of chamber music has involved her in several accomplished and interesting smaller ensembles including Galax Quartet, Live Oak Baroque, Sarasa, and Voices of Music. ?Ms. Blumenstock teaches regularly for the Juilliard Historical Performance program, at the San Francisco Conservatory of Music, the American Bach Soloists' summer Festival and Academy, the International Baroque Institute at Longy, and the Valley of the Moon Music Festival. ?She plays a 1660 Andrea Guarneri violin built in Cremona, Italy, on generous permanent loan to her from the Philharmonia Baroque Period Instrument Trust.
Colin St-Martin, who since childhood was interested in 17th and 18th century European culture, began playing the traverso at the age of 14. His studies took him to Brussels, Belgium, where he obtained a First Prize (bachelor of music) from the Royal Conservatory of Music under the tutelage of the renowned master, Bart Kuijken. He returned to the US to complete graduate work at the Early Music Institute at Indiana University. Currently, Mr St-Martin is busy as a performer and recording artist with many early music ensembles across the US in addition to being sought after as a master teacher.
Founded in 1998 by harpsichordist and conductor
Matthew Dirst
, Ars Lyrica Houston presents a diverse array of music from the 17th and 18th centuries on period instruments. Its local subscription series, according to the Houston Chronicle, "sets the agenda" for early music in Houston and it also appears regularly at major festivals and conferences, including the 2014 Berkeley Early Music Festival & Exhibition. Ars Lyrica's distinctive programming favors Baroque dramatic and chamber works, and its pioneering efforts have won international acclaim: the ensemble's world première recording of Johann Adolf Hasse's Marc' Antonio e Cleopatra, hailed by Early Music America as "a thrilling performance that glows in its quieter moments and sparkles with vitality," was nominated for a Grammy Award® for Best Opera 2011.
Related Articles View More Opera

Stories
More Hot Stories For You