Click Here for More Articles on NEW YORK CITY
American Lyric Theater Announces 10th Anniversary CLDP Resident Artists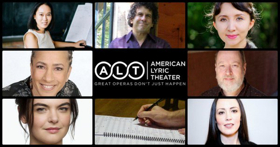 Lawrence Edelson, Founder and Producing Artistic Director of American Lyric Theater (ALT), announced today that three composers, three librettists, and one dramaturg have been selected as Resident Artists to participate in the tenth anniversary season of the company's nationally acclaimed Composer Librettist Development Program (CLDP). The artists selected for this prestigious residency and training program are composers Shuying Li, Andy Tierstein, and Liliya Ugay; librettists Lorene Cary, Julian Crouch, and Lila Palmer; and dramaturg Antigoni Gaitana.
"We are thrilled to celebrate the tenth anniversary of our flagship program, the CLDP, with such an extraordinary group of artists," said Edelson. "ALT seeks to identify operatic writers who we feel have the potential to add meaningfully to the operatic canon. This season, we received a record number of applications. The artists who were accepted into the CLDP are all quite accomplished, but in many ways are still emerging as operatic writers, as they have yet to have the opportunity to hone their skills and focus their energy specifically on writing for opera, and have not yet written a full-length opera for professional production. That is why the CLDP exists. Through a combination of intensive mentorship and direct financial support, ALT provides a unique environment for artists to develop their craft, forge new collaborations, and take exciting risks. We look forward to working with this incredibly diverse group of artists, and to provide them with the resources and the opportunities for their unique voices as opera writers to blossom."
Launched in 2007, ALT's Composer Librettist Development Program (CLDP) is the most intensive mentorship initiative for opera composers and librettists in the country, with a highly-credentialed faculty and proven track record for developing the skills of gifted artists, incubating successful operas, and fostering lasting collaborations. The CLDP has served as a model of innovation for other training and new works initiatives around the country, but remains the only full-time training program for both opera composers and librettists in the country. This season, ALT has established a new apprenticeship for an emerging opera dramaturg, integrated into the proven CLDP curriculum. While there are training programs for dramaturgy in theater, this apprenticeship at ALT is the first dedicated opera dramaturgy in the United States.
At the center of the CLDP is ALT's core-curriculum, which consists of classroom training and hands-on workshops with some of the country's leading working artists. For the 2017-18 season, principal faculty mentors will include composer/librettist Mark Adamo; librettist Mark Campbell; dramaturg Cori Ellison; and composer Jake Heggie. In addition, several internationally recognized composers and librettists are invited each season to be guest artists within the classes and workshops of the core-curriculum. Recent and upcoming guest teachers and lecturers include composers Ricky Ian Gordon, David T. Little, Missy Mazzoli, Paul Moravec, Kaija Saariaho, and StewArt Wallace, and librettists Michael Korie, Donna DiNovelli, Gene Scheer, and Royce Vavrek (one of the most prominent alumni of the CLDP).
In addition to the training provided through the CLDP, several public events will be presented by ALT in New York City to introduce the work of Resident Artists to the public this season:
The New Crew - Sunday, September 24th, 2017 @ 3:00PM
The National Opera Center, 330 7th Avenue, NYC 1000
Tickets: $20, including wine and cheese reception
ALT begins the season with a salon and reception to introduce audiences to the seven new Resident Artists in the Composer Librettist Development Program, featuring performances and discussions with artists and members of the CLDP faculty.
The Living Libretto: Opera in Eden - Sunday, March 18th, 2018 @ 3:00PM
The National Opera Center, 330 7th Avenue, NYC 10001
Tickets: $20, including wine and cheese reception
ALT invites audiences to enjoy a look into the process of writing opera libretti during this special event, which will include readings of three libretti of one-act operas being written by CLDP Resident Artists, and an interactive discussion with the audience about dramatic structure, characterization, and the timing of action in opera versus spoken drama.
Opera in Eden - Thursday, May 17th, 2018 @ 7:00PM
Merkin Concert Hall @ Kaufman Music Center, 129 W.67th Street, NYC 10023
Tickets: $25; $125 VIP Tickets and Reception
The CLDP season culminates with a concert performance of three new one-act operas written by ALT Resident Artists (seen in early development as part of The Living Libretto event in March), featuring guest singers from opera companies across the country, hosted by composer/librettist Mark Adamo and producing artistic director Lawrence Edelson.
The Composer Librettist Development Program is made possible with multi-leadership support from The Andrew W. Mellon Foundation, through 2020. The Tenth Anniversary season of the CLDP is also made possible with additional leadership support from The National Endowment for the Arts, The New York City Department of Cultural Affairs, and the Kurt Weill Foundation. As the program has blossomed over the past ten years, audiences around the country have increasingly been enjoying operas developed through the CLDP and by CLDP alumni at a wide variety of venues, including Lyric Opera of Chicago, Fort Worth Opera, Opera Philadelphia, Opera Saratoga, Utah Opera, Tulsa Opera, Fargo Moorhead Opera, The PROTOTYPE Festival, and many more. During the 2017-18 season, operas developed at ALT, and by alumni of the CLDP commissioned by other organizations, being produced across North America include: The House Without a Christmas Tree (Ricky Ian Gordon/Royce Vavrek*) at Houston Grand Opera; JFK (David T. Little/Royce Vavrek*) at Opéra de Montreal; The Long Walk (Jeremy Howard Beck*/Stephanie Fleischmann*) at Pittsburgh Opera; Steal a Pencil for Me (Gerald Cohen*/Deborah Brevoort*) at Opera Colorado; Proving Up (Missy Mazzoli/Royce Vavrek*) at Washington National Opera, Opera Omaha and The Miller Theater/NYC; and Monkey and Francine in the City of Tigers (Kamala Sankaram*/David Johnston*) at Houston Grand Opera/HGOCo [*denotes alumni of the CLDP].
For more information about the Composer Librettist Development Program, Resident Artists, works by CLDP alumni, and upcoming public events at ALT, visit
www.altnyc.org
.
---
2017-18 COMPOSER LIBRETTIST DEVELOPMENT PROGRAM RESIDENT ARTISTS:
COMPOSERS
SHUYING LI

Praised as "a real talent here waiting to emerge" and with her "skillful orchestral writing, very colorful language and huge waves of sound," (Seattle Times) Shuying Li is an award-winning composer who began her musical education in her native China. In her sophomore year at the Shanghai Conservatory of Music, she won a scholarship to continue undergraduate study at the Hartt School in Connecticut. She holds a master's degree from the University of Michigan, where she is completing her doctorate degree. Most recently, Shuying has been commissioned by the Orpheus Chamber Orchestra to write a new piece for a Carnegie Hall premiere in December 2017. In 2015, Shuying's orchestral work, Do Not Go Gentle Into That Good Night, was named a winning work to participate in the New Jersey Symphony Orchestra Edward T. Cone Composition institute, where it was performed by the New Jersey Symphony Orchestra under the baton of JoAnn Falletta in July. In 2013, Shuying's orchestral work, Overture to "The Siege," was selected as the winning composition in both IAWM's Libby Larsen Prize and the Seattle Symphony's Celebrate Asia Composition Competition, resulting in premiere by the Seattle Symphony. In 2014, after performances by the Hartt Wind Ensemble and the University of Cincinnati CCM Wind Orchestra, Shuying's work for band, Slippery Slope, won the biennial ASCAP/CBDNA Frederick Fennell Prize. Other recognition include awards from The American Prize, the Michigan Music Teachers Association Commissioned Composer Competition, the NAfME Composers Competition, the Melta International Composition Competition, the Florence String Quartet Call for Scores, the Foundation for Modern Music's International Robert Avalon Composition Competition, the MacDowell Club of MilwauKee Young Composer Competition, and the International J. Dorfman Composition Competition, among others. Shuying's compositions have been performed by Seattle Symphony Orchestra, New Jersey Symphony Orchestra, Orkest de ereprijs (Netherlands), Norfolk Contemporary Ensemble, Avanti! Chamber Orchestra (Finland), ICon Arts Ensemble (Romania), Cecilia Quartet (Canada), Opera From Scratch (Canada), Donald Sinta Quartet, 15.19. Ensemble (Italy), Ascanio Quartet (Italy), Atlas Ensemble (Netherlands), University of Cincinnati Wind Orchestra, Hartt Wind Ensemble, etc.
Andy Teirstein

Andy Teirstein composes for the concert hall, film, theater, and dance. His music theater works include The Vagabonds, A Blessing on the Moon, Secrets of the North, Papushko (Richard Rodgers Award), The Wild, Winter Man (NEA Award) and Skels (NEA Award). Teirstein studied composition with Henry Brant at Bennington College, with Tania Leon, Bruce Saylor, and David del Tredici at the Graduate Center (Ph.D, 2010), and with Leonard Bernstein, Stephen Sondheim and Arthur Laurents at NYU's Graduate Musical Theater Writing Program. He has expanded his musical background by learning fiddle tunes in Ireland, performing as a musical clown with a Mexican circus, and collecting traditional music in Romania and Bulgaria. His CD, Open Crossings (2009), draws inspiration from Balkan, Appalachian and Jewish influences, the music of Bartók, and the poetry of Mahmoud Darwish and Robert Service. Teirstein's eclectic background has led him to successful collaborations with choreographers including Liz Lerman, Donald Byrd, Stephen Petronio, and Phyllis Lamhut. The Village Voice has said that his music "seems to speak in celestial accents of some utopia whose chief industry is dancing." His work has been heard at BAM, The Joyce Theater, Dance Theater Workshop, Lincoln Center, and Carnegie Hall, as well as abroad. Film scores include Men for the BBC and Margaret Sanger for PBS. He was a music consultant/composer for the critically acclaimed documentary series The West. Other film scores include A Little Tour of Manhattan, directed by Alister Sanderson, The Mind's Journey, directed by Peter Way, and Welcome to Willieworld, directed by Scott Saunders. Teirstein's music is recorded by the Alaria Ensemble, the Cassatt Quartet, the Kiev Philharmonic, the Cygnus Ensemble, and others. His CDs Open Crossings and Mannahatta have been featured on National Public Radio's "New Sounds" program. A collaborative CD, Welcome to Willieworld, is a musical landscape which accompanies the poetry/memoir of Maggie Dubris, a Manhattan paramedic. As an actor, he was an original cast member of the Broadway hit show Barnum and appeared in the TV series Search for Tomorrow and the film Sophie's Choice. Most recently, he plays a number of roles in Woody Sez Off-Broadway at the Irish Repertory Theater, and previously at the Arts Theatre in London's West End, the A.R.T. in Cambridge, MA, and in Tel Aviv, Jerusalem, Berlin, and Belfast. He is a member of the touring folk and modern dance/music troupe The Vanaver Caravan. Teirstein has received awards from Meet the Composer, The National Endowment for the Arts, the Mary Flagler Cary Charitable Trust, The New York Foundation for the Arts, and ASCAP. He is currently an Arts Professor at Tisch School of the Arts, New York University, and Director of the Global Institute for Advanced Study Working Group Translucent Borders, which explores the role of dance and music at cultural and geographic borders.
LILIYA UGAY

Described as "particularly evocative," "fluid and theatrical... the music [that] makes its case with immediacy" (The Arts Fuse) as well as both "assertive and steely," and "lovely, subtle writing" (Kozinn, Wall Street Journal) the music by the award-winning composer and pianist Liliya Ugay has been performed in many countries around the globe. Recipient of a 2016 Charles Ives Scholarship from the American Academy of Arts and Letters, and a 2017 Horatio Parker Memorial prize from the Yale School of Music, Ugay has collaborated with the Nashville Symphony, Albany Symphony, New England Philharmonic, Yale Philharmonia, Raleigh Civic Symphony, Aspen Contemporary Ensemble, Molinari Quartet, Antico Moderno, Omnibus ensemble, and Paul Neubauer among others. Her music has been featured at the Aspen, American Composers, New York Electroacoustic Music, June in Buffalo, and Darmstadt New Music festivals, as well as the 52nd Venice Biennale. Liliya received numerous competition prizes as a composer and pianist including the Edward Grieg International Composition Competition (Oslo), Pre-Art International Composition Competition (Zurich), International piano competition Verfemte Musik (Schwerin, Germany), International competition for young composers under the Union of Composers of Russia/Moscow Conservatory, International competition of Beethoven Piano Sonatas, as well as a National winner title of the MTNA Young Artist composition competition, to mention a few. Born in the USSR in what is a modern-day Uzbekistan in a Russian-Korean musical family, Liliya combines elements of various cultures in her works while prioritizing harmonic clarity, structural complexity, and dramatic completeness. One of Liliya's strongest passions is the music of the repressed composers from the Soviet era; she regularly appears with lecture-recitals on this topic both as a soloist and chamber musician with the help and guidance of Boris Berman. This year Liliya is organizing a concert series, 100 years: Silenced Music, marking a century since the Russian Revolution with masterpieces by less-known Soviet composers. Ugay came to the US as a Woodruff scholarship recipient to study piano with Alexander Kobrin at the Columbus State University. She received her MM in composition at the Yale School of Music, and is currently a Doctor of Musical Arts candidate and Teaching Fellow at Yale, where she studies with Aaron Jay Kernis, Martin Bresnick, Christopher Theofanidis, and David Lang.
LIBRETTISTS
LORENE CARY

Lorene Cary works to find meaning and to share it: by observing, researching, reporting, and creating stories, and through organizing, teaching, civic engagement, spiritual practice, and family life. The hardest part is figuring out how, at each stage in life, to do both - the writing and the living (mostly in Philadelphia) - with the attention that love demands. Cary's best-selling boarding-school memoir, Black Ice, was published in 1991. Arthur Rampersad called it "probably the most beautifully written and most moving autobiographical narrative since Maya Angelou's celebrated I Know Why the Caged Bird Sings." Cary wrote two novels in the 1990s while raising two daughters with her husband, Robert C. Smith. She also began teaching writing at UPenn, where she has received two Provost's Awards for Distinguished Teaching.
In 1998, Cary founded Art Sanctuary to create programs of excellent African-American arts and letters in urban Philadelphia. It opened with The Roots and grew to involve 15,000 participants a year. In 2012, Cary created a partnership with Opera Philadelphia that has produced We Shall Not Be Moved, by Daniel Bernard Romaine, scheduled for premiere this season. In 2003, The Price of a Child, Cary's first novel, was chosen as the inaugural One Book One Philadelphia. Conversations with teachers about the fugitive at the center of the novel led Cary to write a non-fiction middle-school book, Free! Great Escapes from Slavery on the Underground Railroad. Her last novel, If Sons, Then Heirs (2011), recounts a searing Jim-Crow era love story that Essence magazine called "a triumph." Her scripts for LED-screen presentations for The President's House on Independence Mall commemorate the lives of enslaved Africans in the Washington household for up to five million visitors each year. Cary served as Philadelphia School Reform Commissioner from October 2011 to January 2013 and later created SafeKidsStories.com, a movement for "stealth culture change," edited by former New York Book Review editor Rebecca Pepper Sinkler. Current works in progress include a play about Harriet Tubman, commissioned by Philadelphia's Arden Theatre, and a book under contract to Norton Books about end-of-life care for Cary's grandmother. Cary has received The Philadelphia Award, her city's highest honor. She lectures nationwide and has received six honorary doctorates, the most recent from Swarthmore College in 2013.
Julian Crouch

Julian Crouch is a Brooklyn-based independent director, designer, writer, maker, teacher, illustrator and musician, whose career has spanned theatre, opera, ballet, film and television. Initially a mask and puppet maker, and with much of his life based in London, in the mid- 1990's co-founded London's Improbable Theatre Company. Improbable's productions, which included Animo, 70 Hill Lane, Lifegame, Spirit, Sticky, The Hanging Man, The Wolves in The Walls, and Panic, have gained far-reaching national and international recognition. His final production for Improbable, which he conceived, directed and designed, was The Devil And Mister Punch. Julian co-created, co-directed and designed the multi-award winning Shockheaded Peter. His opera work has included set design and associate direction for Satyagraha for the ENO and The Met Opera, and creating The Enchanted Island, Doctor Atomic and staging the 125th Gala for the Met. Other major projects include Jerry Springer: The Opera and A Funny Thing Happened on The Way To The Forum for the National Theatre, The Magic Flute for the Welsh National Opera and Cinderella for the Dutch National and San Francisco Ballets. On Broadway Julian designed The Addams Family Musical and Big Fish. Most recently Julian co-directed, co-composed and designed Jedermann for the Salzburg Festival. His recent set design for Hedwig And the Angry Inch on Broadway earned him a Tony Nomination. Most recently he designed and co-created The Aging Magician for BMP at the New Victory Theater, designed The Nutcracker for Christopher Wheeldon and The Joffrey Ballet, co-directed and designed King Arthur for the Berlin Staatsoper. He was also Director and Designer for the Met Opera's 50 Years of The Met at Lincoln Center Gala. He is currently designing Hansel and Gretel and Ernani for La Scala Opera, Milan, Nico Muhly's Marnie for the English National Opera and the Met Opera, and The Barber Of Seville for the Dutch National Opera. His production Birdheart, co conceived with Saskia Lane, played for the Dalai Lama in Brussels and has toured as far afield as Zimbabwe and Abu Dhabi. Julian was recently Artist in Residence at New York's Park Avenue Armory and was the first commissioned artist for the BRIC House Fireworks Residency Program in Brooklyn, NY. He has illustrated 2 books - Jedermann, and Maggot Moon.
LILA PALMER

Lila Palmer is a dramatist, facilitator and classically trained soprano. After taking first-class honors in History at Cambridge University, Lila joined book packager Working Partners as a Junior Editor, moving to literary agency Pollinger as house editor before vocal training in the US. She holds an M.M. in Vocal Performance from New England Conservatory and is an alumnus of English National Opera and Aspen Opera Theatre Training programs. She has twice been a vocal fellow of the Vancouver International Song Institute. Lila was a founder member of The Sounding Board, a Boston-based collective commissioning interdisciplinary arts performances with a social change agenda, (past partners include the UN; Boston Children's Chorus, late Pulitzer-Prize winning composer Gunther Schuller and members of the TV show Glee) and was an administrator of the El Sistema Fellows USA program. Lila received a second M.A. with distinction from the Guildhall School of Music & Drama as a writer, supported by the Goldsmiths Scholarship. She is now a Creative Artist Fellow of the Guildhall School. Her first chamber opera Harbour (2015) was hailed by the London Times as a work of "strange celtic beauty" which "turns anguish into art." An early short, Two-Step, received its North American premier with Boston Opera Collaborative in November 2016. Her second chamber opera Dead Equal (2016) with composer Rose Hall was praised as "urgent, lean and dramatically flawless" by David Pountney, and "deft" by Judith Weir after performances hosted by ENO & Helios Collective. Her most recent works include three chamber operas commissioned by immersive opera company workshOpera, created in response to and performed inside exhibits at the London Transport Museum. Recent directing credits include Bluebeard's Castle (Royal Philharmonia Orchestra) for which she also wrote a new prologue, and a collection of new opera shorts by other young creatives for The Guildhall School of Music & Drama. Future plans include a new musical play Heard (writer and soprano) with Roman River Music Festival and The Jewel Merchants, a partnership with the Bethlem Mental Health Trust to create a service-users opera on the subject on resilience. She co-runs the music theatre development collective Not White Noise with director Adam Lenson.
DRAMATURG APPRENTICE
ANTIGONI GAITANA

Antigoni Gaitana is an opera dramaturg who is dedicated to storytelling and to communicating with audiences by helping to create new operatic repertory, aiding in bringing existing operas to fresh life through creative collaboration, scholarship, writing, translating, and speaking, directing, and participating in recitals. As a dramaturg, she has collaborated with important musical institutions, festivals, and opera companies in New York and in her native Greece. Some highlights of her recent work include an essay on Dido and Aeneas for Opera Saratoga's 2015 season program book, supertitles for New York University's Opera Scenes presentation and for Trinity Church's Time's Arrow Festival (Artemisia), and performance texts for Heartbeat Opera (Miss Handel). She made her debut as a stage director in 2016 with the Cantanti Project's production of Handel's Alcina. In August 2017, she served as director and dramaturg for the Greek premiere of Vaughan Williams's Riders to the Sea at the 33rd Summer Festival in Horto, Greece. She also writes theatre and opera reviews for the online magazines NY Theatre Guide and The Theatre Times. Ms. Gaitana holds a B.A. in Theatre Studies from the National and Kapodistrian University of Athens, a Diploma in Vocal Performance from Athenaeum Conservatory and an M.A. in Vocal Performance from Hunter College.
---
Great Operas Don't Just Happen. American Lyric Theater (ALT) was founded in 2005 by Lawrence Edelson to build a new body of operatic repertoire by nurturing composers and librettists, providing an incubator for their collaborations, and contributing new works to the national canon. Many opera companies commission and perform new works; but ALT is the only company in the United States that offers extensive, full-time mentorship for emerging operatic writers. While the traditional company model focuses on producing a season, ALT's focus is on serving the needs of composers and librettists, developing new works, and collaborating with larger producing companies to help usher those works into the repertoire. In 2012, ALT was the first company dedicated to artist mentorship rather than operatic production to be recognized by OPERA America as a Professional Company Member - a testament to ALT's service to the field. For more information about American Lyric Theater, visit www.altnyc.org.
American Lyric Theater's mentorship programs for composers, librettists and dramaturgs, and public programs in New York City, are made possible by generous lead funding from The Andrew W. Mellon Foundation; with additional support from the National Endowment for the Art, The New York City Department of Cultural Affairs, New York State Council on the Arts with the support of Governor Andrew M. Cuomo and The New York State Legislature, Howard Gilman Foundation, The Kurt Weill Foundation, OPERA America Innovation Grants (with support from The Ann and Gordon Getty Foundation), Howard & Sarah D. Solomon Foundation, Francis Goelet Charitable Lead Trusts, New Music USA's Impact Fund (made possible with funding from The Scherman Foundation's Katharine S. and Axel G. Rosin Fund), The Aaron Copland Fund for Music, The Amphion Foundation, and The Alice M. Ditson Fund of Columbia University.
Related Articles
More Hot Stories For You