Vanishing Shores Unveil New Single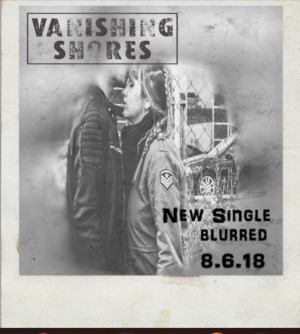 As a lifelong seeker of truth, Kevin Bianchi has spent his entire musical career embracing and wrestling with the mystery of life and love in song. This has been exemplified by his time as the lead singer and songwriter for the indie rock band, the Chestertons. Having achieved regional success with the single 'Coast Road' and dynamic performances opening for artists such as James McCartney, he now begins a new journey with the formation of Vanishing Shores.
"The need to reach out and connect with those around us has never been greater," states Bianchi. It is this realization that inspires and informs each song by Vanishing Shores. From the opening of 'In Between' to the closing notes of 'Blurred' on their self-titled EP, the listener is invited to become a part of the story, not as a stranger but as a fellow traveler who is loved and accepted. The answers may not be found. Everything known may collapse at any moment, but 'even still, I won't let you go.' This promise, in all of its emotional complexity, is the true vision of Vanishing Shores.
Influenced by diverse artists such as Neil Finn and Elvis Costello, Vanishing Shores is not 'business as usual' but a band that pursues beauty wherever it may lead. Just like their musical inspirations, Vanishing Shores strive to deliver passionate, well-crafted rock and roll in each and every performance. As the band continues to develop, each song points to a future that is filled with limitless potential, founded on the power of music and the community it creates.
LISTEN TO BLURRED - https://soundcloud.com/user-656918674/blurred-single-mix
OFFICIAL SITE - https://vanishingshores.com/music