The Stolen Exclusively Premiere ROOFTOP feat. Jake Miller via Billboard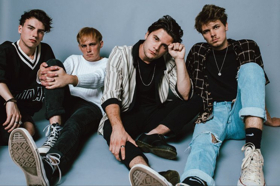 The boys of the pop-rock outfit, The Stolen, are exclusively premiering their collaboration with Jake Miller, "Rooftop" via Billboard today! Give it a spin here: https://bit.ly/2PuOMWb, and pre-save the song on Spotify here: https://ffm.to/findthestolen.
"Rooftop" was produced, mixed, and mastered by guitarist Rob Chiarappa, and engineered by Brody Grief. On the track, guitarist Chiarappa, shares, "I wrote 'Rooftop' the day Anthony Bourdain died. It's about the suicide epidemic in our world that no one inadvertently talks about; the idea of suicide being glorified and massively publicized, yet it seems that nobody cares to try and prevent it. It's a vicious cycle of people opening their phones and seeing yet another person who has taken their own life, and not understanding the damage that's being done. The world is becoming a place where we not only are not looking out for one another, but we're ignorant to reality, because all human contact is digital.
"The chorus of the song is about the perception we give that we are on the top of the world, when really, we aren't okay at all; that everyone's lives seem so great via social media, but it can be such an illusion. The song is intentionally written like a dance song - crying in the club so to speak. It's the metaphor of the illusion that everything is fine.
"Writing the song, I wanted a 'We are the World' feel by having a featured artist on the 2nd verse, where the story is told in two voices. Jake Miller is a great friend of ours, and not only do we have history with him supporting a previous tour, but our bassist, Kevin Smart, is actually Jake's drummer. Jake's voice felt perfect for the song, so I shot him a text one afternoon with the verse to see if he'd be down to be featured on the track. Jake's work ethic is INSANE, and he shot the verse back over within an hour that he recorded from his home studio, and that was the take we used," Chiarappa shares on working with Miller.
The Stolen is currently in the middle of their fall North American tour, and are celebrating the release of "Rooftop" with a show tomorrow night in Seattle, WA. The band will also be supporting Miller at his birthday show on November 28th at NYC's Highline Ballroom. For a list of full dates, please see below or visit: https://www.thestolenmusic.com/.
Before they honed their songwriting skills to craft inviting pop hooks and kinetic guitar melodies, the four New Jersey natives who make up The Stolen started off as a group of friends who explored their love of music through learning and performing AC/DC songs together, ripping covers of classic rock anthems and Motown tunes at their grade school talent shows.
Almost 10 years later in 2013, the band released their first EP, Adults, which they recorded with Jesse Cannon (Animal Collective, The Misfits), and for the release of their single "Chardonnay" in 2015, they worked with producer Paul Levitt (All Time Low, Have Mercy), and began the transition from their pop-punk beginnings to put more focus on their pop sensibilities. 2016 marked the arrival of their self-released, self-produced EP, I'm So Dead, and in 2017, the band released their most collaborative effort to-date, Fragile Heart.
Over the past few years, The Stolen has been recognized and heralded by notable tastemakers such as MTV and Alternative Press, have shared the stage with bands and artists such as Neon Trees, The All American Rejects, Jake Miller, and more, and have played Vans Warped Tour. The band's single "Overboard," released earlier this year, hit the No. 21 on the iTunes Alternative Chart, and perfectly illustrates where the band's sound is headed.
Tickets are now on sale for tour through various retailers. For more information, please visit https://www.thestolenmusic.com/.
Upcoming Tour Dates:
Nov 02 - Seattle, WA @ Funhouse
Nov 04 - Redding, CA @ Wolftickets**
Nov 05 - San Francisco, CA @ Brick & Mortar Music Hall
Nov 06 - Long Beach, CA @ Toxic Toast Records
Nov 07 - Los Angeles, CA @ Hi Hat
Nov 09 - Las Vegas, NV @ Beauty Bar**
Nov 10 - Tempe, AZ @ FiftyoneWest
Nov 12 - Dallas, TX @ The Prophet Bar
Nov 13 - Houston, TX @ Warehouse Live
Nov 14 - Atlanta, GA @ The Masquerade
Nov 15 - Nashville, TN @ Rocketown
Nov 18 - West Columbia, SC @ New Brookland Tavern
Nov 20 - Vienna, VA @ Jammin Java
Nov 26 - Boston, MA @ The Sinclair
Nov 27 - Philadelphia, PA @ The Foundry
Nov 28 - New York, NY @ Highline Ballroom (Jake Miller Birthday Show)
Dec 01 - Asbury Park, NJ @ Asbury Lanes
*Oct 19 - Oct 31, Nov 10 - Nov 20 - w/ SayWeCanFly + A Summer High
*Nov 02 - Nov 09 - w/ MILKK + Patternist (** = Patternist Only)
*Nov 26, 27, Dec 01 - w/ The Wrecks
*Nov 28 - w/ Jake Miller + Demar
Related Articles View More Music

Stories
More Hot Stories For You