String Quartet Ethel Celebrates the Circus at BAM 11/14-17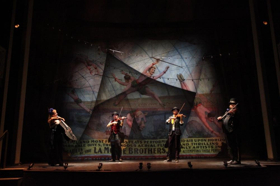 As part of the string quartet's 20th anniversary season, ETHEL returns to BAM with Circus: Wandering City, a multimedia musical journey into the history of the iconic Ringling Bros. and Barnum & Bailey Circus that explores and honors the complex relationship between circus troupes, their performers, and the audiences they inspired.
Combining original music composed by the quartet with projected images, films, and interviews mined from the John and Mable Ringling Museum of Art, ETHEL puts on a multimedia stage work that is both big-hearted and clear-eyed about the scintillating and debilitating sides of the circus industry and its denizens. Wandering City made its world premiere in January 2018-the 250th anniversary of the modern circus. According to the Sarasota Observer, it was "one of the most innovative, informative and entertaining evenings...a fast moving and tightly structured evening by a group of projection, scenic, costume, lighting and sound designers who are as talented and skilled as the circus performers they honored."
Circus: Wandering City conveys the spirit of circus artists who have brought excitement and mystery to one of America's most iconographic popular culture experiences. Circus is one of the oldest and most popular entertainments in human history (with different names and forms across civilizations.) Roaming from town to town, its performers lived peripatetic lives, exposed to natural and human exploitations. But beneath this travail, circuses also provided food, lodging, and gainful employment for their members, many of them marginalized by societies without social safety nets.
Established in New York City in 1998, ETHEL quickly earned a reputation as one of America's most adventurous string quartets. Twenty years later, the band continues to set the standard for contemporary concert music. Known for its enlivened playing, blending uptown, conservatory musicianship with downtown genre-crossing, ETHEL has been described as "indefatigable and eclectic" (The New York Times), "vital and brilliant" (The New Yorker), and "infectiously visceral" (Pitchfork). Since its inception, ETHEL has released six feature recordings (one of them nominated for a Native American Music Award), performed as guests on more than 35 albums, won a GRAMMY® with jazz legend Kurt Elling, and performed in 14 countries, 45 states, and 250 cities.
Grant McDonald is a director and projection designer for concerts, theater and live events. Previous work with ETHEL includes Blue Dress (National Sawdust) and ETHEL+ (Oz Nashville). He most recently designed Black Mountain Songs (BAM, 2014 Next Wave and tour), Stars on Ice (North America tours) Esperanza Spalding's Emily's D+ Evolution (world tour), and The Internet's Ego Death (Camp Flog Gnaw). He has also created content for Lana Del Rey's LA to the Moon (world tour), The Official Prince Tribute (Minneapolis), and Alt-J's This is All Yours (world tour). www.GrantMcDonald.com.
Co-commissioned by BAM and the John and Mable Ringling Museum of Art.
For BAM press information contact David Hsieh at dhsieh@BAM.org or 718.724.8027, or April Thibeault, AMT PR, at april@amtpublicrelations.com or 212.861.0990.
Credits
Bloomberg Philanthropies is the Season Sponsor.
Programming in the BAM Harvey Theater is endowed by the Doris Duke Charitable Foundation
Major support for Discounted Ticket Initiatives provided by the Jerome L. Greene Foundation.

Delta Air Lines is the Official Airline of BAM.

The Brooklyn Hospital Center is the Official Healthcare Provider of BAM.

BAM 2018 Next Wave Festival supporters: The Achelis and Bodman Foundation; Rose M. Badgeley Residuary Charitable Trust; Brigittenyc; Citi Foundation; Con Edison; The Gladys Krieble Delmas Foundation; Epstein Teicher Philanthropies; Forest City New York; Gotham Organization, Inc.; The Francena T. Harrison Foundation Trust; The Rita and Alex Hillman Foundation; The Kovner Foundation; MetLife Foundation; The Ambrose Monell Foundation; Henry and Lucy Moses Fund, Inc.; Samuel I. Newhouse Foundation, Inc.; Stavros Niarchos Foundation; Onassis Cultural Center NY; Donald A. Pels Charitable Trust; Pfizer Inc.; The Reed Foundation; The Jerome Robbins Foundation, Inc.; Rolex SA; The Fan Fox & Leslie R. Samuels Foundation, Inc.; Santander; The Morris and Alma Schapiro Fund; The Scherman Foundation, Inc.; The SHS Foundation; The Shubert Foundation, Inc.; Starry Night Fund; The Harold and Mimi Steinberg Charitable Trust; Time Warner Inc.; The Robert W. Wilson Charitable Trust; and Viacom.

Your tax dollars make BAM programs possible through funding from the City of New York Department of Cultural Affairs and the New York State Council on the Arts with the support of Governor Andrew M. Cuomo and the New York State Legislature. The BAM Next Wave Festival is supported in part by an award from the National Endowment for the Arts. The BAM facilities are owned by the City of New York and benefit from public funds provided through the New York City Department of Cultural Affairs with support from Mayor Bill de Blasio; Cultural Affairs Commissioner Tom Finkelpearl; the New York City Council including Council Speaker Corey Johnson, Finance Committee Chair Daniel Dromm, Cultural Affairs Committee Chair Jimmy Van Bramer, Council Member Laurie A. Cumbo, and the Brooklyn Delegation of the Council; and Brooklyn Borough President Eric L. Adams. BAM would like to thank the Brooklyn Delegations of the New York State Assembly, Joseph R. Lentol, Delegation Leader; and New York Senate, Senator Velmanette Montgomery.
General Information
BAM Howard Gilman Opera House, BAM Rose Cinemas, and BAMcafé are located in the Peter Jay Sharp building at 30 Lafayette Avenue (between St Felix Street and Ashland Place) in the Fort Greene neighborhood of Brooklyn. BAM Harvey Theater is located two blocks from the main building at 651 Fulton Street (between Ashland and Rockwell Places). Both locations house Greenlight Bookstore at BAM kiosks. BAM Fisher, located at 321 Ashland Place, is the newest addition to the BAM campus and houses the Judith and Alan Fishman Space and Rita K. Hillman Studio. BAM Rose Cinemas is Brooklyn's only movie house dedicated to first-run independent and foreign film and repertory programming. BAMcafé, operated by Great Performances, offers varied light fare and bar service prior to BAM Howard Gilman Opera House evening performances.
Subway: 2, 3, 4, 5, Q, B to Atlantic Avenue - Barclays Center (2, 3, 4, 5 to Nevins St for Harvey
Train: Long Island Railroad to Atlantic Terminal - Barclays Center
Bus: B25, B26, B41, B45, B52, B63, B67 all stop within three blocks of BAM
Car: Limited commercial parking lots are located near BAM. Visit BAM.org for information.
For ticket information, call BAM Ticket Services at 718.636.4100, or visit BAM.org