Steve Aoki and Alan Walker Drop Reimagined Collab ARE YOU LONELY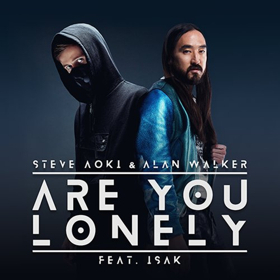 Today, two-time Grammy nominated DJ and Producer Steve Aoki and multi-platinum Norwegian DJ and Producer Alan Walker team up to drop re-envisioned track, "Are You Lonely" featuring ISÀK. The instrumental and lyrical melody are based on the original "Lonely" release that came out at the end of last year on Alan Walker's album, now reimagined with new lyrics, arrangement and performance.
Aoki and Walker have collaborated previously, remixing each other's tracks including Walker's remix of "
All Night
" by Steve Aoki featuring Lauren Jauregui of Fifth Harmony, Steve's remix of Alan Walker's "
All Falls Down
,"and "Lonely/Are You Lonely." The track features Aoki and Walker's signature sounds. Aoki's skillful production and use of electronic sound compliment Walker's profound and emotional musicality, featuring a deep bass & drum line punching beneath ISÀK's distorted vocals that are begging to know "Are you lonely?" Speaking to Aoki and Walker's use of non-earthly aesthetic, the song gives off a robotic deep house sound with the use of dark ambient keys and melodic builds. The hook cries out "are you lonely?// I'll stand by you," dressed with suspenseful diminished chords below, and empty musical space that highlights the idea of loneliness and isolation. The track finishes out with Aoki's classic melodic beats, full of heavy bass, deep drops, and pingy electronic sounds. "Alan and I are kindred spirits and working with him on this track was so natural," said Aoki. "ISÀK's vocals make this piece really come alive, and I can't wait for all of our fans to hear this track!" "I'm super excited to get this one out there with my good friend Steve," said Walker. "We already released a version called "Lonely" on my album, and it's been a fan favourite during my shows. So it's cool to get this new version out there as well!"
About Steve Aoki:
Two-time Grammy-nominated producer/DJ Steve Aoki is one of today's most successful American cross-genre artists, collectively counting 1.5 billion music streams on Spotify, with an additional 2 billion music streams on YouTube. As the founder of the trendsetting record label, events/lifestyle company, and apparel line Dim Mak Records, which he founded in 1996, Aoki has helped launch the careers of global acts like The Chainsmokers, Bloc Party, The Bloody Beetroots, The Gossip, and The Kills, among many others. Dim Mak today counts more than 1,000 official releases from the biggest acts and most buzzing newcomers across EDM, indie rock, hip-hop, and beyond over its two-decades-plus discography. As a solo artist, Aoki boasts a lauded discography that includes:
Wonderland
(2012), his debut solo album, which garnered him his first-ever Grammy nomination for Best Dance/Electronica Album; the Neon Future series, which includes Neon Future I (2014, certified gold by the RIAA), Neon Future II (2015), Neon Future III (November 2018), and Neon Future IV (spring 2019); and the hip-hop centric Steve Aoki Presents Kolony (2017). His genre-defying collaborations also include original songs with A-listers like
Lil Yachty
and Migos ("Night Call" from Kolony, 2017); One Direction's Louis Tomlinson on the global hit "Just Hold On" (2016), which debuted at #1 in more than 40 countries and has since gone gold or platinum in 18 countries; K-Pop idols BTS on the hit track "Waste It on Me" (2018) which amassed praise domestically and internationally, debuting at #1 in more than 60 countries with 4 million streams in the first 24 hours, as well as the #1 worldwide trend on Twitter with 1k+ retweets per minute; and Daddy Yankee, Play-N-Skillz, and
Elvis Crespo
on the Spanish-language track "Azukita" (2018). In 2016, Aoki released the Netflix Originals documentary film I'll Sleep When I'm Dead, which earned him his second Grammy nomination for Best Music Film and globally released in more than 190 countries. Recognized by Forbes as one of the
top 5 world's highest paid DJ's
and the
world's hardest working DJ
, Aoki is "one of the most in-demand entertainers in the world" (
Billboard
), counting more than 250 tour dates per year, with past performances at nearly every top festival around the world including Coachella, Ultra Music Festival, Lollapalooza, Fuji Rock Festival, Tomorrowland, Electric Daisy Carnival, and more. As a fashion designer/entrepreneur, Aoki has collaborated with major fashion and lifestyle brands like Converse and Bathing Ape and serves as a global ambassador for several international brands including ASICS and Diesel. In 2016, he also debuted his very own Dim Mak Collection streetwear line, which he later presented at New York
Fashion
Week in 2017. In 2012, Aoki founded
THE AOKI FOUNDATION
, which primarily supports organizations in the brain science and research areas and has donated more than $500,000 to date.
www.steveaoki.com
Click here to view Steve Aoki Twitter
Click here to view Steve Aoki Instagram
Click here to view Steve Aoki Facebook
About Alan Walker:
British-Norwegian EDM producer Alan Walker was a mere 18-year-old when his track "Faded" became a massive European hit. In 2012, inspired by EDM producers such as K-391 and Ahrix and film composer Hans Zimmer, he began creating his own music on his laptop. Working in the genre of "drumstep," a slowed-down drum'n'bass, he uploaded the instrumental track "Fade." The track was a huge success, garnering 65 million hits. In 2015 he signed to Sony Music and released "Faded," a reworked version of "Fade", which topped worldwide charts, including Sweden (nine-times platinum), Germany, France, Italy and Norway. In 2017 he dropped "Tired," featuring Gavin James, followed by "All Falls Down" with Noah Cyrus and Digital Farm Animals. Other singles include "Ignite" in collab with K-391 (feat. Julie Bergan and Seungri) , "Darkside" (feat. Au/Ra and Tomine Harket) and "Different World" feat K-391, Corsak and Sofia Carson. December 2018 he released his debut album "Different World". With 12 billion audio and video streams globally and around 32 million followers across his social channels there is no sign of slowing down. Festival highlights include Coachella, Lollapalooza, Creamfields, EDC Las Vegas, Electric Zoo and main stages at Tomorrowland and Ultra. He is currently on his "Different World Tour" in the US. Collaborations and official remixes include Kygo, Steve Aoki, Sia, Ina Wroldsen, Julia Michaels, Noah Cyrus, Avicii, Bruno Mars and Lay - Sheep (Alan Walker Relift).
Click here to view Alan Walker Twitter
Click here to view Alan Walker Instagram
Click here to view Alan Walker Facebook

About ISÀK:
ISÁK has been a hype in Sápmi music ever since the debut in march 2017, renowned for their energetic live shows and intense stage presence. Since their debut in 2017 the trio has experienced an overwhelming response in Norway, and now the «sensation from Sápmi» is finally ready to take on the rest of the world. With a new and exciting fusion of traditional yoik, urban synths and a text universe that combines both English and Sami, ISÁK continues to push the limits of Sami music. ISÁK has been described as "the hottest name in Sápmi music" by the influential folk festival Riddu Riddu. They were recently named winner of "NRK Urbi" by a jury consisting of music director Mats Borch Bugge (NRK P3) and Eirik Havelin from NRK Urørt (New music of the week) among others. The band also won «Best New Music" during the Sami Music Awards in 2018. The trio consists of vocalist Ella Marie Haetta Isaksen, producer Daniel Eriksen (Alan Walker, The Wombats) and drummer Aleksander Kostopoulos (Mari Boine, Moddi, Adjagas, Pil og Bue).
Related Articles
View More Music

Stories
More Hot Stories For You