Slothrust Share PEACH Video and Announce New Tour Dates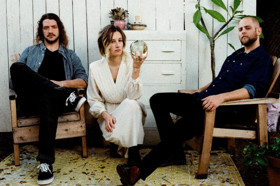 LA-by-way-of-NYC band, Slothrust, share their new video for "Peach" from their recently released their fourth LP, The Pact. Kerrang! Radio, who debuted the video, says it "features child-like cartoony magic realism." Vocalist/guitart Leah Wellbaum explains the vision behind the video, saying, "Music is potent to all creatures, and I love this fairytale-esque idea of a song that is so magnetic that the creatures of the forest can't help but be pulled in to join the magic."
This new album showcases their dynamic evolution through experimentation and exploration. With millions of streams on Spotify, it's clear that new fans are joining the Slothrust movement, and the band's influence has expanded drastically since their first album in 2014. As Billboard puts it, "You're never going to fully figure out Slothrust, but rest assured, it's well worth the effort."
Recently, the band also shared their Noisetrade EP, If You Took Me To The Zoo, out now. The EP features a 2019 Mix of "Double Down" by 5 time Grammy-award winning American mix engineer Chris Lord Alge, along with two previously unreleased demos: "Some Kind of Cowgirl" and "On My Mind."
"Double Down" was featured on SirusXM Octane's "Test Drive" and was also added toSpotify's "Rock This" playlist. The track currently has over 2.5 million Spotify streamsand 666,600 streams.
On February 6, the band appeared on FX's "You're The Worst," and not only performed as a punk band on the episode, but also had their single "Double Down" featured in another scene. Slothrust's 2012 single "7:30" is the show's theme song, as well.
The band has 25 upcoming tour dates and will be playing three festivals in May: Shaky Knees (May 5) in Atlanta, Epicenter (May 10) in Charlotte and Bottlerock (May 25) in Napa.
A thunderously versatile and agile band, Slothrust's live show is driving much of the band's widening success. Fans blissfully revel in guitar epics from the band's own growing catalog, and a selection of inventive covers ("Baby, One More Time by Britney Spears and "Sex and Candy" by Marcy Playground, for example). Get a taste of their live show by checking out their Audiotree session, and stay tuned for more announcements.
LISTEN TO THE PACT
SLOTHRUST TOUR DATES:

Mar 28 - The Troubadour - Los Angeles, CA ^

Mar 30 - The Chapel - San Francisco, CA ^

Mar 30 - Holy Diver - Sacramento, CA ^

Apr 2 - The Olympic - Boise, ID ^

Apr 3 - The Bartlett - Spokane, WA ^

Apr 4 - Crocodile - Seattle, WA ^

Apr 5 - Mississippi Studios - Portland, OR ^

Apr 6 - Mississippi Studios - Portland, OR ^

Apr 23 - The Basement - Columbus, OH #

Apr 25 - Deluxx Fluxx - Detroit, MI #

Apr 26 - Mahall's 20 Lanes - Lakewood, OH #

Apr 27 - Ottobar - Baltimore, MD #

Apr 28 - Asbury Lanes - Asbury Park, NJ #

May 1 - Lizard Lounge - Lancaster, PA # *

May 2 - The Southern - Charlottesville, VA #

May 5 - Shaky Knees Festival - Atlanta, GA

May 8 - Crowbar - Tampa FL #

May 9 - The Jinx - Savannah, GA #

May 10 - Epicenter Festival - Charlotte, NC

May 11 - Saturn - Birmingham, AL #

May 13 - Growlers - Memphis, TN #

May 15 - Reverb Lounge - Omaha, NE #

May 16 - Downtown Artery - Fort Collins, CO #

May 17 - Bluebird Theater - Denver, CO

May 18 - Black Sheep - Colorado Springs, CO #

May 23 - The Gateway - Salt Lake City, UT

May 25 - Bottlerock - Napa, CA

June 19 - Port City Music Hall - Portland, ME *

June 20 - 3S Artspace - Portsmouth, NH *

June 22 - Columbus Theatre - Providence, RI *

June 23 - The Sinclair - Boston, MA *

* = Just announced

^ = Dates with Rituals of Mine

# = Dates with Summer Cannibals
Photo credit: Danny Lane