Shawn Mendes and Khalid to Collaborate for Special Performance at the 2018 Billboard Music Awards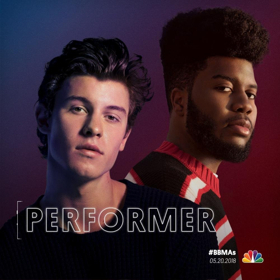 dick clark productions and NBC announced today that five-time Billboard Music Award nominee Khalid will perform during the "2018 Billboard Music Awards." Khalid and Shawn Mendes will take the stage for a special collaboration and the world television premiere of Mendes' new single, "Youth," immediately following Mendes' performance of his hit single "In My Blood."
The pair will join previously announced performers, including BTS, Camila Cabello, Kelly Clarkson, Ariana Grande, John Legend, Dua Lipa, Jennifer Lopez, and Ed Sheeran, with collaborations from
Christina Aguilera
featuring Demi Lovato,
Macklemore
and Kesha,
Salt-N-Pepa
featuring
En Vogue
and Zedd,
Maren Morris
& Grey, on a night filled with music's biggest names. It was also announced that global superstar
Janet Jackson
will receive this year's ICON Award and will take the stage for a highly anticipated performance of her greatest hits, marking her first performance on television in nine years. Hosted by "The Voice" coach Kelly Clarkson, the "2018 Billboard Music Awards" will broadcast live from the
MGM Grand Garden Arena
in Las Vegas on Sunday, May 20 at 8 p.m. ET / 5 p.m. PT on NBC. The three-hour telecast will feature performances from this year's hottest musical acts, unexpected collaborations and buzzworthy moments that celebrate 60 years of the Billboard Hot 100. Five-time Billboard Music Award nominee Khalid has seen great success since he released his first single "Location" right before his high school graduation. The song's domination led to Khalid's major label deal with Right Hand Music Group/RCA Records followed by the release of his debut album, "American Teen." The album received mass critical acclaim with Rolling Stone calling Khalid a "pop prodigy" and Time magazine stating, ""His thoughtful, relatable reflections on modern youth culture and the limitations of love are just as pitch-perfect as his soulful, measured delivery." "American Teen" shattered expectations as it stayed on the Billboard 200 chart for more than 60 weeks, peaked at No. 4 and stayed in the Top 30 of the chart for its first 60 weeks on that list. The singer-songwriter has over one billion streams worldwide across all partners, his first single "Location" is certified 4x platinum by the RIAA, and his previous single "Young Dumb & Broke" is certified 3X platinum. Since the album's debut, Khalid has garnered five 2018 Grammy Award nominations, including Best New Artist and landed on the cover of Billboard's 2018 Grammy Preview issue. He was also nominated for 2017 BET Award for Best New Artist, a Teen Choice Award for Choice R&B/Hip-Hop Song for "Location" and a 2017 American Music Award for Favorite Song-Soul/R&B for "Location." Khalid also won Best New Artist at the 2017 MTV Video Music Awards and an MTV's Woodie to Watch Award. In addition to "American Teen," Khalid has collaborated with some of music's biggest stars. He has been featured on a number of songs, including megahits like Calvin Harris's "Rollin" with Future, "1-800-273-8255" with Logic and Alessia Cara, "Silence" with Marshmello, "Lovely" with Billie Eilish, "Youth" with Shawn Mendes, and many more. Khalid's current singles "Love Lies," a duet with Normani, and "OTW" featuring Ty Dolla $ign and 6lack are burning up the airwaves. Khalid is currently on this third sold-out
North American
headlining tour. Shawn Mendes recently released new tracks "In My Blood" and "Lost in Japan" from his highly anticipated third album. Both tracks have already experienced massive success, soaring to Nos. 22 and 64, respectively, on the Billboard Hot 100, No. 1 and No. 2 on the overall iTunes chart in the U.S, Top 5 on iTunes in 50 countries, and holding the No. 1 and No. 2 spots on Spotify's "New Music Friday" playlist. The tracks have received critical acclaim from outlets including Rolling Stone, Billboard, Idolator, Variety and Paste, with "In My Blood" topping Time magazine's "5 Songs You Need to Listen to This Week" and The New York Times' "The Playlist." "In My Blood" and "Lost in Japan" are the first new songs released by Mendes since his 3x platinum hit "There's
Nothing
Holdin' Me Back" in April 2017. The track scored Mendes his second No. 1 single on Billboard's Pop Songs chart, joining 6x platinum single "Stitches." With "There's
Nothing
Holdin' Me Back," Mendes also became the first artist to ever have three No. 1 singles on Billboard's Adult Contemporary chart before the age of 20. Throughout his career, Mendes has achieved two No. 1 albums on the Billboard 200 with platinum albums "Handwritten" (2015) and "Illuminate" (2016), and seven consecutive platinum and multi-platinum singles. Worldwide, he has sold over 10 million albums, 100 million singles, and has amassed over 11 billion song streams and 4 billion YouTube views. Mendes has completed two sold-out world tours with over one million tickets sold, selling out legendary arenas, including NYC's Madison Square Garden, Toronto's
Air Canada Centre
and London's
O2 Arena
in minutes. He topped Billboard's "21 Under 21" in 2017 and has been featured on Forbes "30 Under 30," Spotify's "25 Under 25," and Time's "Most Influential Teens" for 4 consecutive years. In February 2018, ROI Influencer Media recognized Mendes as the #1 Most Influential Artist and #1 Most Influential Teen across all social media platforms. Shawn Mendes BBMA Giphy stickers are available and can be found within Instagram
Stories
by clicking the GIF button and searching for "BBMAs."
Nominations for the "2018 Billboard Music Awards" were announced last month on NBC's "Today" and on a livestream from Billboard's New York office. Kendrick Lamar,
Bruno Mars
and
Ed Sheeran
tie for the most nominations this year with 15 each. Voting for the Billboard Chart Achievement Award and Top
Social
Artist is open. Fans can vote online and/or on Twitter through May 20, 2018 at 8:30 p.m. ET / 5:30 p.m. PT (half an hour into the live broadcast). "Billboard Music Awards" nominees and winners are based on key fan interactions with music, including album and digital song sales, streaming, radio airplay, touring and social engagement, tracked by Billboard and its data partners, including Nielsen Music and Next Big Sound. The awards are based on the chart period of April 8, 2017 through March 31, 2018. Since 1940, the Billboard charts have been the go-to guide for ranking the popularity of artists, songs and albums, and are the ultimate measure of success in music. Tickets for the "2018 Billboard Music Awards" are on-sale now. To purchase tickets online, fans should go to www.axs.com. For additional information on the "2018 Billboard Music Awards," visit us at www.billboardmusicawards.com or check out the Billboard hub at www.billboard.com/bbma. For the latest Billboard Music Awards (BBMAs) news, exclusive content and more, be sure to follow the BBMAs on social media and join the conversation by using the official hashtag for the show, #BBMAs.
Facebook: FB.com/TheBBMAs
Twitter: @BBMAs
Instagram: bbmas
Snapchat: thebbmas Cheat Tweet: .@ShawnMendes and @thegreatkhalid will collaborate at the @BBMAs, LIVE May 20 at 8pm ET/5pm PT on NBC! bbmas.news/KhalidShawn #BBMAs The "2018 Billboard Music Awards" is produced by dick clark productions. Mark Bracco, Barry Adelman,
Kelly Clarkson
and Robert Deaton are executive producers. The "2018 Billboard Music Awards" are sponsored by T-Mobile. About Billboard
Billboard is the world's largest voice in music, built on the most complete and well-respected database of charts across all music genres. The Billboard charts define success in music. From the iconic Billboard magazine to Billboard.com, the ultimate consumer-facing destination for millions of passionate music fans, to the industry's most elite conference series and influencer events including the Power 100 and Women in Music - the Billboard brand has unmatched authority among fans, artists and the industry alike. Billboard has a social media footprint of 16.4 million social followers across Facebook, Twitter, Instagram, and YouTube, and creates more than 200M cross-platform video views per month. Billboard magazine has published major news-generating covers recently including Travis Scott, Zayn, Lorde, Marshmello, Demi Lovato, Cardi B, Selena Gomez, Eminem, DJ Khaled, Charlie Puth, and an open letter to Congress signed by 180+ of the music industry's biggest stars and executives. In December 2017, the Billboard Women in Music ceremony, which honored Selena Gomez as Woman of the Year, was live-streamed globally on Twitter. In 2016, The Hollywood Reporter-Billboard Media Group acquired SpinMedia's storied music assets Spin, Vibe, and Stereogum, establishing the world's largest music brand by digital traffic, social reach, and audience share. The combined entity of music and entertainment properties now reaches 47 million unique visitors and one in every three U.S. millennials. About dick clark productions
dick clark productions (dcp) is the world's largest producer and proprietor of televised live event entertainment programming with the "Academy of Country Music Awards," "American Music Awards," "Billboard Music Awards," "Golden Globe Awards," "Dick Clark's New Year's Rockin' Eve with Ryan Seacrest" and the "Streamy Awards." Weekly television programming includes "So You Think You Can Dance" from 19 Entertainment and dcp. dcp also owns one of the world's most unique and extensive entertainment archive libraries with over 60 years of award-winning shows, historic programs, specials, performances and legendary programming. dcp is a division of Valence Media, a diversified media company with divisions and strategic investments in premium television, wide release film, specialty film, live events and digital media. For additional information, visit www.dickclark.com.
Photo Credit: NBC