RunHideFight Releases Crunchy Callout 'He's a Jerk' via PureGrainAudio, NYC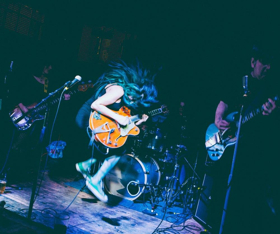 Rounding out the year on a high note, Philadelphia's RunHideFight is releasing their debut 7" record and playing a couple of release shows to boot. Today, PureGrainAudiopremieres the A-Side "He's A Jerk," a classic crunchy garage-rock track leaving no room for interpretation - kicking things off with a Joan Jett-meets-wildcat-in-a-dark-alley shriek cultivated through equal parts "joyful love of punk rock" and "frustration at the chaotic state of the world."
Stream + Share "He's A Jerk"
Spotify | Youtube

Explains frontwoman Geeta Dalal Simons, "Two main things about this song: one is that there are a hell of a lot of he-jerks all up in my media these days. Let's just say that if you're as over it as I am, playing this song can provide some much-needed stress relief and fun."

A standout isn't one of the band members - it's Geeta's custom-made one-of-a-kind 24-string 12/12 doubleneck guitar-sitar, made by luthier Chris DiPinto. She explains, "The more I thought about it, the more I realized that Nuggets-era '60s psych bands were a huge part of my musical bedrock; so many of them drew on the tones and melodies of Indian classical music, perhaps following the Beatles' cue. I decided to culturally re-appropriate that sound and throw in some electric sitar. The instrument, as well as the goddess Saraswati sticker that's on it, are tributes to my cultural heritage."

"He's A Jerk" can be streamed now on all digital platforms, and the 7", featuring B-Side "Because I Love You," is available now via Hidden Volume Records!


Catch RunHideFight Live:
11/30 - NYC - Parkside Lounge
12/1 - Philadelphia - The Barbary
12/15 - Bordentown, NJ - Randy Now's Man Cave
Think Thee Headcoatees meets early Cheap Trick; '60s Bollywood meets '60s Hollywood. Geeta Dalal Simons recorded the demo with Portland-based engineer Jay Demko in her kids playroom, with Jason Kourkounis of Hot Snakes on drums. Add in Brother JT (formerly of garage rock heavies Creatures of the Golden Dawn and Original Sins) on lead guitar and vocals as well, and it really takes off. Geeta is the daughter of Indian American scientists, and raised in West Virginia in a crucible of racial hostility, which drew her focus from academics to all ages shows. Desperate to be heard in a world which resisted allowing voices like hers to cut through, she developed a Joan Jett wildcat shriek and a Malcom Young guitar tone: using the tools of those other physically diminutive rockers who became larger than life through rock n roll. Using the three-chord monte of garage rock, she turned oppressive situations into triumphant two-minute bite-size chunks of rock candy. To pull off these songs live, luthier Chris DiPinto of DiPinto Guitars made her a custom guitar to her specs that acknowledges the '60s music she loves as well as nods to her heritage: a double-neck 24 string 12/12 sitar. The icing on the cake (or rather the finish on the guitar) was a peekaboo checkerboard ode to her guitar hero. Philadelphia garage rock veterans comprise the rhythm section, with Christine Weiser (formerly of Mae Pang) on bass and Jon Kois (Three 4 Tens, Marah) on drums. The single was recorded and produced by Pete Donnelly of The Figgs at Westmont Studios in NJ.