Producer Howard Benson Celebrates 8th Number One Song with Three Days Grace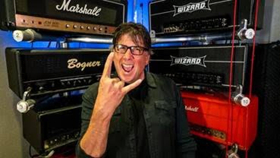 Grammy Nominated Producer Howard Benson is celebrating another #1 hit this week with internationally acclaimed and multi-platinum selling band, Three Days Grace. The band's new single "Infra-Red" is #1 on the Billboard Rock chart this week, #1 on the Mediabase Mainstream Rock Chart, and follows their previous #1 hit "The Mountain", produced by Benson, from the band's new album Outsider.
Three Days Grace has also surpassed Van Halen in having the most #1 Rock Singles of all time. "Infra-Red" is the 8th #1 single that Benson has produced for the band and their 14th #1 single on the charts. Other singles produced by Benson include - "The Mountain," "Animal I Have Become," "Pain," "Never Too Late," "Break," "The Good Life," and "World So Cold."
"The band is super talented and I am always stoked to be able to work with them on their music! Hardest working band in show business!" - Howard Benson
As the go-to producer for some of music's biggest names, Benson has lent his ears and talent to some of the industry's top artists like (Kelly Clarkson, My Chemical Romance, Rascal Flatts, Bon Jovi, Kesha, P.O.D., Hoobastank, Papa Roach, Gavin DeGraw, Santana, In Flames, The All-American Rejects, and Daughtry, amongst others.)
Howard Benson recently finished recording with the young and talented band Joyous Wolf, whose first single "Mississippi Queen" releases later this month. Benson is currently enjoying success with a number of other projects including Of Mice & Men's record DEFY that charted at #3 on the U.S. Top Hard Rock chart, #1 on the iTunes Rock and Metal charts, and Top 50 on the Billboard Top 200 chart. In addition, All That Remains album Madness reached #1 on the iTunes Rock and Metal charts with their cover of the Garth Brooks song "Thunder Rolls" - amassing over 5 million YouTube views in one week, currently sitting at 15 million views. Swedish Metal Legends In Flames just finished up their 2nd consecutive album with Benson and New Jersey natives Palisades will release their Benson produced LP very soon.