Portland Indie-Pop Band A Certain Smile Debut Single MEXICAN COKE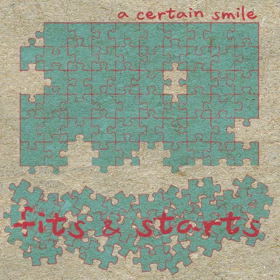 Thomas Andrew is one of those humans who is pretty humble about his shenanigans but it's fair to say that, in addition to bringing the indie-pop fans of Portland, Oregon, closer together by taking over the turntables every week at the Toffee Club Sunday brunch and doing a radio show on Freeform Radio, he has put together a band that is keeping the fuzzy, jangly indie-pop flame circa 1991 (think Slumberland and Sarah Records) alive in 2017.
It is not wrong to say that Andrew is the bandleader of A Certain Smile, which has existed in a way since 2002, when he and his best friend Tom Fleischer were in a shoegaze band called Ports of Call. Some of the songs on Fits & Starts, the brand-new debut album from A Certain Smile, date back to their college years (2002). Andrew and Fleischer spent some post-college time in Philly where many of these songs originated, and Andrew moved to Portland three years ago when his then-wife took a job there. "It's called Fits & Starts because that's how it came together," says Andrew. "I wrote most of the songs or the initial parts. A lot of songs on there have been bouncing around for a long while." The record features songs that had plenty of time to percolate, and that's a good and rare thing these days. Fleischer is no longer in the band, but he co-wrote such tracks as "Smile," "Summer Blonde," and "We Want the World." Andrew has been playing in bands since he was 16. He may be the primary songwriter, but on A Certain Smile's Bandcamp page, he credits at least nine people with helping him write the nine tracks on the debut. Even though A Certain Smile had existed in some form since 2002, it didn't become a real band until 2015, when he recruited Zach Selley, Dustin White and Andy Disney. A Certain Smile shares its name with a novel by Françoise Sagan (the film version stars Johnny Mathis, who also sings a song called that), but most indie-pop types assume that it was named after the album A Certain Smile, A Certain Sadness from the acclaimed pop group Rocketship. Andrew hasn't read the book or seen the film, but he is a fan of the Getz/Gilberto version of the tune. When it comes to crafting a sound for the band, Andrew says: "Well, I've always just said we do fuzzy pop songs, so pretty much that. I hoped it would be something catchy that would have moments that stick in your head a bit, while having a bit of grit and fuzz to tickle any angst one may still have pent up from a misspent youth." The music he makes is an homage to the music he adores: He found his spiritual home when he discovered the catalogs of labels such as Slumberland (especially the Lilys), Sarah Records (Field Mice), 4AD (Pale Saints) and bands such as
Velocity
Girl, Boyracer and McCarthy are influences that show up proudly in A Certain Smile. While the music scene in Portland, Oregon, is all over the place, A Certain Smile has found a place among bands such as Bed., No Aloha, and Lubec. When forming a band in Portland, Andrew recruited various members of the now-defunct band Hearts & Tigers, including Zach Selley, Ian White and Graye Guidotti. Fits & Starts was recorded in Portland, Oregon, by Jason Sissoyev at the Magic Closet, mixed by Lisle Mitnik and mastered by Amy Dragon at Telegraph Mastering. And yes, the album is full of fuzzy pop songs, jangly guitars and sweet, melancholy lyrics. There are songs about "Mexican Coke" (the cola, silly), long distance love (the opening track "Hold On, Call") and "Aberdeen" (a nod to the small town in
Washington
in a song about a childhood of peer abuse and solitude). After losing Ian and Casey due to injury and family responsibilities, respectively, A Certain Smile recruited bassist Dustin White via the internet and drummer Andy Disney. Along with Thomas, the band currently includes: guitarist-keyboardist Zach Selley (who was in Hearts & Tigers and New
Century
School Book, and is also the author of Tilt: The History of Pinball in Portland); drummer Andy Disney, who has played in a slew of punk bands in the south; and bassist Dustin White, who is in a band called Soft Focus and has played with Times New Viking. Andrew points out "Leisure Class" as a song that was a totally collaborative effort with the Portland crew. "Now we have the solid core [of the band], and we're working on new stuff, hopefully a small three-song EP soon with the full new band, and then maybe a handful of singles to follow over the next year," he says. "I'm really excited about how working with the addition of Dustin and Andy will be. We've started working on new stuff together and it's amazing."
Listen to the track here!