Pet Shop Boys Release INNER SANCTUM Live Performance Film, Out Today On DVD/Blu-ray/CD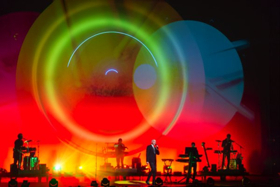 Pet Shop Boys release Inner Sanctum today, a live performance film from their critically-acclaimed sold-out run London's Royal Opera House last summer. The full-length film is also accompanied by two CDs of the complete audio from the live show, plus a bonus feature of the duo's performance at Rock in Rio; purchase via DVD/Blu-Ray/CD HERE.
Pet Shop Boys first presented this live show in 2016 with four sold-out shows at the Royal Opera House, which were then reprised in 2018 as part of their Super tour for four additional performances. The show was staged by designer Es Devlin, choreographed and directed by Lynne Page, and the film was directed by David Barnard.
Super entered the official U.K. Album Charts at #3 marking the duo's sixteenth U.K. Top 10 album to date. The first single "The Pop Kids" reached #1 on Billboard's U.S. Dance Club Charts. The album was written in London and Berlin and features 12 new Tennant/Lowe compositions.
Over the last 25 years Pet Shop Boys have gained a reputation as innovators of the modern live music show. They were among the first to integrate multimedia and theatrical elements into their productions, and they have collaborated with Derek Jarman, Zaha Hadid and Sam Taylor-Johnson.
TRACKLISTING FOR INNER SANCTUM
1. Inner sanctum
2. Opportunities (Let's make lots of money)
3. The Pop Kids/In the night/Burn
4. Love is a bourgeois construct
5. New York City boy
6. Se a vida é (That's the way life is)
7. Love comes quickly
8. Love etc.
9. The dictator decides/Inside a dream
10. West End girls
11. Home and dry/The Enigma
12. Vocal/The Sodom and Gomorrah Show
13. It's a sin
14. Left to my own devices
15. Heart/Go West
16. Domino dancing
17. Always on my mind
18. The Pop Kids (reprise)