Martin Garrix Wins The Title Of World's No. 1 DJ For Third Consecutive Year
Top 100 DJs marks the 25th anniversary of the globally celebrated poll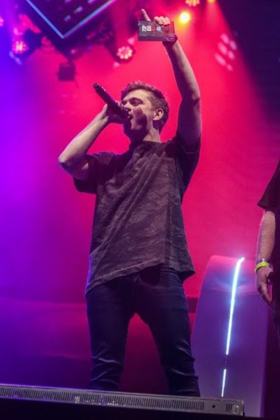 The DJ Mag Top 100 DJs Poll results are in. Dutch DJ/Producer Martin Garrix has retained the crown of 'World's No.1 DJ' for a third consecutive year, since becoming the youngest ever to be voted the World's No.1 DJ back in 2016.

In aid of UNICEF, the 2018 edition of Top 100 DJs marks the 25th anniversary of the globally celebrated poll. This year saw record numbers of voters with in excess of 1.2 million verified votes received, an increase of nearly 200,000 on 2017 being submitted during the 3 month campaign period - making it the biggest publicly-voted music poll in the world.

Martin Garrix received the award at the official DJ Mag Top 100 DJs Awards ceremony during Amsterdam Dance Event (ADE). The show took place at the Johan Cruijff Arena in front of a sold-out capacity crowd of 35,000 fans as part of the Amsterdam Music Festival (AMF), an initiative of ALDA Events and ID&T.
Few can argue about the irrefutable global reach of one of dance music's most revered stars. The meteoric rise of the Dutch superstar Martin Garrix's career has been nothing short of breathtaking, with the past 12 months being perhaps his finest year yet. Whether it's with hit singles that include 'So Far Away' with David Guetta and 'Ocean' featuring Khalid, to his globetrotting touring diary that puts him at the top of the bill for the biggest festivals and events on the planet from Tomorrowland to Creamfields, to appearing at the Winter Olympic Games in South Korea or supporting popstar Justin Bieber on tour, the young Dutch native is rarely out of the public eye. This win means Martin Garrix becomes only the third DJ to have recorded three Top 100 DJs wins, aligning him with previous winners and fellow Dutch DJs Tiësto (3x) and Armin van Buuren (5x).

Other high entries in the 2018 Top100 DJs Poll includeTomorrowland residents and Belgian brothers Dimitri Vegas & Like Mike who are a non-mover at #2 and again scooped the award for 'Highest Group'. Trance don Armin van Buuren slipped one place, behind Hardwell [#3], to #4 but claims once more the category for 'Highest Trance'artist. David Guetta [#5], Tiësto [#6], Don Diablo ('Highest Future House') [#7], Afrojack [#8], Oliver Heldens [#9] and Marshmello [#10] make up the remaining positions of the Top 10.

Australian sisters NERVO, are up 15 places to #27 this year, making them the highest ranked female DJs in the ranking. Next to them is hardstyle pioneer Headhunterz, who claimed the 'Highest Hard' award by landing at #28. This year's 'Highest Climber, powered by Beat Fever' accolade goes to the Israeli psytrance duo Vini Vici [#34] who have made an undeniable mark on the festival circuit this past year.

A former No.1 DJ himself and still the reigning lord of the underground, Carl Cox is up 9 places at #53 and wins the 'Highest Techno' award this year. Melodic masked marauderClaptone was a new entry in the 2017 poll but is up 12 places this year landing at #57 and once again winning the 'Highest House' award. The reunion of EDM's best-loved collective certainly didn't go unnoticed by voters as the Swedish House Mafia claimed #63, earning the 'Highest Re-entry' award. Individually the Swedes also ranked at #58 (Steve Angello) and #41 (Axwell Λ Ingrosso).

With new entries from Breathe Carolina [#77], Adam Beyer [#79], Marco Carola [#86], Cedric Gervais [#87], to female artists being represented by artists such as MATTN #72 who won 'Highest New Entry', Nina Kravis [#97] and Alison Wonderland [#96], this year's poll once again represents a varied selection of popular electronic music genres from house and big room EDM to techno and trance, as well as psy-trance to progressive house and drum & bass and hardstyle, with the inclusion of artists from countries as far and wide as Australia, Guatemala, Brazil, China plus many more.

The territory that yielded the highest number of votes was again the USA, with the UK, Brazil and Mexico ranking next, closely followed by the central European countries of Italy, Germany, Belgium, the Netherlands, France and Spain. Following the widening of the voting process using a 2FA SMS login option for markets without Facebook, there was a 28% increase in votes from China. This has undoubtedly helped the top two Chinese DJs - Carta [#73] and DJ L [#84] - climb 19 and 14 places respectively, while other areas in Asia- including Japan, Vietnam and Thailand - all saw similar increases.

Receiving votes from 179 countries, the Top100DJs is a definitive annual guide to the world's most popular DJs and a living symbol of the strength and diversity of the global electronic music scene. In ongoing efforts to build on the diversity of the poll, DJ Mag has partnered with Beatport who co-presented a Beatport Breakthrough Award, which was won by Brazillian DJ, ANNA. In the following weeks, DJ Mag & Beatport will announce the Alternative Top 100 DJs results, to highlight DJs from genres traditionally on the periphery of the global poll.

Top100DJs has always had charity beneficiaries, however, 2017 was a major escalation that saw UNICEF elevated to headline status. The partnership raised a total of £30,000, including a personal donation of £10,000 by DJ Mag. The fundraising for the 2018 campaign is on track to beat the previous total, with the full amount to be announced next month.

UNICEF works in more than 190 countries and ensures more of the world's children are vaccinated, educated and protected than any other organisation. Through the power and unity of music, the money raised through the Top100DJs Poll will support UNICEF to vaccinate children to protect them from deadly disease, provide life-saving food for malnourished children, train teachers and provide education, protect vulnerable children from violence and abuse and deliver humanitarian aid for children in danger from war and disaster around the world.

DJ MAG TOP 100 DJS POLL 2018 - FULL LIST //
| | | | |
| --- | --- | --- | --- |
| 1 | MARTIN GARRIX - | NO.1 | NON-MOVER |
| 2 | DIMITRI VEGAS & LIKE MIKE | HIGHEST GROUP | NON-MOVER |
| 3 | HARDWELL | | UP 1 |
| 4 | ARMIN VAN BUUREN | HIGHEST TRANCE | DOWN 1 |
| 5 | DAVID GUETTA | | UP 2 |
| 6 | TIESTO | | DOWN 1 |
| 7 | DON DIABLO | HIGHEST FUTURE HOUSE | UP 4 |
| 8 | AFROJACK | | NON-MOVER |
| 9 | OLIVER HELDENS | | UP 4 |
| 10 | MARSHMELLO | | NON-MOVER |
| 11 | STEVE AOKI | | DOWN 2 |
| 12 | R3HAB | | UP 6 |
| 13 | ALOK | | UP 6 |
| 14 | W&W | | NON-MOVER |
| 15 | AVICII | | UP 13 |
| 16 | DVBBS | | UP 6 |
| 17 | LOST FREQUENCIES | | UP 9 |
| 18 | KSHMR | | DOWN 6 |
| 19 | VINTAGE CULTURE | | UP 12 |
| 20 | ERIC PRYDZ | | UP 14 |
| 21 | SKRILLEX | | DOWN 5 |
| 22 | FEDDE LE GRAND | | UP 17 |
| 23 | UMMET OZCAN | | UP 15 |
| 24 | DJ SNAKE | | DOWN 1 |
| 25 | QUINTINO | | UP 5 |
| 26 | VINAI | | UP 6 |
| 27 | NERVO | HIGHEST FEMALE | UP 15 |
| 28 | HEADHUNTERZ | HIGHEST HARD | UP 5 |
| 29 | ANGERFIST | | UP 11 |
| 30 | BASSJACKERS | | UP 5 |
| 31 | THE CHAINSMOKERS | | DOWN 25 |
| 32 | KYGO | | DOWN 8 |
| 33 | TIMMY TRUMPET | | UP 10 |
| 34 | VINI VICI | HIGHEST CLIMBER | UP 38 |
| 35 | WOLFPACK | | UP 6 |
| 36 | ALAN WALKER | | DOWN 19 |
| 37 | BLASTERJAXX | | DOWN 1 |
| 38 | DANNY AVILA | | UP 14 |
| 39 | DJ KURA | | UP 9 |
| 40 | CALVIN HARRIS | | DOWN 25 |
| 41 | AXWELL INGROSSO | | DOWN 20 |
| 42 | DIPLO | | DOWN 17 |
| 43 | NICKY ROMERO | | UP 7 |
| 44 | ZEDD | | DOWN 15 |
| 45 | ALESSO | | DOWN 8 |
| 46 | TUJAMO | | NON-MOVER |
| 47 | YELLOW CLAW | | UP 10 |
| 48 | CAT DEALERS | | UP 26 |
| 49 | ATB | | UP 5 |
| 50 | DIEGO MIRANDA | | UP 6 |
| 51 | ABOVE & BEYOND | | DOWN 24 |
| 52 | JEFFREY SUTORIUS / DASH BERLIN | | DOWN 32 |
| 53 | CARL COX | HIGHEST TECHNO | UP 9 |
| 54 | MARTIN JENSEN | | UP 16 |
| 55 | PAUL VAN DYK | | DOWN 4 |
| 56 | WILL SPARKS | | UP 27 |
| 57 | CLAPTONE | HIGHEST HOUSE | UP 12 |
| 58 | STEVE ANGELLO | | UP 24 |
| 59 | DEADMAU5 | | DOWN 10 |
| 60 | ROBIN SCHULZ | | UP 16 |
| 61 | RICHIE HAWTIN | | UP 19 |
| 62 | FLORIAN PICASSO | | UP 9 |
| 63 | SWEDISH HOUSE MAFIA | HIGHEST RE-ENTRY | RE-ENTRY |
| 64 | JAY HARDWAY | | UP 4 |
| 65 | MISS K8 | | DOWN 7 |
| 66 | MIKE WILLIAMS | | DOWN 6 |
| 67 | ANDREW RAYEL | | UP 12 |
| 68 | MARIANA BO | | UP 16 |
| 69 | RADICAL REDEMPTION | | DOWN 25 |
| 70 | BRENNAN HEART | | DOWN 11 |
| 71 | SWANKY TUNES | | UP 28 |
| 72 | MATTN | HIGHEST NEW ENTRY | NEW ENTRY |
| 73 | CARTA | | UP 19 |
| 74 | ALY & FILA | | DOWN 21 |
| 75 | FERRY CORSTEN | | UP 15 |
| 76 | DA TWEEKAZ | | DOWN 9 |
| 77 | BREATHE CAROLINA | | NEW ENTRY |
| 78 | KO:YU | | NEW ENTRY |
| 79 | ADAM BEYER | | NEW ENTRY |
| 80 | DADDY'S GROOVE | | RE-ENTRY |
| 81 | MOSIMANN | | UP 12 |
| 82 | TCHAMI | | UP 13 |
| 83 | NGHTMRE | | NEW ENTRY |
| 84 | DJ L | | UP 14 |
| 85 | WILDSTYLEZ | | RE-ENTRY |
| 86 | MARCO CAROLA | | NEW ENTRY |
| 87 | CEDRIC GERVAIS | | NEW ENTRY |
| 88 | MARLO | | RE-ENTRY |
| 89 | DEORRO | | RE-ENTRY |
| 90 | ANDY C | HIGHEST DRUM & BASS | DOWN 13 |
| 91 | SOLOMUN | | DOWN 10 |
| 92 | LUCAS & STEVE | | DOWN 28 |
| 93 | MARKUS SCHULZ | | RE-ENTRY |
| 94 | BOBINA | | RE-ENTRY |
| 95 | PAUL KALKBRENNER | | UP 2 |
| 96 | ALISON WONDERLAND | | DOWN 7 |
| 97 | NINA KRAVIZ | | NEW ENTRY |
| 98 | RAVE REPUBLIC | | NEW ENTRY |
| 99 | CARL NUNES | | DOWN 36 |
| 100 | SLANDER | | NEW ENTRY |