Judah & the Lion Drops New Single OVER MY HEAD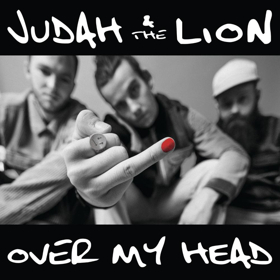 Judah & the Lion is kicking off 2019 with the release of their new single, "Over My Head" - available now via your preferred music platform! The track also premieres today across iHeartRadio's Alternative stations nationally, catch it airing on a station near you starting at 7AM ET or listen via https://www.iheart.com/.

The synth-and-banjo driven track comes on the heels of "Pep Talk" and "Quarter-Life Crisis" - a multi-track single released in December and the band's first new music since their sophomore album,Folk Hop N Roll. It comes two years after Judah & the Lion broke out with #1 single "Take It All Back" - a song that would launch the band into a frenzy of global touring for the next year and a half. "Over My Head" is a deeply personal look into vocalist Judah Akers' mindset during a time that was both professionally exciting and personally turbulent.
"I was on the road and homesick. So that feeling's rushing in, mom's not doing well, not talking to dad, my sister's sad. All these thoughts were happening and I was so overwhelmed with life. I was medicating and distracting myself in different ways so I could get through." - Judah Akers

With these three new tracks, Judah & the Lion (Judah Akers, Nate Zuercher, Brian Macdonald) continue to encourage openness, strength in togetherness, and above all hope. The band kicked off the year in front of a crowd of 200,000 at Nashville's New Year's Eve alongside Keith Urban, PeterFrampton, and Brett Young where they debuted the songs live and again performed "Over My Head" the next day at NHL's Winter Classic at Notre Dame Stadium on NBC. Already announced for this year's Hangout Music Festival in May, fans can expect more on the horizon live from Judah & the Lion soon.

Judah & the Lion's "Over My Head" is available now via Cletus the Van/Caroline. Fans can bookmarkwww.judahandthelion.com for the most up to date information and more news soon!
Years before forming one of Nashville's most genre-bending bands, the members of Judah & the Lion grew up in separate corners of the U.S., listening to every type of music that came their way. They loved it all: the twang of folk, the beat of hip-hop, the drive of rock & roll, the punch of pop. Later, after college brought the musicians to Tennessee, it only made sense to combine those different backgrounds - and different sounds - together. An independent band, their success has arrived not on the back of some big-budget major label, but through their own hard work and passion for the music. Breakout single "Take It All Back" earned them an iHeartRadio Music Award for Best New Alternative Artist of the Year in 2018 after spending 3 weeks atop the Alternative Radio charts and being certified Gold in the US. The band has brought their unparalleled live energy to Good Morning America, CONAN, Jimmy Kimmel Live!, and The Late Late Show with James Corden, festival stages like Bonnaroo, Governor's Ball, and Firefly, and tours with Twenty One Pilots, Incubus, Jimmy Eat World, and more.
Related Articles
View More Music

Stories
More Hot Stories For You