Ian Moore Announces TORONTO Along With National Tour & SXSW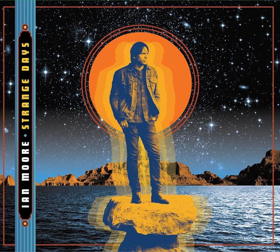 Ian Moore, the Seattle-based, Austin, TX-born guitar player, singer and songwriter makes the proverbial renaissance man look lazy. Toronto comes on the heels of Strange Days, his most successful record since his eponymous debut and despite a never-ending cycle of touring, Moore offers a new release of bright, blazing rock-n-roll that combines his legendary guitar prowess with radio-friendly songs that showcase his elastic, soul-inflected vocals. "It's a very different climate right now. When we hit a city, it doesn't matter that i have 14 records, radio hits, etc. The only thing that matters is if we can really show up and leave the people feeling they saw something amazing. Its keeps me hungry, and I like the challenge" says Moore. Toronto releases May 25, 2018, on Last Chance Records in the US and on Rough Trade in Europe. Moore will be touring in support of the record in the U.S. and Europe for all of 2018 (dates below).
For years, Ian has had his eyes on the challenges faced by musicians of every stripe, having experienced the spectrum of artist successes and tribulations over a nearly 30-year career. In response, he founded the artist's healthcare alliance SMASH (Seattle Musicians Access to Sustainable Healthcare) and has joined the board of NARAS for the Pacific Northwest as governor and head of the advocacy committee.
Moore's story is often told and probably familiar to most critics; his initial record on Capricorn propelled him to national tours with the Rolling Stones, ZZ Top and Bob Dylan, acting in the Academy Award-winning indie feature Sling Blade and having Ice Cube direct the video for his track "Harlem."
Moore deviated from his initial blues-oriented guitar sound on subsequent records, touching on graceful pop songs and the psychedelic as well as British pub rock and deep Americana. Toronto and its 6 tracks represents those influences in such a way that they have informed his songwriting, but is likely more recognizable as a strong collection of the kind of guitar rock his core fan base would respond to immediately.
TOUR DATES
2/28 Amarillo, TX Hoots Pub
3/1 Denver, CO Herman's Hideaway
3/2 Albuquerque, NM The Launchpad
3/3 Phoenix, AZ The Rhythm Room
3/5 Tucson, AZ Club Congress
3/6 Los Angeles, CA Hotel Cafe
3/7 Napa, CA Blue Note Napa
3/8 Petaluma, CA Speakeasy
3/9 San Francisco, CA Brick & Mortar Music Hall
3/10 Sacramento, CA The Torch Club
3/13-19 Austin, TX SXSW Shows TBA
4/12 Wichita Falls, TX Iron Horse Pub
4/13 Kansas City, MO Knuckleheads
4/14 Lincoln, NE Zoo Bar
4/15 Minneapolis, MN Uptown VFW
4/17 Sturgeon Bay, WI Holiday Music Motel
4/18 St Louis, MO The Monicle
4/19 Little Rock, AR Whitewater Tavern
4/20 Tulsa, OK The Shrine
4/21 Dallas, TX Kessler Theater
4/22 Houston, TX Heights Theater
Related Articles View More Music

Stories