Haybaby Announces New Album 'They Get There'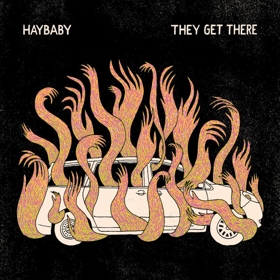 Haybaby, the powerhouse trio fronted by vocalist/guitarist Leslie Wong, are returning with their new full-length They Get There, due out June 7 on Tiny Engines. The record finds the band confronting a range of forceful emotions, with songs addressing abusive relationships, violence against women, and Wong's grief over losing her father to cancer. The Fader premiered the album's first single "Total Bore" today, writing, "The song begins as a tangle of guitar loops and triumphantly swells into a waterfall of a hook... if 'Total Bore' is any indication, a sense of tenderness towards themselves and the world is still in abundance."
They Get There is available for pre-order now in digital and physical format.
Haybaby will be touring extensively in support of the new record, kicking off tonight in Portsmouth, New Hampshire and continuing across North America through July. All dates are below.
Haybaby - They Get There
June 7, 2019 - Tiny Engines
1. Total Bore
2. Monster
3. Witch Like Me
4. Animosity
5. Home
6. My Mother Tells Me
7. Empathy
8. You Got It, Steve!
9. Get Down
10. I'll Wait
4/16 - Portsmouth, NH @ Book & Bar
4/17 - Portland, ME @ Sun Tiki Studios
4/18 - Middletown, CT @ Mac650
4/20 - Albany, NY @ Chateau
5/4 - Richmond, VA @ Gallery5
5/27 - Brooklyn, NY @ Alphaville
5/29 - Chapel Hill, NC @ Local 506 *w/ It Looks Sad
5/30 - Wilmington, NC @ Reggies 42nd Street Tavern * w/ It Looks Sad
5/31 - Charlotte, NC @ TBD *with It Looks Sad
6/1 - Athens, GA @ Georgia Theatre Rooftop
6/4 - Mobile, AL @ The Blind Mule
6/7 - Houston, TX @ Notsuoh
6/8 - Dallas, TX @ Transit Bicycle Co.
6/10 - Austin, TX @ Cheer Up Charlie's
6/11 - El Paso, TX @ Love Buzz
6/13 - Phoenix, AZ @ Lunchbox
6/14 - Los Angeles, CA @ Hi Hat
6/18 - Reno, NV @ Holland Project
6/20 - Portland, OR @ Killingsworth Dynasty
6/22 - Seattle, WA @ Victory Lounge
6/23 - Vancouver, BC @ Static Jupiter
6/29 - Missoula, MT @ Flavortown
7/1 - Salt Lake City, UT @ Diabolical Records
7/5 - Omaha, NE @ O'Leaver's
7/6 - Ames, IA @ PineHouse
7/7 - Fargo, N*E*R*D @ The Aquarium
7/8 - Minneapolis, MN @ Fallout Urban Centre
7/10 - Milwaukee, WI @ Cactus Club
7/11 - Kalamazoo, MI @ Shakespeare's Pub
7/14 - Cleveland, OH @ Mahall's Locker Room
7/18 - Northampton, MA @ Reanimate the Bay State
7/19 - Boston, MA @ O'Brien's
7/20 - Warwick, NY @ Dojo Dungeon
Related Articles View More Music

Stories