Goo Goo Dolls Announce New Live Album THE AUDIENCE IS THIS WAY Coming This July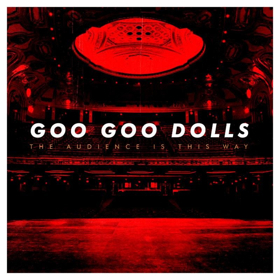 Multi-platinum, four-time GRAMMY-nominated band Goo Goo Dolls today announced The Audience is This Way, a 10-track live album recorded on the band's recent tours. The Audience is This Way is due for release on July 21, 2018 via Warner Bros. Records and will be physically available as an exclusive limited edition black vinyl at indie-retail stores nationally as part of Record Store Day Crawl. There are only 3,000 copies made of this pressing. The album will also be available for digital download and streaming on August 24.
The Audience is This Way was recorded by John Schimke, and was produced and mixed by John Rzeznik, Chris Szczech and Brad Fernquist. Filled with timeless hits such as "Iris", "So Alive" and "Slide", the album boasts never-before released live concert recordings of ten tracks spanning their full discography.
Recent praise for the band's live show include: "Rzeznik and Takac may have grown older, but they haven't outgrown their love of playing music for people" (The Oakland Press), "[Rzeznik] sounded like the recordings his fans know and love; beyond his funnyman stage presence, he's still an ace balladeer" (The Post Standard), "The energy and dynamic balance between Reznik and Takac provided a glimpse into the formula that has propelled the group to their success over the last three decades" (The Chattanoogan).
Last month the band announced that they would be embarking on the SiriusXM Presents: Goo Goo Dolls - Dizzy Up The Girl 20th Anniversary Tour, in celebration of the 20th anniversary of their iconic album, Dizzy Up The Girl. The band will be performing the record in its entirety at each show, followed by an additional set packed with surprises and more of their many unforgettable hits. Please see below for a full list of dates.
The Audience is This Way Tracklisting
Side One:
Long Way Down
Slide
Home
The Pin
January Friend
Side Two:
Big Machine
So Alive
Better Days
Iris
Broadway
TOUR DATES:
Sun., September 30Phoenix, AZThe Van Buren
Tues., October 2Houston, TXHouse of Blues
Wed., October 3Dallas, TXHouse of Blues
Fri., October 5Saint Louis, MOThe Pageant
Sat., October 6Indianapolis, INOld National Centre
Sun., October 7Nashville, TNRyman Auditorium
Tues., October 9Atlanta, GAThe Tabernacle
Wed., October 10Charlotte, NCThe Fillmore Charlotte
Fri., October 12Philadelphia, PAThe Fillmore
Sat., October 13Washington, DCThe Anthem
Mon., October 15New York, NYBeacon Theatre
Tues., October 16Red Bank, NJCount Basie Theatre
Wed., October 17Boston, MAHouse of Blues
Fri., October 19Buffalo, NYShea's Performing Arts Center
Sat., October 20Buffalo, NYShea's Performing Arts Center
Sun., October 21Toronto, ONRebel Complex
Tues., October 23Detroit, MIThe Fillmore
Wed., October 24Grand Rapids, MI20 Monroe Live
Fri., October 26Chicago, ILChicago Theater
Sat., October 27Minneapolis, MNState Theater
Sun., October 28Kansas City, MOUptown Theater
Tues., October 30Denver, COParamount Theater
Thurs., November 1Salt Lake City, UTThe Depot
Sat., November 3Seattle, WAThe Paramount THeater
Thurs., November 8San Diego, CAHouse of Blues
Fri., November 9Los Angeles, CAHollywood Palladium
Sat., November 18Las Vegas, NVThe Joint
About Goo Goo Dolls
Goo Goo Dolls uphold an unbreakable connection to countless fans fortified by a catalog replete with unforgettable smashes such as "Name," "Iris," "Slide," "Black Balloon," and many more. To date, they've sold 12 million albums worldwide, earned four GRAMMY® Award nominations, and made history by notching 14 Top 10 hits at Hot AC-"the most of any artist in history." Notably, "Iris" dominated the Hot 100 at #1 for 18 straight weeks. Among eleven full-length records, A Boy Named Goo [1995] went double-platinum, Dizzy Up The Girl went quadruple-platinum, and Gutterflower[2002] and Let Love In [2006] both went gold as Something for the Rest of Us [2010] and Magnetic[2013] bowed in the Top 10 of the Billboard Top 200. 2016's Boxes attracted the praise of People and Huffington Post as Noisey, Consequence of Sound, and more featured them. In 2017, the You Should Be Happy EP spawned another anthem in the form of "Use Me," which quickly generated 3 million-plus Spotify streams. Their music has been covered by everyone from Taylor Swift to Leona Lewis. Additionally, they've performed for millions at sold out shows everywhere. That connection grows stronger in 2018 with the 20th anniversary tour celebrating Dizzy Up The Girl and more new music on the horizon.
Related Articles View More Music

Stories