David Archuleta Premiere's New Video, Xmas Single Named Best of 2018, Top 10 on iTunes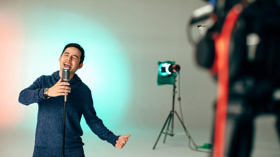 As reported by Billboard magazine here, Multi-platinum selling artist David Archuleta has released his brand new Christmas album Winter In The Air via The Orchard (digital) and Shadow Mountain Records (physical product). The album is already in the Top 10 on iTunes Holiday charts and is available at all digital retailers here.
Winter In The Air features 12 tracks including Christmas classics such as "White Christmas," God Rest Ye Merry Gentlemen," "Holly Jolly Christmas" and "Mary, Did You Know?" In addition to co-writing the lead single "Christmas Every Day," David also co-wrote the title track "Winter In The Air" and "He Is Born" for the new set.
"Christmas Every Day" captures the holiday spirit with David's hopeful and cheery lyrics -
Sidewalks covered up in snow
Lights up everywhere we go
Santa's on his way,
It's Christmas every day
Friends all warmed up by the fire,
Sometimes I just wish that
I could always feel this way
Like it's Christmas every day
If I could have one more gift just for me
Joy to the world it would be
With more Christmases under the tree.
David says: I tend to gravitate to more serious and slower Christmas songs. This time I wanted to have some fun and write a song that would make people happy and feel the joy of the holidays. With the help of Dave Barnes and Cason Cooley, I'm thrilled with how our song "Christmas Every Day" turned out! It makes me happy.
Winter In The Air is David's second Christmas album since 2009's Christmas From The Heart release. Christmas From The Heart has made a return to the charts every holiday season and has sold over 250K copies to date. The album peaked at #2 on Billboard's Holiday chart and Top 30 on Billboard's Top 200 Album chart.
In support of the new release, David will kick-off a month long tour beginning November 26 in Los Angeles and will wrap up on December 21 in Utah. Other cities on the trek include New York, Orlando & Nashville. Click here for ticketing info: https://davidarchuleta.com/home/live/
Follow David here:
https://www.facebook.com/davidarchuleta/
https://www.youtube.com/user/theofficialarchuleta
About David Archuleta
David Archuleta became a star when he was just 16 years old. In 2008, more than 30 million television viewers fell in love with his angelic voice and their 44 million votes made him runner-up in Season 7 of "American Idol."
Soon after, the young Utahan had his first single, "Crush" debut at No. 2 on the Billboard Hot 100 chart the week of its release. According to Nielsen SoundScan, the track sold 166,000 downloads that first week in the U.S. and subsequently more than 1.92 million digital copies. Three months later, David's self-titled album, "David Archuleta," went gold, selling more than 750,000 copies in the U.S., and more than 900,000 copies worldwide.
With a massive social media following (3.5 million Facebook followers, 1.3 million on Twitter and over 300K on Instagram), David has toured all over the U.S., Canada, Asia and has even performed in the Middle East for the U.S. troops. David will release his 8th studio album, Winter In The Air this fall.
Tour dates
11/26 Los Angeles, CA The Troubadour
12/1 San Bernardino, CA Special Orchestra show California Theatre for the Perf Arts
12/3 St. George, UT Burns Arena @ Dixie College
12/4 Grand Junction, CO Avalon Theatre
12/6 Mesa, AZ Mesa Arts Center
12/8 Logan, UT Logan High School
12/10 Provo, UT UCCU @ UVU
12/11 Orlando, FL The Plaza Live
12/13 & 14 Franklin, TN Franklin Theatre
12/15 Athens, GA Hodgson Concert Hall
12/17 New York, NY Highline Ballroom
Related Articles View More Music

Stories
More Hot Stories For You