Country Music Star Brantley Gilbert to Join Kid Rock for Red Blooded Rock N Roll Redneck Extravaganza Tour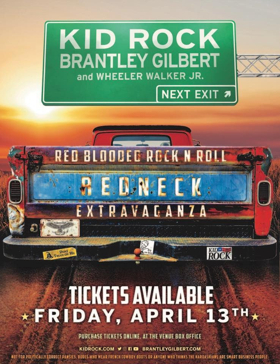 Brantley Gilbert established himself as a voice of the hardcore, hardworking American from his debut single, the #1 "Country Must Be Country Wide." With a strong commitment to rocking hard, reaching deep and pushing Nashville's boundaries, the outlier American Songwriter says, "never fails to deliver southern inspired anthems" joins Kid Rock for his Red Blooded Rock N Roll Redneck Extravaganza this fall.
Joining Rock August 22 at Mountain View, California's Shoreline Amphitheater, Gilbert -- and hard country satirist Wheeler Walker Jr - will be bringing the throwdown to a dozen cities across America. The very special night of gauntlet-throwing will see the tour move through California, North Carolina, Missouri, New York, Indiana, Illinois, Massachusetts and Florida.
"This is one of those once-in-a-lifetime kinds of shows," Gilbert says of the pairing. "Kid Rock is one of the first to blur the lines between rap and Southern rock, and he understands where the people are coming from. He's a word guy, and he brings this musical intensity that's powerful. He brings it, and that's what me and my guys set out to do every time we get on a stage. So this is going to be some set of shows!"
The Georgia-born, -bred and -raised Gilbert has a full summer ahead. Beyond continuing his arena shows, the back-to-back platinum seller plays Nashville's Ascend Amphitheater May 4 with a symphony, then headlines some of America's most iconic music festivals, including Country Jam, County Fest and Jamboree in the Hills.
"There's nothing I like better than getting onstage and rocking the BG Nation," says the man whose Just As I Am was the American Music Awards Favorite Country Album. "But to be able to go out there and join Kid Rock, it takes everything up a level! He gets all same things we do, and he's not afraid to go all-in. When we started talking about it, it felt too good to be true... and now that the news is out, well, this is one incredible way to finish my summer!"
With "The Ones That Like Me" moving up the chart, the man with #1s "Country Must Be Country Wide," "You Don't Know Her Like I Do," "Bottoms Up" and "Hell of An Amen," as well as his two Aldean smashes "My Kind of Party" and the CMA Song of the Year nominee "Dirt Road Anthem" is kicking into high gear. Lauded by Entertainment Weekly for "swaggering guitars, catchy hooks, and a DGAF attitude" and Rolling Stone.com as "a brooding, hip-hop influenced rocker," Gilbert's music continues to do the talking.
"I named my tour The Ones That Like Me for a reason: it's a certain kind of person who lives, plays, works and loves like the BG Nation. And I know they're gonna love the Red Blooded Redneck Rock N Roll Extravaganza!"
Brantley Gilbert on Kid Rock's
Red Blooded Redneck Rock N Roll Extravaganza
Aug. 22 - Shoreline Amphitheatre - Mountain View, CA
Aug. 24 - Toyota Amphitheatre - Wheatland, CA
Aug. 25 - Glen Helen Amphitheater - San Bernardino, CA
Sept. 1 - Coastal Music Park at Walnut Creek Amphitheatre - Raleigh, NC
Sept. 7 - Hollywood Casino Amphitheatre - St. Louis, MO
Sept. 14 - Lakeview Amphitheater - Syracuse, NY
Sept. 15 - Saratoga Performing Arts Center - Saratoga Springs, NY
Sept. 21 - Ruoff Home Mortgage Center - Indianapolis, IN
Sept. 22 - Hollywood Casino Amphitheatre - Chicago, IL
Sept. 29 - Xfinity Center - Boston, MA
Oct. 12 - MIDFLORIDA Credit Union Amphitheatre - Tampa, FL
Oct. 13 - Coral Sky Amphitheatre - West Palm Beach, FL
Tickets on sale Friday, April 13 at livenation.com
Related Articles
View More Music

Stories