Chatham County Line's SHARING THE COVERS Out Today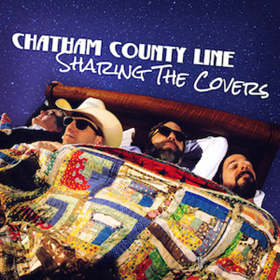 Raleigh, NC-based quartet Chatham County Line's eighth studio album, Sharing The Covers is out today on Yep Roc Records. Directed by Gabriel Wilson and animated by Barrett Phillips, today the band unveils the official video for "I Think I'm In Love" (watch/share).
Taking the familiar and adding a touch of bluegrass, the band creates an inventive collection of classic covers by Tom Petty, John Lennon, The Rolling Stones, The Louvin Brothers, Beck, and more.
Recorded at Durham, NC's Overdub Lane studio, the 13-track collection was engineered by Chris Boerner, who also engineers the band's live shows. Previously released singles, including the video for Wilco's "I Got You (At The End of the Century) and audio for Beck's "I Think I'm In Love," premiered at The Bluegrass Situation and Brooklyn Vegan, respectively.
The band will be on the road through the fall in support of the new album with stops throughout the South and Midwest, including opening dates for Steve Martin and Martin Short, and two days at Merlefest. A full list of dates is below.
Formed in 1999, Chatham County Line-Dave Wilson (guitar/vocals/songwriter), John Teer (mandolin/fiddle/vocals), Chandler Holt (banjo), and Greg Readling (bass/pedal steel/piano)-acquired their name after one of their very first practices when the then-unnamed group-were trying to find Holt's place in Chapel Hill and got lost. "We crossed the Chatham County line, and we never looked back," Wilson says. "Just saw the sign, and said that'd be a good idea for a name, and the next thing you know."
Having toured hundreds of thousands of miles playing North American venues and folk festivals to European concert halls, "what sets Chatham County Line apart from other eclectic acoustic bands are its live shows" (City Beat).
CHATHAM COUNTY LINE TOUR DATES
March 8 - Opera House at Boothbay Harbor - Boothbay Harbor, ME
March 9 - Narrows Center for the Arts - Fall River, MA
March 14 - The Grey Eagle Tavern & Music Hall - Asheville, NC
March 15 - McGlohon Theater - Charlotte, NC
March 16 - Barking Legs Theatre - Chattanooga, TN
March 17 - Eddie's Attic - Decatur, GA
March 21-22 - Suwannee Spring Reunion - Live Oak, FL
March 23 - Murray Theatre - Clearwater, FL
March 29 - Charleston Bluegrass Festival - Awenclaw, SC
March 30 - The Spinning Jenny - Greer, SC
April 26-27 - Merlefest - Wilkesboro, NC
May 2 - Greenfield Lake Amphitheatre - Wilmington, NC
May 3 - Tybee Post Theater - Tybee Island, GA
May 4 - The Crimson Moon - Dahlonega, GA
May 5 - The Basement East - Nashville, TN
May 8 - Hartman Arena - Wichita, KS
May 9-10 - Arvest Bank Theatre at the Midland - Kansas City, MO*
May 11 - The Stage at KDHX - St. Louis, MO
May 23 - Mayo Civic Center - Rochester, MN*
May 24 - Genesse Theater - Waukegan, IL*
May 25 - Horseshoe Casino - The Venue - Hammond, IN*
June 14 - Tabor Opera House - Leadville, CO
June 15 - Palisade Bluegrass & Roots Festival - Palisade, CO
June 29 - ROMP Festival - Owensboro, KY
August 2 - Good Theatre - Old Dominion University - Norfolk, VA
August 3 - The Blue Ridge Music Center - Galax, VA
August 16 - Green Mountain Bluegrass Festival - Manchester Center, VT
August 17 - Wildflower Music Festival - White Mills, PA
September 7 - Mountain Song Festival - Brevard, NC
September 21 - Carolina in the Fall Music & Food Festival - Wilkesboro, NC
October 11 - Carolina Theatre - Greensboro, NC
October 17 - South on Main - Little Rock, AR
October 19 - Bloomin' Bluegrass Festival - Farmers Branch, TX
*with Steve Martin & Martin Short
Sharing The Covers Tracklising:
1. I Got You (At the End of the Century) - Wilco
2. People Gonna Talk - James Hunter
3. Walk Don't Run - Johnny Smith
4. My Baby's Gone - Hazel Houser
5. Bumblebee - Leo Kottke
6. Think I'm in Love - Beck
7. You Don't Know How it Feels - Tom Petty
8. Girl on the Billboard - Walter Haynes/Hank Mills
9. Think of What You've Done - Carter Stanley
10. Watching the Wheels - John Lennon
11. Tear Down the Grand Ole Opry - John Hartford / Tut Taylor
12. The Last Time - Mick Jagger / Keith Richards
13. Lay Down My Old Guitar - Alton Delmore