Canon Promotes Award-winning Dream Team Directors New Show THE DREAM STATE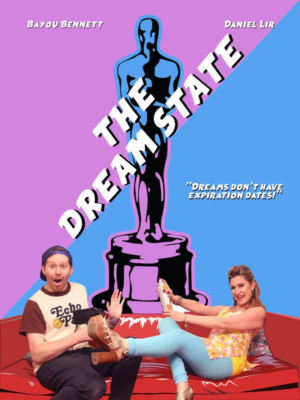 Dream Team Directors Bayou Bennett and Daniel Lir who have worked with the top names and brands in entertainment including Coldplay, Oscar nominee Mark Ruffalo, top model Bella Hadid and viral sensation Lindsey Stirling, present their breakthrough digital series "The Dream State". The dynamic award-winning husband and wife filmmaker duo founded Dream Team Directors in 2007. Their vision was to combine imagination, humor, beauty and a desire to positively impact the world through their stunning creative work.
Now in 2018 they have created a new digital web series called "The Dream State", available on YouTube.
They collaborated, directed and produced with great talents including Oscar nominee Mark Ruffalo, Golden Globe nominee Anthony Mackie, Lea Michele of Fox's "Glee"and "Scream Queens", P. Diddy, Ashely Judd, Paris Hilton, celebrity impressionist, Jim Meskimen, "Park and Recreation", Billy Idol, Matt Bennett of the "Big Bang Theory" and top model, Bella Hadid. They have won two Telly Awards as well as 15 other awards in national and international film festivals.
Award-winning Dream Team Directors Bayou Bennet and Daniel Lir, hosts of the new web series "The Dream State" have begun a filmmaker relationship with Canon. As part of their relationship, Canon has agreed to promote one minute long episodes of the award-winning duo's new show "The Dream State", which was shot using Canon cameras including the Canon c300 and Canon 5D Mark IV models.
In addition, the husband and wife duo have also presented two filmmaker talks for the brand called "A Filmmakers Journey from DSLR to Cinema Line" at the Canon Experience Center and Canon Burbank. These talks covered topics such as the development of technology and its impact on the filmmaking process and creativity. They also screened their very first award winning video shot on Canon, which received the Canon Digital Creators Award in Tokyo, Japan and the Ryuichi Sakamoto Award.
Canon is also supplying camera support to their feature film "Tombstone Pillow" which will be filming in The Philippines.

"The Dream State", hosted by Dream Team Directors Bayou Bennett and Daniel Lir, is an inspiring talk show and digital web series that brings on top artists as guests to explain how they got to where they are. Each interview provides a map of the guests road to success for the up and coming artists of the new generation. The show appeals to both sides of the arena: the beginners who want to break into the industry and those who have been playing the frustrating game and want to get their purpose revitalized.

Some recent guests of "The Dream State" include:
Bonnie Schiffman, who has photographed hundreds of celebrities and legends like Steven Spielberg, Jack Nicholson, James Brown, Iggy Pop, Steve Martin. She shares her story for your growth as an image maker.

Nolan Bushnell, Steve Job's Mentor and Founder of Atari, Chuck E. Cheese's and Brainrush, who shared top secrets to success and building a global brand.

#1 Billboard, Amazon and iTunes singer/ song writer Joy Villa, whose EP "I Make the Static" rocketed to the #1 spot on both iTunes and Amazon following her 2017 Grammys' appearance, surpassing Beyoncé, Adele, and Lady Gaga, and which landed her a #1 Album in Alternative, #1 in Rock, and a #12 spot on Billboards Top 200 Albums.
Actress Jade Pettyjohn (School of Rock, Destroyer, The Mentalist) talked about what success is and shared her thoughts on the industry of movie making.
Viral Comedian Jim Meskimen talks about how he became an artist and gives you tips on how to start out your career as an artist. Jim has collaborated on five films with Academy award-winning Director Ron Howard and acted in countless TV series such as Parks and Recreation.
The Godfather of Graffiti Chad Bojórquez, who discussed how he built his career to be an internationally recognized street artist. This epic interview and masterclass empowered viewers to build their art or creative career like no other.
"We want to inspire those who are the dreamers, who will create our next hit songs, movies, art, style and fashion and ultimately create a blossoming rich culture we can be proud to live in." The Dream Team Directors said.
To learn more visit their Website: http://www.dreamteamdirectors.com
Related Articles View More Music

Stories
More Hot Stories For You