CMA Foundation Partners With Hit Songwriters Nicolle Galyon And Emily Weisband Along With Singer Danielle Bradbury To Surprise Students In Kansas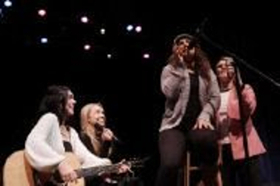 This week, the CMA Foundation partnered with award-winning songwriters Nicolle Galyon and Emily Weisband and Country artist Danielle Bradbery to visit schools and surprise students and teachers throughout Kansas. The critically acclaimed CMA Songwriters Series presented by U.S. Bank also hosted a show Tuesdayevening, Feb. 20, at Wichita's Crown Uptown Theatre featuring all three songwriters.
"Less than a year ago I met some great music education advocates during a Capitol Hill visit," said Tiffany Kerns, CMA Director of Community Outreach. "I learned about the incredible work happening throughout the state of Kansas to support thriving music programs. As a leader in music education funding, it is important to learn from these programs so we can continue to share best practices in the field while also celebrating impactful teachers, school leaders and communities. We've met dozens of incredible and passionate music teachers this week throughout Kansas, all of whom are preparing our future generation with the skills needed to be successful in life."
Tuesday afternoon the group visited Wichita East High School during a music teacher in-service day. Led by Galyon, the three women conducted an interactive songwriting workshop with more than 120 area music teachers to empower them with new, collaborative skills to use in their classrooms.
Following the workshop, Bradbery, Galyon and Weisband took centerstage at Wichita's Crown Uptown Theatre for a special CMA Songwriters Series show presented by U.S. Bank. Galyon hosted the round and the three songwriters performed their works including "We Were Us," "Sway," "God Made Girls," and "Gettin' In The Way" to a packed crowd of fans and Kansas-area teachers they worked with earlier that afternoon. See the full set list below.
"All The Pretty Girls" - Galyon (Recorded by Kenny Chesney)
"Boy" - Galyon (Recorded by Lee Brice)
"Can't Stay Mad" - Bradbery
"Consequences" - Galyon and Weisband (Recorded by Camila Cabello)
"Female" -Galyon (Recorded by Keith Urban)
"Gettin' In The Way" - Weisband (Recorded by Keith Urban)
"God Made Girls" - Galyon (Recorded by RaeLynn)
"Human Diary" - Weisband (Recorded by Bradbery)
"Same Heart" - Weisband (Recorded by Keith Urban)
"Sway" - Bradbery and Weisband (Recorded by Bradbery)
"Tequila" - Galyon (Recorded by Dan + Shay)
"The Apple" - Galyon and Weisband (Recorded by RaeLynn)
"Thy Will" - Weisband (Recorded by Hillary Scott & the Scott Family)
"We Were Us" - Galyon (Recorded by Keith Urban and Miranda Lambert)
"What Are We Doing" - Bradbery and Weisband (Recorded by Bradbery)
"Worth It" - Bradbery
Kansas school visits continued Wednesday when Galyon and Bradbery surprised students at Galyon's alma mater Sterling High School to announce several donations to the school's music program - nine guitars gifted by a donor, along with a drum kit and baby grand piano provided by the CMA Foundation. Galyon also unveiled a brand-new scholarship she is funding in partnership with the Wichita Community Foundation - the Autobiography Scholarship - which will be awarded to a deserving Sterling High School senior beginning this year.
The events continued Thursday following a performance by Galyon at the Kansas Music Education Association (KMEA) Conference in Wichita. Both Galyon and Bradbery met with KMEA Board members and all-state students prior to a songwriting session with teachers led by Galyon.
Festivities concluded Thursday evening at the KMEA President's Concert during which the CMA Foundation-funded Salina South Middle School guitar class of Salina, Kansas performed under the direction of 2017 CMA Music Teacher of Excellence Matt Gerry.
**SUGGESTED TWEET**: The #CMAFoundation partnered this week w/ songwriters Nicolle Galyon & @EmilyWeisband, plus artist @DBradbery, to meet w/ music students, teachers and the @KSMEA throughout Kansas as well as put on an unforgettable #CMASongwritersSeries presented by @USBank in Wichita! <
>
About the Country Music Association
Founded in 1958 and celebrating its 60th Anniversary in 2018, the Country Music Association is the first trade organization formed to promote a type of music. In 1961, CMA created the Country Music Hall of Fame to recognize artists and industry professionals with Country Music's highest honor. More than 7,800 music industry professionals and companies from around the globe are members of CMA. The organization's objectives are to serve as an educational and professional resource for the industry and advance the growth of Country Music around the world. This is accomplished through CMA's core initiatives: the CMA Awards, which annually recognize outstanding achievement in the industry; CMA Fest, which benefits the CMA Foundation and music education and is taped for a three-hour network television special, "CMA Fest"; and "CMA Country Christmas," featuring Country artists performing original music and Christmas classics for broadcast during the holiday season. All of CMA's television properties air on the ABC Television network through 2021.
About U.S. Bancorp
Minneapolis-based U.S. Bancorp (USB), with $462 billion in assets as of December 31, 2017, is the parent company of U.S. Bank National Association, the fifth largest commercial bank in the United States. The Company operates 3,067 banking offices in 25 states and 4,771 ATMs and provides a comprehensive line of banking, investment, mortgage, trust and payment services products to consumers, businesses and institutions. Visit U.S. Bancorp on the web at www.usbank.com.
Photo: Emily Weisband, Danielle Bradbery and Nicolle Galyon watch as music teacher Molly Neeley from Bostic Elementary in Wichita, Kansas performs a song written at a workshop hosted by the CMA Foundation Tuesday, Feb. 20 at Wichita East High School.
Photo Credit: Amanda Eckard/CMA
Related Articles View More Music

Stories
More Hot Stories For You