Blue Note Hawaii Presents Musical Legend Don McLean this December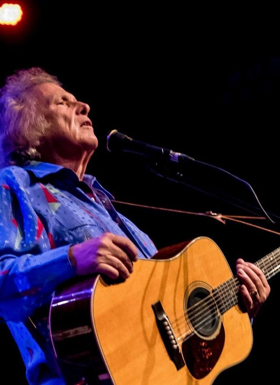 Blue Note Hawaii, the state's premier venue for the world's most celebrated artists, announces one show only with music legend Don McLean December 27, 2018. Tickets are on sale now at www.bluenotehawaii.com.
Don McLean
December 27, 2018
Showtime: 8:00 p.m. (Doors at 6:00 p.m.)
Tickets: VIP $115, Table and Booth Seating $85, Bar $75
Don McLean is one of America's most enduring singer-songwriters and is forever associated with his classic hits "American Pie" and "Vincent (Starry Starry Night)". Since first hitting the charts in 1971, Don has amassed over 40 gold and platinum records worldwide and, in 2004, was inducted into the Songwriters' Hall of Fame. His songs have been recorded by artists from every musical genre, most notably Madonna's No. 1 recording of "American Pie" in 2000 and George Michael's version of "The Grave" in 2003, sung in protest at the Iraq War.
In 2007, Don McLean shared his life story in Alan Howard's biography, The Don McLean Story: Killing Us Softly With His Songs.
In 2009 his latest studio album, "Addicted to Black", was released and in 2010 he returned to Europe for a seven-nation tour, including the Royal Albert Hall, London on May 7th.
2011 saw another tour of UK and Ireland, including a sensational appearance at Europe's largest music festival, Glastonbury and in 2012 Don completed his longest European Tour in 20 years.
In 2012 Don was also awarded the BBC Folk Music Lifetime Achievement Award and saw the release of "American Troubadour" on CD and DVD and the worldwide broadcast of the documentary of this name, charting Don's life and career.
About Blue Note Hawaii
Located in the former Society of Seven showroom inside Outrigger Waikiki Beach Resort, Blue Note Hawaii will feature a year-round lineup of musical entertainment - from local talent to international sensations - for limited engagements. As a part of Outrigger's ongoing commitment to the musical arts, the performance venue has undergone an extensive, multi-million-dollar revitalization, creating a brand new venue in the heart of Hawaii's most famed beach resort destination. Blue Note Hawaii features completely new décor and a state-of-the-art sound and light system.
The 9,000 square-foot facility was designed by local architecture and interior design firm InForm Design, and seats over 300 patrons, showcasing two performances nightly in an intimate setting - seven days a week, 365 days a year. Blue Note Hawaii also features a contemporary gift, including a dedicated location for musical acts to hold autograph sessions following each show. Guests can also dine at the venue, where a full-service restaurant and bar highlights the culinary talents of Chef Rodney Uyehara. Talent buying and programming is handled out of Blue Note Entertainment Group's New York office. Additionally, the venue is available for private event bookings.
About Blue Note Entertainment Group
Blue Note Entertainment Group, founded in 1981 by Danny Bensusan, is a multi-faceted entertainment company that owns and operates New York's Blue Note Jazz Club, B.B. King Blues Club & Grill, Highline Ballroom, Subrosa, and Lucille's Grill; The Howard Theatre (Washington D.C.); and Blue Note Jazz Clubs Worldwide (Tokyo and Nagoya, Japan; Beijing, China; Milan, Italy; Napa, CA and Honolulu, HI). The company also programs the Regattabar Jazz Club (Cambridge, MA). Blue Note Entertainment Group presents shows outside of its club network. The annual Blue Note Jazz Festival was established in 2011 and has since grown to become the largest jazz festival in New York City each June. Subsidiaries of Blue Note Entertainment Group include the GRAMMY®-nominated record label Half Note Records, whose catalogue includes over fifty titles recorded live at New York's Blue Note Jazz Club, as well as Blue Note Travel, Management Group and Media Group.
Related Articles View More Music

Stories