BMC+AC Presents Jace Clayton Aka DJ /rupture In Multimedia Performance Honoring Jacob Lawrence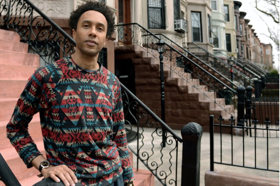 On Friday, October 19, 2018 at 8:00pm, Black Mountain College Museum + Arts Center (BMCM+AC) presents a performance by Jace Clayton aka DJ /rupture in conjunction with the African Americans in WNC & Southern Appalachia Conference. The event features Clayton's latest video The Jacob Lawrence of Jacob Lawrence, a hand-drawn animation with texts that form part of the script for the live performance, inspired by BMCM+AC's landmark exhibition Between Form and Content: Perspectives on Jacob Lawrence. As Clayton and vocalist Arooj Aftab perform, their voices will be transformed and processed live, using the sonic mutations to extend and transform the themes of the source text.
Of the video, Clayton says, "This silent, hand-drawn animation video excerpt and script excerpt are two components of my piece The Jacob Lawrence of Jacob Lawrence, which will culminate in the Black Mountain College Museum + Arts Center performance. As an artist and writer, I use an interdisciplinary approach to focus on how sound, memory, and public space interact. Lawrence's interest in the socioeconomic structures that contour racial imaginaries while reinforcing real-world inequality formed the starting point for this piece. In it, I collect American newspaper mentions of 'Jacob Lawrence' that pre-date Jacob Lawrence, the celebrated artist. Excerpts from those articles, which reach back centuries, form the entirety of the libretto/script."
Central to BMCM+AC's mission is to preserve, celebrate, and advance the legacy of Black Mountain College, and the story of Jacob Lawrence's experience there is one that deserves to be told. Both the historical art and new commission portions of this project will look at art, culture, and race and examine issues of equality that are vital to our national conversation. The summer of 1946 was one of Lawrence's first, direct experiences with the Jim Crow south, and although there was a welcoming atmosphere at BMC, the artist and his wife never left the campus for the entire eight weeks of their stay. In addition to the significance of Lawrence's work and the 1946 BMC Summer Institute, this project represents an ambitious new direction for BMCM+AC, both programmatically and artistically. While BMCM+AC has included contemporary work in past programs, this will be its first time commissioning a series of new work on this scale. The scope of the project is designed to look past creative silos, to how contemporary art and performance can exist in dialogue with historical art.
Program Information
Performance: The Jacob Lawrence of Jacob Lawrenceby Jace Clayton aka DJ /rupture
Friday, October 19, 2018 at 8:00pm
BMCM+AC | 120 College Street | Asheville, NC
Tickets:$8 for BMCM+AC members + students w/ID // $10 for non-members (https://bpt.me/3596434)
Link:http://www.blackmountaincollege.org/performance-jace-clayton-aka-dj-rupture/
About Jace Clayton
Jace Clayton is an artist and writer based in Manhattan, also known for his work as DJ /rupture. Clayton uses an interdisciplinary approach to focus on how sound, memory, and public space interact, with an emphasis on low-income communities and the global South. His bookUproot: Travels in 21st Century Music and Digital Culture was published in 2016 by Farrar, Straus and Giroux.
Recent projects include Sufi Plug Ins, a free suite of music software-as-art, based on non-western conceptions of sound and alternative interfaces;Room 21, an evening-length composition for 20 musicians staged at the Barnes Foundation; and The Julius Eastman Memorial Dinner, a touring performance piece for grand pianos, electronics, and voice.
As DJ /rupture, he has released several critically acclaimed albums and hosted a weekly radio show on WFMU for five years. Clayton's collaborators include filmmakers Jem Cohen, Joshua Oppenheimer, poet Elizabeth Alexander, singer Norah Jones, and guitarist Andy Moor (The Ex).
Clayton is the UNC-CH/Duke Nannerl Keohane Distinguished Visiting Professor. He is a 2014 New York Foundation for the Arts Nonfiction Literature fellow, a 2013 Creative Capital Performing Arts grantee, and recipient of a Foundation for Contemporary Art artists award. He joined the Music/Sound faculty of Bard College's MFA program in 2013. Clayton has been an artist-in-residence with the Lower Manhattan Cultural Council, Eyebeam Art + Technology Atelier, and a USC Annenberg/Getty Arts Journalism fellow. Clayton has performed in over three dozen countries, and has given artist talks at a number of museums, universities, and other institutions.
About Black Mountain College Museum + Arts Center
The Black Mountain College Museum + Arts Center (BMCM+AC) preserves and continues the legacy of educational and artistic innovation of Black Mountain College (BMC). We achieve our mission through collection, conservation, and educational activities including exhibitions, publications, and public programs.
Arts advocate Mary Holden founded BMCM+AC in 1993 to celebrate the history of Black Mountain College as a forerunner in progressive interdisciplinary education and to explore its extraordinary impact on modern and contemporary art, dance, theater, music, and performance. Today, the museum remains committed to educating the public about BMC's history and raising awareness of its extensive legacy. Our goal is to provide a gathering point for people from a variety of backgrounds to interact through art, ideas, and discourse.
For more information visit http://www.blackmountaincollege.org
About Black Mountain College
The story of Black Mountain College begins in 1933 and comprises a fascinating chapter in the history of education and the arts. Legendary even in its own time, Black Mountain College attracted and created maverick spirits, some of whom went on to become well-known and extremely influential individuals in the latter half of the 20th century. A partial list includes Willem and Elaine de Kooning, Robert Rauschenberg, Josef and Anni Albers, Jacob Lawrence, Merce Cunningham, John Cage, Cy Twombly, Kenneth Noland, Susan Weil, Vera B. Williams, Ben Shahn, Ruth Asawa, Franz Kline, Arthur Penn, Buckminster Fuller, M.C. Richards, Francine du Plessix Gray, Charles Olson, Robert Creeley, Dorothea Rockburne and many others who have made an impact on the world in a significant way. Even now, decades after its closing in 1957, the powerful influence of Black Mountain College continues to reverberate.