Click Here for More Articles on FOOD & WINE
THANKSGIVING Our Top Picks for Every Type of Celebration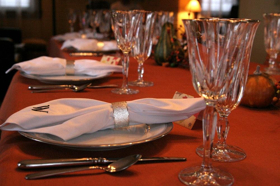 Our popular Thanksgiving roundup is here! Whether you are planning a get together before the holiday, a "Friendsgiving" celebration, family gathering, an excursion, brunch, or a satisfying meal in the city after the Macy's Thanksgiving Day Parade, you will want to know about these dining choices. We have suggestions for traditional fare, restaurants that are catering for take-out, and unique cuisine choices. Check out the tempting menu offerings, pick your spot, and enjoy!
Celebrate Thanksgiving before the big day!
Crave's Fishbar (Upper West Side) For friends and families taking in the pre-Thanksgiving ritual of parading past the inflation stations on Wednesday for a glimpse at the giant balloons, when hunger pain hits, Crave Fishbar is located in the midst of it all. Special treats at will include Hot Chocolate With Big Toasted Marshmallows and Hot Cider perfect for kids or your inner-child. Crave Fishbar's Seasonal Toddies will add a kick to your adventure. Some Seasonal Highlight's from Crave Fishbar's menu includes Roasted Cauliflower Soup; Red Crab Salad; Fried Fish Sliders among other seafood delights. Every table will receive, complimentary, from Crave Fishbar's pastry department a homemade Chocolate Chip Cookie to munch later in the night while watching the balloons get blown up. Visit: http://cravefishbar.com/.
KIMPTON MUSE HOTEL (Midtown) Their Thanksgiving dinner will be available from November 20 to the 24 at NIOS, the restaurant located inside the hotel. Ideal for Friendsgiving get-togethers, 10% of sales will go to the non-profit organization NO KID HUNGRY. The menu is priced at $60 per person, with an additional $45 for wine pairings. Dishes include Roasted Butternut Squash Soup, Turkey Breast & Confit Leg, and Artisanal Pumpkin Pie. Visit: https://www.themusehotel.com/.
Zeppelin Hall (Jersey City) Visit the beloved biergarten, restaurant and nightspot for their "Endless Happy Hour" from 4pm - 3am on Thanksgiving Eve with 18oz. $3 mugs of your favorite beers like Radeberger, Pilsner Urquell and Shofferhoffer, and high-end craft beers like Ommegang, Founders, Abita, Spaten, Paulaner, Hofbrau. They will also serve up $4 Tito's vodka and well drinks as well as all wines and select shots. Enjoy live music from Danger Days, playing hits from '90's and the '00's while you're surrounded by seasonal decor. There's no cost for table reservations. For more information visit https://zeppelinhall.com/.
On the Thanksgiving Day holiday, indulge and enjoy.
David Burke Tavern (Upper East Side) On Thursday November 22nd from noon - 8pm, David Burke Tavern will serve their classic meets contemporary Thanksgiving dinner (three courses, $85 per person; $40 for children under 12). Appetizers include Oysters ("shrimp louie style"); Ditalani Mac & Cheese with mushroom and olive crumble; and Pear Carpaccio with blue cheese-bacon frisee. For mains, indulge in Thanksgiving Turkey with cornbread stuffing, citrus cranberry, autumn harvest relish, Breckenridge bourbon giblet gravy; Fall Squash Lasagna with sage, pecorino brown butter; or Sea Scallops and Crispy Duck with brussels sprouts and pumpkin. There will also be a selection of Chef David Burke's signature holiday desserts. Visit: https://davidburketavern.com/.
Jones Wood Foundry (Upper East Side) The holiday tradition continues for New Yorkers, who come back year after year for a classic seasonal spread presented in a cozy family friendly atmosphere. This year's three-course menu is available from 11 a.m. to 8 p.m, priced at $65 for adults and $35 for children eight years of age. It includes Butternut Squash Ravioli, Turkey With All The Trimmings like White and Dark Meat, Gravy, Chestnut Apple & Sage Stuffing, Cranberry Sauce, Glazed Carrots, Runner Beans, and Caramelized Brussels Sprouts. Sides include Roasted Potatoes, Sweet Potato Puree and Cornbread. Top your meal off with Pumpkin Pie and Chantilly Cream. Visit: https://www.joneswoodfoundry.com/.
The Pandering Pig (Hudson Heights) Pandering Pig located in Hudson Heights is an area with gorgeous fall views of the Hudson River. Chef/Owner Nicole O'Brien will be serving a Prix Fixe dinner with main courses such as Dindon au Vin or Wild Pan-Seared Salmon with Cointreau gastrique, cranberries & toasted walnuts served with sides such as garlic mashed potatoes, roasted brussell sprouts, dried apricot & herb stuffing, and other appetizing treats. The 3-course prix fixe menu also includes coffee, tea, root beer and dessert. The Pandering Pig offers a distinctive and expertly curated rotating wine program, as well as a single malt whiskey collection and artisanal beer list. Kids eat at half price on Thanksgiving. They will be open on Thanksgiving Day from 4 to 9 PM. Visit: https://www.thepanderingpig.com/.
Dizzy's Club Coca Cola (Upper West Side) The popular, glamorous venue is hosting a festive feast accompanied by world-class jazz. The evening will showcase multi-awarding winning trombonist Wycliffe Gordon and his quintet and will hot all the right notes with a three-course menu, all for $165 per person for the show, dinner, tax and gratuity. The fare includes Homemade Cornbread; a choice of starters like Fall Harvest Salad or Carrot & Fennel Soup; Entrees that include Slow Roasted Turkey, Herb Pan Seared Salmon, or Roasted Beef Tenderloin; and luscious desserts like their Sweet Potato Pie or Carrot Cake. Visit: Tickets must be purchased in advance: https://ticketing.jazz.org/auxiliary/Reserve.aspx?p=8467&promotnmp=7118o and Visit: https://www.jazz.org/dizzys/.
LDV Hospitality's Scarpetta (NoMad) The restaurant is offering a special prix fixe menu for Thanksgiving. For $85 per person, dinner includes delicious items such as Butternut Squash Soup with Pumpkin Seeds; Root Vegetables and Pickled Cranberries; Short Rib & Bone Marrow Agnolotti with Garlic Chip and Horseradish; Roasted Turkey with Cranberry Agro Dolce; Sweet Potato Purée and Root Vegetables; and Thin Apple Tart with Cookie Crumble, Caramel Sauce and Dulce de Leche Gelato. Visit: http://www.ldvhospitality.com/brands/scarpetta/.
Tartinery (Midtown East) For those who want have some treasured Friendsgiving and Thanksgiving memories, Tartinery is the ideal destination for shareable plates, quality cocktails and a relaxed vibe. The Parisian-inspired cafe and bar features soft notes of music, dim lights and lush décor, creating the perfect ambiance for a sophisticated yet relaxing meal. Create an Instagram-worthy table spread with shareable Parisian-inspired plates such as Tartinery's signature tartines, elevated takes on the typical "street-style" Parisian open-faced sandwich. Try the Ricotta & Prosciutto tartine, comprised of warm sourdough bread. fresh ricotta cheese, prosciutto, honey glazed grapes and walnuts or the Croque Monsieur tartine with ham, gruyere and béchamel, alongside Tartinery's house wine or a handcrafted cocktail. Visit Tartinery 90 Park before Thanksgiving for a Friendsgiving meal or on Thanksgiving Day when their hours will be 7:00 am to 12 pm. Visit: https://www.tartinery.com/90-park-ave..
MIFUNE New York (Midtown East) the progressive Japanese restaurant is offering up a unique Thanksgiving menu. Crafted by Head Chef Yuu Shimano. the menu is available on Thanksgiving Day with dinner seating's at 5pm and 8pm. It is priced at $90 per person with an option to add wine and sake pairings for an additional $60 per person. Thanksgiving menu includes Kabocha Pumpkin Soup with Bacon Cream Espuma; Amuse Bouche, 6 Kinds; Today's Sashimi; Saikyo Miso Sea Bass En Croûte with Vin Blanc Yuzu Sauce; Organic Turkey Truffle Pie with Turkey Foie Gras Gravy; Turkey Soboro Ginger Rice; and Sweet Potato Mont Blanc with Rum Raisin Ice Cream. Visit: https://www.mifune-restaurant.com/.
American Cut (Midtown and Tribeca) The steakhouse is offering a Holiday Prime Rib Dinner, featuring a full rack of prime rib carved tableside, complete with popular sides, for $165 per person, with groups of 10 or more. In addition, the restaurants' prix-fixe Thanksgiving menu, for $85 per person, include Hubbard Squash Ravioli with Pumpkin Seed Gremolata and Sage, Misty Knoll Farms Turkey with Chestnut & Sausage Stuffing and Gravy, Twice Baked Sweet Potato with Pierre Poivre Marshmallow as well as Pumpkin Pie with White Chocolate-Cranberry Ice Cream. Visit: https://www.americancutsteakhouse.com/.
Oceana (Midtown) Executive Chef Bill Telepan has created a three-course prix fixe menu with additional raw bar items and a la carte sides available. Tables will also receive a gift to be used on their next visit to the restaurant. Thanksgiving specials include starters like Autumn Salad, Shrimp Bisque, House-Smoked Brook Trout, Tuna Tartare, Squash Pierogi or Lobster Roll Salad. For main courses, there are choices like Sea Scallops, Seared Halibut, Scottish Salmon, Roasted Organic Turkey or Beer Braised Short Ribs. Desserts include Pumpkin Cheesecake, Warm Apple Cake, Lemon Meringue Pie Parfait, or Chocolate Bar. The cost is $85 for the prix fixe menu and $45 for children under the age of 12. Visit: https://www.oceanarestaurant.com/.
The Lambs Club at The Chatwal (Midtown) Geoffrey Zakarian's The Lambs Club is offering a prix-fixe menu for families this Thanksgiving. For $90 per person and $50 for children, guests can dine on menu items including Trout Piscator stuffed with Smoked Trout and Watercress; Horseradish Dressing and Green Apple; Roasted Turkey with Celery Root Puree; Carrot-Turnip Stew and Kohnrabi; Potato Gnocchi with Delicata Squash, Chestnuts, Sage, Arugula and Truffle; Sweet Potato Gratin; Roasted Acorn Squash. And for dessert there will be Warm Apple Crisp with Cranberry Compote; Celery Root Chips and Apple Cider Ice Cream; or Pumpkin Cheesecake with Cinnamon Graham Cracker, Spiced Cream and Pepita Brittle. For children, The Lambs Club will have Cheeseburgers and Turkey, Mashed Potatoes and Mac and Cheese. Large parties over 20 people may reserve the restaurant's private dining room, The Stanford White Studio. Visit: http://www.thelambsclub.com/.
Virgil's Real BBQ (Midtown) Elevate your Thanksgiving meal with a BBQ-style feast from Virgil's in NYC! Available in-house or for takeout, the meal will include an 18 pound Smoked Turkey, accompanied by flavorful dishes such as Sausage and Pecan Stuffing; fluffy Mashed Potatoes; Giblet Gravy; Cornbread; Sweet Potatoes topped with melted marshmallows; Candied Brussels Sprouts; and more. Virgil's Thanksgiving meal serves eight people and will be offered for $249.95 for dining in the restaurant or for takeout. The restaurant will also take advance orders for their holiday desserts that include Apple Pie, Pecan Pie, Peanut Butter Pie, Chocolate Chess Pie, and Pumpkin Pie. Visit: https://www.virgilsbbq.com/.
SOFITEL NEW YORK (Midtown) They invite family and friends to break away from the holiday norm this Thanksgiving as they partner with the Broadway hit, Waitress the Musical to bring guests a theater lover's' Thanksgiving treat. On Thanksgiving Day, Gaby Brasserie Française, the hotel's signature restaurant, will host a holiday buffet from 12-4 p.m. In addition to a Goffle Farms Roasted Turkey Breast with tarragon gravy and mulled wine cranberry sauce, entrée choices will include Cider Braised Short Ribs; and Chatham Cod. After dinner, the real star emerges with LuLu's Thanksgiving Dessert Buffet. Thanksgiving dinner is $73 per person and $35 for children ages 4-12. Tax and gratuity are not included. From November 21 to November 23, guests of Sofitel New York can pair a holiday feast with tickets to Waitress The Musical and choose between two holiday offers. Thanksgiving dinner and a show on Thanksgiving Day or Thanksgiving dinner, tickets to the Nov. 21 or 23 curtains and an overnight stay. For more information, rates and reservations, visit: https://sofitel.accorhotels.com/gb/hotel-2185-sofitel-new-york/index.shtml/
Jams at 1 Hotel, Central Park (Midtown) With a prime location right off the Macy's Day Thanksgiving Parade route, they will offer a brunch buffet with two seating times. The menu by Executive Chef Ginger Pierce will include a seasonal array of dishes including Caramelized Apple French Toast Bites, Pumpkin Pancakes, Autumn Vegetable Hash, Maine Crab Cake Benedict, Roasted Turkey & Gravy and Farm Fresh Omelets. Helmed by critically-acclaimed Chef Jonathan Waxman, Jams is a 100-seat restaurant and bar committed to working with local farmers and vendors to source the best and freshest seasonal ingredients. Dinner will be a three-course prix fixe menu with the choice of an appetizer, entrée and dessert with family style sides. The menu features delicious farm fresh dishes including Curried Sweet Potato Soup; Roasted Turkey Breast; Stuffed Delicata Squash; and Pumpkin Crème Brulee and Gingersnaps. Visit: http://www.jamsrestaurant.nyc//
DaDong NY (Midtown) DaDong NY has a Chinese-inspired feast. The restaurant will offer three special prix-fixe menus at different price points that can accommodate groups of two to eight guests. All three menus will feature Kabocha Pumpkin Soup and DaDong's signature "SuBuNi" Roasted Duck served with sugar, pancakes, crispy sesame buns, special sauce, and orange macerated cranberries. The Family Style Menu for Two ($78 per person) will also include Stewed Beef Sirloin; Champagne Glazed Vine Tomatoes; and "Nata" Egg Custards for dessert. The Family Style Menu for Four ($92 per person) will include dishes like Cherry Foie Gras; Steamed Farro with Braised Abalone; Red Chili Diced Short Rib; and Caramelized Apples. If you're looking to splurge, DaDong will offer the Premium Family Style Menu for Six to Eight ($888) that includes a 45 ounce Roasted Rack of Lamb; Seared Hudson Valley Foie Gras with fig jam; Half-Steamed King Crab; Truffle Braised Whole Abalone; and more. A la carte ordering will also be available. Visit: http://www.dadongny.com/.
Green Fig (Theatre District) Celebrate Thanksgiving at Green Fig, located in the heart of NYC's Theater District at the Yotel Hotel. Travelers and locals alike are invited to enjoy a delicious three-course Thanksgiving meal with a Mediterranean twist ($49 per person). As an appetizer, guests can enjoy Pumpkin Spice Soup; Short Rib with apple and cinnamon gravy; or Mangold Leaves stuffed with butternut squash, mushrooms, and rice. For the main entrée, choose from the following delicious options: Turkey with Sweet Potato Purée; Turkey Osso Buco with Mushroom and Fennel Couscous; Pork Chops or for the vegetarian in the family, Roasted Butternut Squash with Lentil and Current Stew. Don't miss out on incredible desserts like Pumpkin Cheesecake, Valrhona Chocolate Truffles, and Green Fig's signature Moroccan donuts, Sjinj. Visit: https://www.onfournyc.com/.
Carmine's (Theatre District and UWS) Put an Italian twist on your Thanksgiving feast! Whether you want to dine in-house or order takeout, Carmine's has all of your Thanksgiving needs covered. The restaurant has locations in NYC and Atlantic City, among others, and will be serving an 18 pound Roasted Turkey stuffed with Sausage and Sage Stuffing, along with classic sides like Cranberry Sauce; Brussels Sprouts with Applewood smoked bacon; Sautéed String Beans with toasted hazelnuts; Baby Carrots with fresh dill; Sweet Potatoes topped with marshmallows and maple syrup; and Mashed Potatoes with Giblet Gravy. For dessert, Carmine's will offer one homemade pie of your choice: Pumpkin, Apple, or Pecan. Carmine's Thanksgiving meal serves six to eight people and will be offered at both NYC locations for $274.95, as well as take-out for $259.95. The Atlantic City location will be offering the meal for $249.95 for both dine-in and take-out. Visit: https://www.carminesnyc.com/.
Akrotiri (Astoria) New Yorkers looking to escape the chaos of NYC should head to Astoria for a Mediterranean-inspired three-course Thanksgiving meal for $49 per person, prepared by Executive Chef and Chopped winner Nicholas Poulmentis. For starters, guests can choose from Roasted Butternut Bisque, Greek Salad, or Salmon Carpaccio Salad. Main course options include Turkey with Buttermilk Mashed Potatoes, Gravy, and Stuffing, or Roasted Pork Leg with Lemon Potatoes. If seafood is preferred, Chef Poulmentis will also be serving Grilled Salmon with Corn Hash and Spicy Mango Chutney, as well as Branzino with Ladolemono Sauce. Save room for dessert and enjoy traditional Greek Baklava or Pumpkin Pie. Visit: https://www.akrotiritaverna.com/.
The Osprey at 1 Hotel Brooklyn Bridge (Brooklyn) will be serving a three course prix fixe menu curated by Culinary Director, Ivy Stark featuring ingredients from local vendors including Prospect Hill Orchards and Kinderhook Farm. Menu items will include a Thanksgiving Turkey Dinner served with Red Wine Pan Gravy, Wild Hive Farm Cornbread Stuffing and Cranberries, Sweet Potato Gnocchi, and Maple Bourbon Pumpkin Pie. Guests will have the option to do a wine pairing with the special menu. The Osprey Restaurant boasts market-driven American comfort food, highlighting local seasonal ingredients. Enjoy the delicious fare and craft cocktails in a bright and airy atmosphere, incorporating lush greenery and wall-to-wall glass doors to create an indoor-outdoor garden experience. Visit: https://www.1hotels.com/brooklyn-bridge/taste/osprey/.
Bring top cuisine home!
DEZ (Nolita) This contemporary Middle Eastern Restaurant from Chef/Co-founder Eden Grinshpan is featuring a fare that epitomizes what Friendsgiving and Thanksgiving is all about, as the dishes are vibrant and shareable. Highlights from DEZ's catering menu includes a full selection of mezzes (Middle Eastern dips and apps) to feed 6-8, served with pita, such as Beet Hummus, Fire-roasted Cauliflower with currant chimichurri and Harissa & Honey Roasted Carrots; Bowls (serving 8-10) of Moroccan Lamb Meatballs and Baharat Grilled Chicken with Saffron Jeweled Rice; Three types of salads including the Sabich Salad with chopped vegetables, roasted potatoes, crispy eggplant, 7-minute egg, zhoug sauce, umbah sauce, herbs and tahini; and a variety of seasoned pita breads and cookies such as Chocolate Tahini Walnut Cookies. Vegan and gluten-free options are plentiful as well. To order, email eatme@inthedez,com with number of people, location and time of delivery. Orders must be placed 48 hours in advance. Available for pick-up or delivery (transportation fees may apply) and come with plates, utensils and napkins. Visit: https://inthedez.com/.
RAINBOW ROOM in Your Home (Midtown) This Thanksgiving, you can have your entire Thanksgiving dinner prepared by New York's iconic Rainbow Room and enjoy the meal at home. Order a full Thanksgiving dinner for six and/or order from an a la carte menu that will be prepared and oven ready to take home for the holiday. For $325, the dinner comes with all Thanksgiving meal essentials including Heritage Free Range Brined and Roasted Turkey, Roasted Pumpkin Soup, Cornbread Stuffing and your choice of Pecan, Pumpkin or Apple Pie. Additional entrées, desserts and sauces including Rack of Prime Veal, Whole Rib of Beef, Whole Glazed Bourbon Maple Ham are also available to order from the a la carte menu. Orders must be placed before Friday, November 16 and they can be picked Monday, November 19th through Wednesday November 21st, from 9:00 AM - 6:00 PM, at Rainbow Room located at 30 Rockefeller Plaza. Place your order by calling 212-632-5029 or by emailing thanksgivingorders@rainbowroom.com.
And check out some options for people who wish to do a little traveling for the holiday!
Camelback Resort (Tannersville, Pa.) America's #1 family adventure resort, is excited to announce a Thanksgiving Day Buffet on 11/22/18 and Santa's Arrival on 12/1/18. This upcoming holiday season, create new traditions and memories with your family and friends at Camelback Resort. What's better than turkey and waterslides? The Thanksgiving Day Buffet includes all of the favorites: turkey, brown sugar glazed baby carrots, brussel sprouts, garlic mashed potatoes, and of course, pies. It will be served at Hemisphere's Buffet (located in Camelback Lodge) on Thanksgiving Day from 2:00 to 9:00 pm. The cost is Adults (13+) $39.95, Kids (4-12) $19.95, Kids (3 & under) free. Prices include tax, gratuity and soft drinks. Alcohol not included. Cash bars will be available at the buffet. Reservations are required. Non-hotel guests may reserve between the hours of 2:00 PM and 4:00 PM only. After 4:00 PM, the Thanksgiving Buffet will be available to overnight Lodge guests only. Visit: https://www.camelbackresort.com/.
Avenue (Long Branch, NJ) If you're missing visits to the shore, consider Thanksgiving at this chic restaurant located along the beachfront in Pier Village. Chef Josh Sauer has prepared a menu with appetizers like Shrimp Cocktail, Escargot, or Butternut Squash Soup. Entrees include Turkey Dinner with all the trimmings; Canadian Salmon; Squash Risotto, or Flat Iron Steak. Pecan Pie, Crème Brulee or Apple Tart Tatin will top off your meal. Avenue has an outstanding beverage program to pair with your Thanksgiving meal. The prix fixe is $42 per person and the restaurant is open from 12 pm to 6 pm. Visit: http://www.leclubavenue.com/.
The Farmhouse at Bedford Post Inn (Bedford, NY) The Farmhouse at the Bedford Post Inn offers a country chic farm-to-table experience. Chef Christopher D'Ambrosio will be whipping up a Thanksgiving meal that can be enjoyed by the fire or in the restaurant's charming wine cellar. Guests can choose one of the following appetizers: Taproot Farms Kabocha Squash Soup, homemade Tortellini with Lobster, or Bibb Lettuce Salad. For the main course, choose from the Duo of Heritage Turkey Prime Aged Rib Roast, or Grilled Alaskan Salmon. Sides provided for the table will include Brussels Sprouts, Fingerling Potato Purée, and Turkey-Sage Stuffing. For dessert, choose from desserts like Granny Smith Apple and Rosemary Tarte Tartin and Chef Chris' Grandmother's Pumpkin Pie. The meal will be offered at a rate of $35 per person for children under 12, and $80 per person for adults. Visit: http://www.bedfordpostinn.com/.
Photo Credit: Courtesy of Freeimages.com
Related Articles