Click Here for More Articles on FOOD & WINE
Summer Alert! SURF CITY is Open in Jersey City with Great Food and Drink and Waterfront Views
Surf City Restaurant & Bar in Jersey City is open and ready to please their guests that come from near and far. Plan your summer visits to this hotspot and enjoy the vibrant venue along with refreshing drinks and food by Executive Chef Franco Robazetti, a recent "Chopped" winner.
Surf City is a total experience. Relax at this scenic waterfront eatery that offers spacious, comfortable outdoor and indoor seating options to suit parties of all sizes no matter what the weather is. Whether you are dropping by solo after work or going out with a group, it's a fantastic destination. Take in sweeping views of the Hudson River and the New York City skyline as you sip cocktails, frozen beverages, wine, or beer.
There are plenty of delicious food choices that pair perfectly with Surf City's beverage program. Plan to do some sharing. Some great starters include the lightly fried, Crispy Calamari with marinara sauce. The Drunken Shrimp Boil has freshest, plump, peel-and- eat shrimp. We love the generous portion of House Guacamole served with tortilla chips. Sandwiches include some of the best Lobster Rolls you'll ever have. Two lobster rolls, wonderfully seasoned, are served on potato rolls are accompanied by coleslaw and fries. Burger lovers won't be disappointed with choices like the Barbecue Burger, Impossible Burger, Bacon Cheese Burger or the Mahi-Mahi Burger. You can also indulge in seafood delights like Fish & Chips, Crayfish, or Steamed Clams. Surf City even offers a Kid's Menu for when you make it a family outing.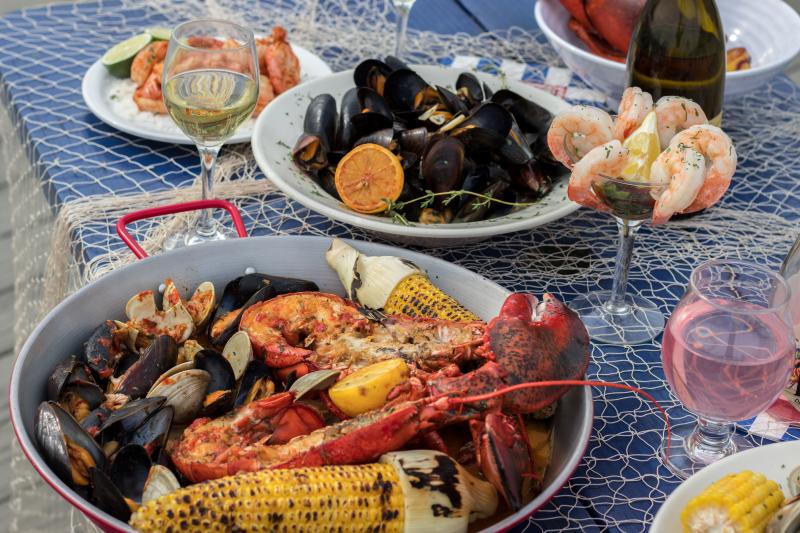 Guests of Surf City will find the venue to be welcoming and refreshing. There's nothing like being on the waterfront and enjoying good food and drink. As one of the city's favorite summertime restaurant and bars, it brings the beach scene to locals, New Yorkers and many more. It's a happening that shouldn't be missed.
Surf City is located at 1 Marin Boulevard, Jersey City, NJ. They are open through September from 4:00 pm Monday through Friday and from 12:00 pm on Saturday and Sunday. It is also available for private parties. Call them at 201.516.9000 and visit: http://surfcitybar.com/. The area is well served by PATH, the Bergen Light Rail and there is plenty of parking available.
Photo Credit: Courtesy of Surf City, Jersey City