SANZO Holiday Cocktail Crawl Gives Back
SANZO Holiday Cocktail Crawl Gives Back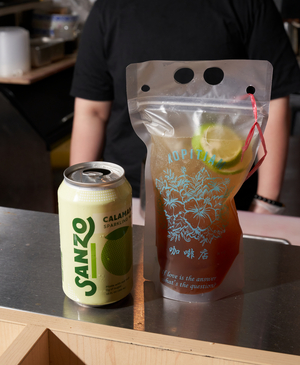 Sanzo, the Asian-inspired sparkling water brand based in NYC has a special event happening. From December 1st - January 2nd, Sanzo is teaming up with beloved AAPI-owned restaurants and bars across the city for a limited-time only, Sanzo cocktails that give back. 10% of all sales from Sanzo's holiday cocktail crawl, Cheers to Chinatown, will be donated to Welcome to Chinatown, an organization working to create much-deserved momentum in the area by supporting local businesses & amplifying community voices.
Throughout the month of December, Bonnie's, Di An Di, Fish Cheeks, Kopitiam, Saigon Social, and Win Son Bakery will each be serving festive, Sanzo infused cocktails on their menu including creative takes on limeade, mezcal & gin, and a non-alc lychee fizz (all 6 cocktail details can be viewed here) Each Sanzo flavor - calamansi, mango, and lychee - was intentionally chosen to further Sanzo founder and Queens-born Filipino-American Sandro Roco's mission of bridging the gap between beloved Asian flavors that represent over 60% of the world's population and clean, modern labels. The restaurant lineup not only showcases some of the best dining experiences in NYC but the AAPI-owned establishments that serve as an important heartbeat of the city's culture.
Each cocktail purchase also comes with a custom sticker sheet illustrated by Jenny Acosta - a fun touch to gift-wrapping or holiday cards this year.

ABOUT SANZO
Sanzo is the first Asian-inspired sparkling water born to deliver beverages that bridge the gap between beloved Asian flavors that represent over 60% of the world's population and clean, modern labels. Each can of Sanzo is made with real fruit and zero added sugar, artificial, or natural flavors - a complex yet refreshing antidote to sugary and preservative-heavy labels of legacy Asian and American brands. Currently offering Calamansi, Lychee, and Mango-flavored sparkling water, Sanzo represents an invitation to both traditional and pop Asian culture - a true extension of the ubiquitous influence the region continues to have on a global scale. Launched in 2019 by Sandro Roco, a Queens-born Filipino-American on a mission to bridge the best Eastern and Western cultures. Find out more at www.drinksanzo.com and on Instagram, Twitter, Facebook and LinkedIn.
Photo Credit Garnish Studios