Click Here for More Articles on MARINA'S MENU & LIFESTYLE
Marinas Menu: BONGIOVI Pasta Sauces for Premium Quality and Delicious, Authentic Italian Flavor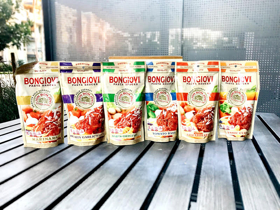 You'll love Bongiovi Pasta Sauces. They are authentic Italian sauces with the convenience that you will truly appreciate. These are sauces that make serving fine meals easy. You may recognize the name. It has been made famous by Jon Bon Jovi, the beloved New Jersey born musician and son of John Bongiovi Sr. We like the company's clever slogan, "This ain't your Mom's sauce, it's my Dad's."
Bongiovi Pasta Sauces is a family-run business and the recipe is a time-honored family secret that dates back to the late 1800's. All of the sauces are crafted with imported Italian tomatoes and well-selected seasonings. Use one jar of sauce for up to six servings and one 9-ounce pouch for two servings. And there's more good news. The varieties are all-natural and gluten-free with no preservatives. The sauce was voted "Best Quality Sauce in a Jar" by the panel at World Class Kitchens.
We enjoyed the Dad's Original sauce on freshly made three-cheese ravioli. The sauce's flavorful combination of garden fresh vegetables with basil, garlic onion, mushrooms and red and green pepper perfectly complemented the pasta. And the brand's Marinara is ideal for dishes like eggplant parmesean or baked ziti. Other varieties include the Arrabbiata that has a spicy kick, Hearty Garlic Sauce, Tomato Basil and the Classic Curry that offers a real gourmet twist.
Join the Bongiovi family and make the next Italian meal you serve a distinctive and pleasing event. Bongiovi Pasta Sauces are a tradition to treasure.
Bongiovi Pasta Sauces launched in February of 2012. Since then, their popularity continues to grow as they can be found at leading grocers and also purchased online at www.bongiovibrand.com.
The Bongiovi Brand was created to help support the Jon Bon Jovi Soul Foundation whose mission is to combat issues that force families and individuals into economic despair through the funding and creation of programs and partnerships. The foundation supports innovative community efforts to break the cycle of poverty and homelessness. Learn more about the foundation by visiting www.jonbonjovisoulfoundation.org.
Photo Credit: Courtesy of Bongiovi Pasta Sauces