Click Here for More Articles on FOOD & WINE
BWW Review: NITTIS in Hell's Kitchen for Brunchers and Italian Food Lovers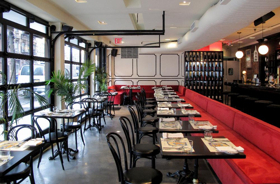 We recently enjoyed Sunday brunch at Nittis in the Hell's Kitchen neighborhood of NYC. This newly opened Italian restaurant has everything going for it. It is a welcoming, relaxing spot with a tasteful modern design, great service, and delicious food. The location on 9th Avenue, on the corner of 39th Street makes it very convenient to the Fashion District, Javits Center, Port of Authority, and the theatre district.
Brunchers can start out with some freshly brewed coffee, espresso, cappuccino, artisanal or classic brunch cocktails. Whether you're in the mood to enjoy something sweet or savory, there's a dish that is sure to please. We like that the menu includes breakfast specialties along with a nice selection of luncheon items. Highlights include their fluffy Lemon Ricotta Pancakes served with a fresh blueberry compote and maple syrup. We loved the Eggs Benedict with a creamy, rich hollandaise sauce. This popular dish is served with a choice of either Canadian bacon or smoked salmon. Nittis serves a Vegetable Frittata with seasonal veggies. When we were there, the flavorful choice was prepared to perfection with zucchini and Brussels sprouts. A nice side for any brunch meal is their Crispy Potatoes. Other choices include Market Berries, Vine Tomato and breakfast meats like bacon or sausage. For those who prefer to eat light, Nittis also serves salads, granola, and avocado toast.
If you're craving something sweet after your meal, indulge in a luscious house made dessert that includes Italian Cheesecake, Tiramisu, Pistachio Chocolate Chip Cannoli, or a Napolean.
After enjoying such a delightful brunch meal at Nittis, we're looking forward to returning for dinner. Tempting signature entrees include Chicken Francesina, egg battered and served with a lemon white wine sage sauce and paper thin sliced lemons; Fagottini Porcini, a delicate Italian dumpling stuffed with pear and sautéed with porcini mushrooms in a comforting cognac cream sauce and truffle oil; and the Spaghetti Walnuts with sautéed garlic and walnuts in a decadently delicate prosecco sauce.
Simply stated, Nittis is superb. They offer a dining experience that makes you want to come back for more. The restaurant is poised to be a favorite in the neighborhood. Plan to visit often.
Nittis serves lunch and dinner, seven days a week and weekend brunch. Stop by anytime for a full meal, dessert, drinks or a late night snack.
Nittis is located at 523 9th Avenue New York, NY 10018. Call them at 212.517.0939 and visit their website: https://www.nittisnyc.com/. Follow them on Instagram: @nittisnyc
Photo Credit: Courtesy of Nittis
Related Articles