Click Here for More Articles on DANCE - THEATER
Photo Flash: First Look at Daughters of Troy's THE PERSEPHONE PROJECT
Daughters of Troy presented The Persephone Project Labor Day weekend on Governors Island as part of Barton Booth's Make Room Initiative. The company is excited to share photos from this work-in-progress.
The Persephone Project is a site-specific theatrical installation created by visual and theatre artists from Daughters of Troy. The project excavates the layers of the Persephone myth to explore the duality of female desire, particularly how it is represented in the stories we tell versus the secrets we keep. The project was selected by Barton Booth for a week long residency on Governors Island and included visual art by Alivia Chapla, Andreas Theologitis, Annie Cunningham, Anna Nicole, Ekaterina Bykhovskaya, Hadieh Afshani, Kate Goltseva, Kristen Williams, Leah Miriam-Cooper, Mensur Bojda, Natalie Burlutskaya, Ronit Levin Delgado, Yelena Lezhen and Yu Chuan Chang.
"We didn't know exactly what to expect," said Artistic Director Aubrey Saverino. "This was our first truly immersive project. But, our beautifully receptive and adventurous audience willingly joined us. They kissed walls, painted with fruit and followed us into the underworld." "Thanks to our partnership with Natalie Burlutskaya and RE:ARTISTE, not only did we get to work with incredible artists from around the World, we have amazing photos to share of the work we created," added Artistic Producer Brooke M. Haney.
Presentations of the work-in-progress and an exhibition of artwork inspired by the theme were held on Saturday, Sept 2 & Sunday, Sept 3 in House 8A in Nolan Park on Governors Island. The gallery was open from 10a-5p both days with performances at 1p, 2p, 3, & 4p.
Daughters of Troy will continue to develop this theatrical event.


The Acting Company. Photo by Natalie Burlutskaya

Brooke M. Haney (Artistic Producer and Director of the Apprentice Program), Natalie Burlutskaya (Art Curator), and Aubrey Saverino (Artistic Director). Photo Credit: Anna Nicole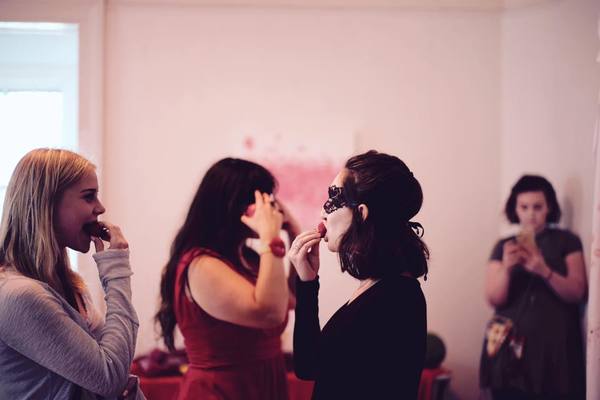 Actress Courtney Silber interacts with the audience. Photo credit: Yu Chuan Chang

Mariana King as The Gatekeeper. Photo credit: Yu Chuan Chang

Actress Nicole Morales reaches out to the audience. Photo Credit: Natalie Burlutskaya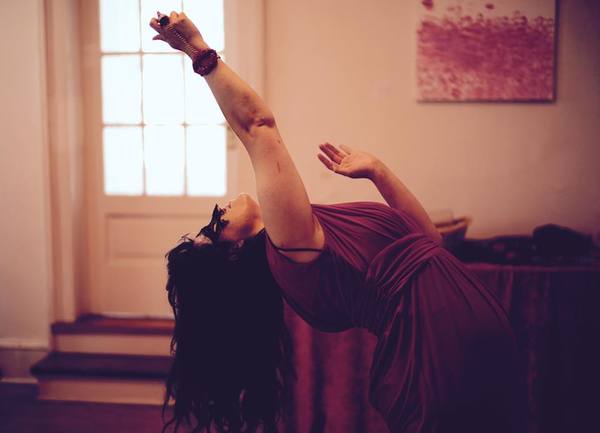 Performance Artist Ronit Levin Delgado, painted with fruit. Her "Kissing Wall" painting also pictured. Photo credit: Yu Chuan Chang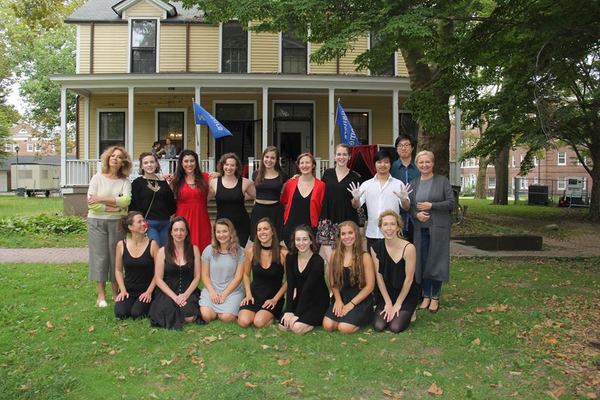 The Visual Artists and Acting Company of The Persephone Project. Photo credit: Anna Nicole.

The Persephone's Dance. Photo Credit: Natalie Burlutskaya